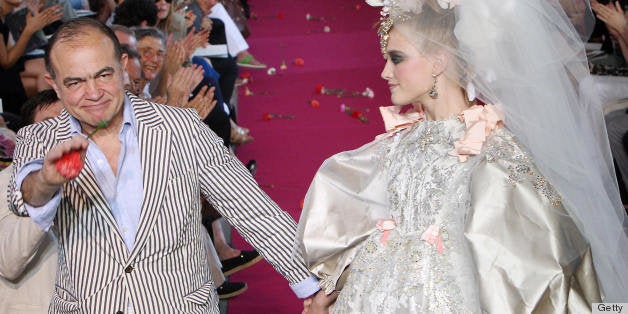 It sounds like a match made in fashion heaven: a beloved yet out-of-work designer paired off with a beloved yet dormant fashion label. And we have a very excellent matchmaker, Diego Della Valle, to thank for the happy new couple.
Assigning Lacriox to design couture is just part of Schiaparelli's revival, coordinated by Tod's CEO Diego Della Valle. Della Valle purchased Schiaparelli's trademarks and archives in 2006 with the aim to resuscitate the brand, but held off on naming a new creative director or debuting any new products. In 2012, Della Valle hired French model/actress Farida Khelfa as Schiaparelli's spokeswoman and was said to be on the hunt for a head designer.
Yesterday, rumors surfaced that Marco Zanini, currently the head designer at Rochas, would take on the permanent position of creative director at Schiaparelli. Those rumors have yet to be confirmed -- Horyn reported this morning that there's "no word yet on who creative director of Schiaparelli will be" -- but Lacroix's appointment does guarantee at least one new collection for the label this year.
Lacroix, as many will recall, lost his creative director job when his namesake label filed for bankruptcy in 2009. While the Christian Lacroix name remained in use for certain licenses (men's clothes, wedding dresses, fragrances), Lacroix's haute couture and ready-to-wear collections disappeared.
Now the French designer has another designing gig, one that will lend extra excitement and buzz to the couture shows this summer.
Discover Elsa Schiaparelli in the vintage photos below: