More than 800 Christian leaders are calling on President Donald Trump to honor the tenets of his professed faith ahead of Thursday's National Prayer Breakfast.
The religious leaders signed a letter, shared with The Huffington Post on Wednesday, reminding the president that Christians are called to "protect the downtrodden" and "the migrant."
"The Gospel is not about prosperity, but Good News for the poor. In them, we encounter Christ," the letter states.
On Thursday, Trump will join politicians, dignitaries and religious leaders for the annual National Prayer Breakfast. Every president has attended the religious ceremony since it began in 1953. The event is intended as a time when politicians "set aside partisanship and come together to share faith, fellowship and prayer," Sen. John Boozman (R-Ark.) said in December.
Pastor Rick Warren of California's Saddleback Church will speak at the event, he announced in a Facebook video on Tuesday. "I think it's an important thing particularly right now after this last year. The election and campaigning of last year really has divided America," Warren said.
The Bible calls on Christians to be "peacemakers" who work to bring opposing sides together, the pastor added.
Trump may face public criticism for these and other actions at the National Prayer Breakfast, as politicians and religious leaders occasionally use the event to speak truth to power from their religious convictions.
In a 2011 interview with NPR on the tradition of the prayer breakfast, progressive Christian author Jim Wallis said: "I remember Senator Mark Hatfield spoke years ago when I was in seminary and he called the war in Vietnam a national sin and shame in front of Richard Nixon and Henry Kissinger. I saw their faces and they weren't happy with that. So when it can raise up issues that we ought to be accountable to, whether we are religious or not, I think that's when it's probably at its best."
Many of the Christian leaders Trump surrounds himself with, though, justify the president's actions by saying it isn't the government's role to uphold certain Biblical commandments, like welcoming the stranger. They typically sing a different tune on matters like abortion and same-sex marriage.
Trump has similarly wielded religion where convenient. He has professed to be Presbyterian, a mainline Protestant denomination, though the New York City church he said he attended released a statement in 2015 saying the then-presidential hopeful was not "an active member."
Trump has also baffled some Christians with his failure to uphold certain fundamental practices of the faith. At least one evangelical leader rationalized Trump's fair-weather faith by calling him a "baby Christian."
"There is nothing Christian about his ban on refugees from Muslim countries, denigration of immigrants, and repeal of pro-life healthcare. I call on President Trump to put his Christian values into practice," said Sister Simone Campbell, Executive Director of NETWORK Lobby for Catholic Social Justice, in a statement.
Campbell was among the religious leaders who signed Wednesday's letter, along with Sister Donna Markham, president of Catholic Charities USA, retired Archbishop Joseph Fiorenza, former President of the U.S. Conference of Catholic Bishops, Rev. William Barber II, president of Repairers of the Breach, and prominent evangelical leaders Jim Wallis and Tony Campolo.
"A troubled conscience is one hallmark of a great leader," the Christian leaders wrote. "A conscience that is not awake to suffering and fails to respond is walled off from the love of God."
Before You Go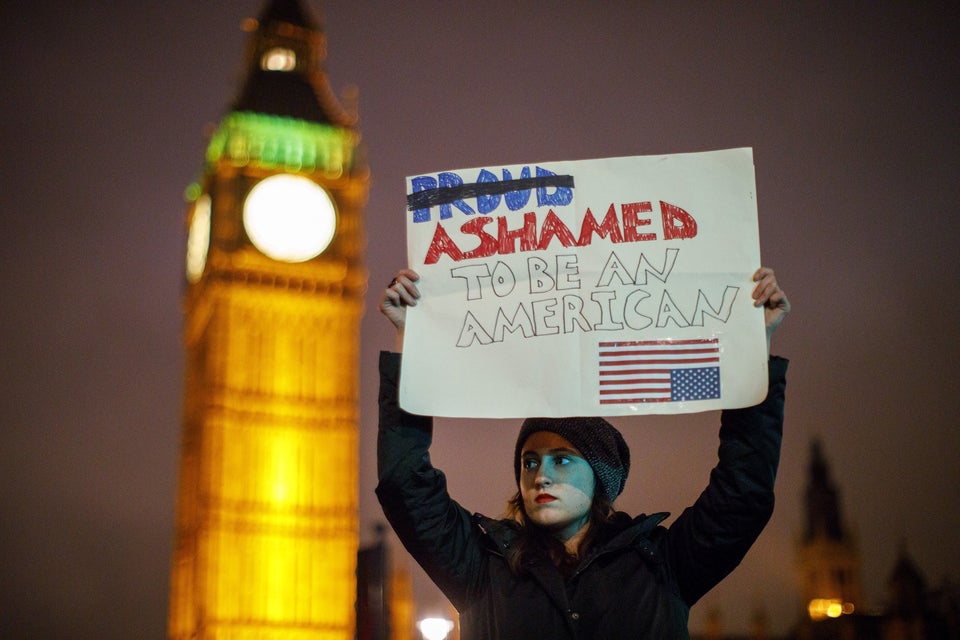 The World Protests President Trump
Popular in the Community