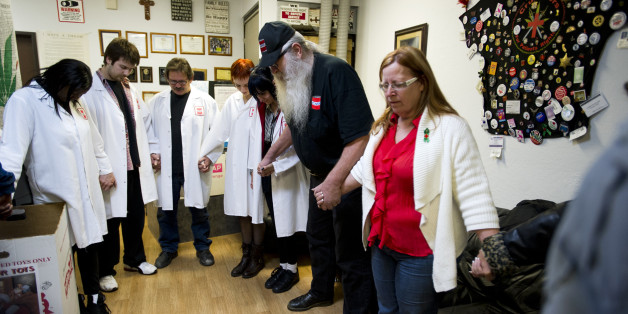 A Christian medical marijuana dispensary and advocacy group could set a precedent for the industry's financial rights after presenting arguments before a U.S. Tax Court in San Francisco.
Lanette and Bryan Davies' Canna Care dispensary and Crusaders for Patient Rights organization make up the joint non-denominational, Christian-based operation in Sacramento that invites patrons to join in nightly prayer circles but boasts a clientele hardly restricted to evangelicals. This week, the husband and wife team took to court to challenge the IRS over a nearly $1 million tax penalty intended to target illegal drug traffickers.
According to the Sacramento Bee, in 2011 the IRS slammed Canna Care with an additional $875,000 in taxes under 280E, a Reagan-era tax code that allows for penalizing businesses that support a federally controlled substance, regardless of whether the operation is legal under state law. The punitive fee came after the IRS audited its 2006, 2007 and 2008 federal tax returns and refused to accept the not-for-profit's $2.6 million in business deductions.
Although marijuana dispensaries are legal businesses in California, they are unable to deduct business expenses like rent, employee salaries, worker's compensation, security and insurance because of the tax law.
"The tax law is grossly unfair," San Francisco-based tax attorney Robert Wood told TIME. "Whether you think dispensaries are a good idea or not, if they're lawful businesses under state law, they should be able to deduct their business expenses like anybody else."
The Davies can't expect a verdict until this summer, but they're feeling optimistic.
"I feel really confident and really good about the whole experience," Lanette Davies told The Huffington Post. "Of course I'm hoping for a favorable verdict, but we were able to bring forward some really important facts that need to be heard within our federal courts," she said, citing it as an opportunity to address how conflicts in state and federal law hurt legally operating businesses.
Canna Care is not the first dispensary the IRS has taken aim at under 280E, but the small business is making big waves by rejecting the IRS' offer to settle the debt for $100,000.
"To me, that's buying protection money," Lanette Davies told the Sacramento Bee.
Tax attorney Henry Wykowski, who is representing Harborside Health Center, the state's largest medical marijuana provider, in a similar IRS challenge, told the Washington Post that dispensaries will often go to court to fight for minimized fees, but Canna Care's outright rejection of negotiations is uncommon.
Lanette Davies told HuffPost she's just fighting for the right to be treated like any other legally operating business.
"The idea isn't to have dispensaries not pay taxes," she told HuffPost. "We're just asking that dispensaries pay a tax that is reasonable."
Calling all HuffPost superfans!
Sign up for membership to become a founding member and help shape HuffPost's next chapter
BEFORE YOU GO
PHOTO GALLERY
27 Reasons Why U.S. Shouldn't Lead War On Drugs