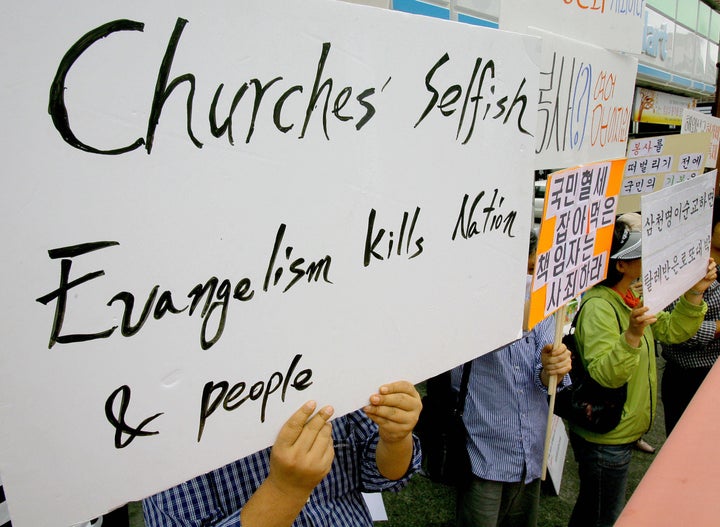 A coalition of major Christian denominations issued a set of guidelines Tuesday for missionary work with the aim of gaining converts without gaining enemies.
The three groups represent hundreds of Christian denominations, including Orthodox, Catholic, Anglican, Protestant, Evangelical, Pentecostal and independent churches.
"Christian Witness in a Multi-Religious World: Recommendations for Conduct" tells Christians that they have the duty to "share the good news of God's kingdom," but cautions that they should "build relations of respect and trust with all religions."
But the document also tells missionaries and evangelists to put a stop to "inappropriate methods of exercising mission by resorting to deception and coercive means." The group urges Christians to "conduct themselves with integrity, charity, compassion and humility, and overcome all arrogance, condescension and disparagement" when talking to non-Christians, as such actions "betray the gospel and may cause suffering to others."
The document comes from a five-year project initiated by the Geneva-based World Council of Churches, which represents 349 church denominations worldwide, including dozens that are based in the United States. It stresses the groups' belief in religious freedom, including the "right to publicly profess, practice, propagate and change one's religion." The guide alludes to criticisms of religious tolerance in Muslim-majority nations such as Pakistan and urges governments "to ensure that freedom of religion is properly and comprehensively respected, recognizing that in many countries religious institutions and persons are inhibited from exercising their mission."
Churches have a duty to "to propose a greater vision of dialogue" and "reject nothing that is true and holy in each religion," said Cardinal Jean-Louis Tauran, president of the Pontifical Council for Interreligious Dialogue, the Vatican council that helped shape the guidelines
While the guidelines have the backing of the world's major Christian churches, it's unclear how much they will trickle down to ground-level missionary groups, which are often independently organized.
According to the Rev. Dr Olav Fykse Tveit, general secretary of the WCC, "We send this document to each of our constituencies with the hope that they will see these recommendations as an inspiration to design their own codes of conduct, relevant to their own particular contexts."
Related
Popular in the Community