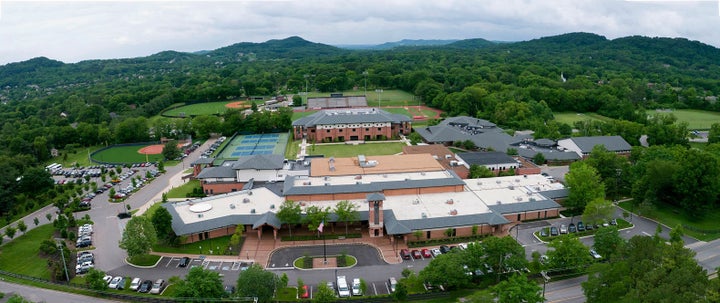 A prestigious Christian school in Tennessee is under fire for allegedly doing nothing after a male student reported that he was repeatedly sexually assaulted by four older classmates.
On Aug. 4, the mother of the male student sued the school in a civil lawsuit and is seeking $30 million in damages. The lawsuit, obtained by HuffPost, claims that during the 2014-2015 school year the young boy (named only as John Doe), who was in 6th grade at the time, was repeatedly raped and sexually assaulted by four male 8th-graders.
Brentwood Academy "failed to exercise its authority and capacity to institute corrective measures to prevent and stop the harassment, assault, sexual harassment, sexual assault, rape and/or bullying of students," the suit reads. (Scroll down to read the suit in full.) 
Brentwood's Director of Communications Susan Shafer told HuffPost that the school "denies all the allegations made against it and its employees." 
According to the lawsuit, when Doe reported the behavior to Brentwood's headmaster, Curtis Masters, Masters told the 12-year-old boy that he "needs to turn the other cheek," that "everything in God's kingdom happens for a reason," and that the school had "talked about cameras in the locker room, but until then, [Doe] can change in my office." 
Brentwood Academy, located right outside of Nashville in Williamson County, serves grades 6-12 and describes itself on Facebook as a school "dedicated to nurturing and challenging the whole person ― body, mind, and spirit ― to the glory of God."
According to the lawsuit, Doe was sexually assaulted on five separate occasions by the same four upperclassmen. (Warning: The below details could be triggering to some readers.) The first incident took place at an after-school football party where the four 8th-graders allegedly "restrained Plaintiff John Doe and placed their attacks on his face and their scrotums on and/or in his mouth," the suit reads. 
The last four incidents that the lawsuit describes took place in January and February of 2015. According to the suit, the boys would take turns guarding the doors in the boy's locker room while the others would forcibly penetrate Doe's mouth and buttocks. The suit also states that there were other male students in the locker rooms that witnessed each of these incidents. 
″[The boy] would place his penis before John Doe and forcibly penetrated it into the mouth of Plaintiff John Doe without consenting claiming 'eat it, eat it, eat it, open your mouth, accept it,'" the lawsuit reads. 
One of the four students reportedly bragged about sexually assaulting Doe, telling the basketball team that he "fucked that boy up the ass and stuck a Gatorade bottle in him." The lawsuit claims that the same boy who boasted about assaulting Doe also bragged that he ejaculated on the victim. 
The suit says that when Doe's mother found out about the assaults from another parent at the school she went to a private Christian counseling center called Daystar Counseling, which was founded by a former Brentwood employee. 
The counselor she met with reportedly advised her to not report the assault, telling her: "Reporting this may not be the best thing to do. This isn't how Christian institutions handle these things." The Tennessee code requires counselors to report any information of suspected child abuse or neglect. 
In an Aug. 10 statement, Daystar Counseling said the lawsuit's allegation that the counselor did not immediately report information of child abuse is false.
"The allegations that Daystar did not properly comply with state law requirements for reporting abuse are false," the statement reads. "When we became aware of inappropriate activity in 2015, we responded immediately and thoroughly, cooperated fully with the authorities, and took appropriate action based on what we knew." 
Doe's mother ultimately took her son to a pediatrician who then called the Department of Child Services. 
On April 20, 2015, Doe's parents met with headmaster Curtis Masters and the middle school director Nancy Brasher (who served on the Daystar Board of Directors and currently sits on its Advisory Board, a spokesperson for Brentwood confirmed to HuffPost).
According to the suit, Masters chalked up the assaults to "boys being boys" and added that "he could not investigate each of those and run a school." In a meeting a day prior to the April 20 discussion, Brasher allegedly "accused Plaintiff John Doe of being at fault for not reporting it."
On Aug. 10, six days after the civil suit was filed, Brentwood issued a statement regarding John Doe, disputing the lawsuit's timeline of events and calling its allegations "completely untrue." The statement was written by Masters to the "BA family" of students and parents:
Much has been false reported in the media, citing allegations that are completely untrue. At no point before or during the investigation in 2015 did I (or anyone on our staff to my knowledge) hear any allegation of rape. When we heard of inappropriate activity, we responded immediately and thoroughly, cooperated fully with the authorities, and took appropriate disciplinary action based on what we knew. Certain allegations in the lawsuit and highlighted in the media are not factual, will be disputed, and our defense will be vigorous. Certain statements attributed to me are simply not true. Because of our policy not discussing details of a lawsuit, I cannot elaborate on additional details.
Read the full statement below or head here. 
Shafer elaborated to HuffPost: "BA [Brentwood Academy] intends to vigorously defend itself and pursue all legal options. We want to be clear: at no time before or during investigations of misconduct that were conducted by Brentwood Academy was the school aware of any accusations of rape."
According to the lawsuit, the assaults have "inflicted anxiety, stress, depression, emotional harm, post-traumatic stress disorder, physical harm" on Doe along with "fright" and "shame."  
Doe's lawyer Roland Mumford said in a statement last week that he hopes this lawsuit will protect other children from going through what Doe did: "We hope this will help protect children in private school where Title IX does not apply." 
Read the full lawsuit below. 
Calling all HuffPost superfans!
Sign up for membership to become a founding member and help shape HuffPost's next chapter
BEFORE YOU GO