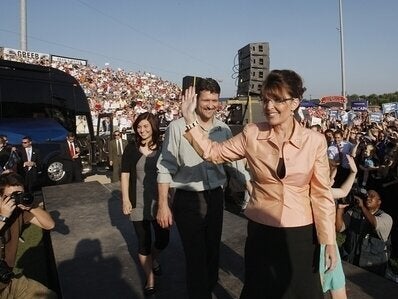 Lee County and Collier County are the largest counties in Southwest Florida and are well-known as Republican havens. So when Republican vice presidential nominee Sarah Palin visited the area on October 6th, it was no surprise she drew a record crowd to the Germain Arena in nearby Estero. The Arena seats 9,800 people and several thousand had to be turned away.
Some of those who made it in were 56 female Christian school students years away from voting age. The teacher who organized the trip said described it as an empowering lesson in U.S. politics.
"I got this crazy scheme to hear Gov. Palin speak. I thought it might have been hare-brained but it seemed a good idea to expose them to a woman running for one of the highest offices in the land," says Susan Morris, a teacher at Evangelical Christian School in Fort Myers.
Morris says she's a dyed-in-the-wool Republican but that she "isn't all that crazy for Sarah Palin." Still, she adds, "we teach for all possibilities here at ECS. We are an interdenominational school. ECS has 1, 200 students. We have Muslims and Buddhists. One of our students has become a Rhodes scholar and another is now playing in the NFL. All our girls are intelligent and thoughtful so I thought it would be a valuable experience for them to go." The girls went with the school's blessing.
The main inspiration for the "field trip," Morris says, was the fact that Palin is a woman. "I wouldn't take them to see John McCain or Barack Obama or Joe Biden. But I would take them to see Hillary Clinton or Michelle Obama."
Morris said the girls, who mostly are the children of well-do-do parents, were not pleased to have to stand for hours without food or drink. "That was the most suffering they've ever done, but as soon as they saw the Secret Service they knew this was serious stuff. We were very lucky and were only five feet away from Palin. I told them this was a campaign rally and to expect a political stump speech, but that it might very well also be a historic time for America. My point was for the girls to see that being a woman isn't always as the media portrays it to be. Later, I had the girls write a paper on their impressions," Morris said.
So what did the girls think? "Well, it wasn't her clothes or shoes that impressed them," says Morris. "They thought she was a fiery chick, but also a lady. They knew not to expect a serious discussion of foreign policy but rather a boost for the McCain/Palin ticket, and that's what they saw. They did notice the teleprompter, but Palin seemed to be controlling it. When she slacked off, it slowed down. Many of these girls hear their parents talk about politics, so they are not uninformed, and this is a predominantly Republican area so it wasn't a surprise to hear Palin say that the Obama/Biden campaign is waving the white flag of surrender on Iraq and that Obama is too inexperienced to be president."
Danielle Galietti, a junior at ECS reported all the female juniors and seniors were told it would be a once-in-a-lifetime educational experience if they could attend the Palin rally, since Palin is an important woman who may become the Vice President of the United States. Galietti said they were given VIP status and were told they would sit in the VIP section right behind Palin.
Galietti was one of three students who turned down the offer to attend because she was studying for a chemistry test.
She reported that students told her they were bused to the arena at 8:30 in the morning, arrived at about 9:30 and stood in line in some cases until l:30 p.m.. Palin did not appear until after 3:30. Many student VIPs had no seats but stood throughout the event.
Morris said there was an Obama heckler in the crowd who was shouting profanities. "That was unfortunate because there were children nearby who had to hear that sort of thing." But it showed the girls that Americans have very strongly held opinions -- on both sides -- in this presidential campaign, she noted.
"I'm not a cookie-cutter conservative," Morris says, "but I do vote Republican because I go with God. I'm anti-abortion so I'm a one-issue voter, it's true. I'm thrilled with the Republican Party's stand on abortion, so, so far so good. But if they change their stand I may not vote at all, but that's just me personally. And I also believe in the Republican view of the economy. Sarah Palin is not an idiot and she brings more accessibility to politics, whether you agree with her or not."
Morris is no fan of Obama. "Obama hasn't been middle class since his childhood," she says, "and we're not even sure where he was born. That hasn't really been brought up by the mainstream media."
Told that news outlets have all but unanimously accepted the validity of Obama's Hawaiian birth certificate, Morris remained skeptical.
Other local Christian schools, including SW Florida Christian Academy and the Cape Coral Christian School did not officially excuse students to attend the rally. A spokesperson for SW Florida Christian said that some thirty students did attend, "but they didn't represent the school. Their parents signed them out and took them." A spokesman for Cape Coral simply said, "We didn't go."
The Barron Collier High School Band played at the rally. "It's really cool," band Co-Captain Stehpanie Karaczun told local WINK News, "'cause it's like a once in a lifetime kind of experience to go and play for a presidential rally."
Popular in the Community