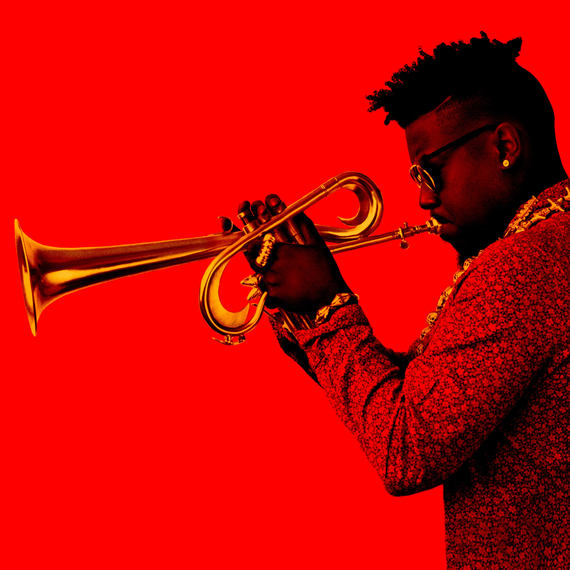 Stretch music. Stretch - noun or verb? Both, and an edict from 32-year-old trumpeter, composer and bandleader Christian Scott, whose Stretch Music is out on September 18th via Ropeadope Records and Scott's new subsidiary, also called Stretch Music. Certainly not a plea, for this is no beggar on the bandstand. The New Orleans-born musician, on his tenth album as a leader, has a history of speaking his mind in the press and most importantly, through his horn.
"On this record, you're going to hear 808s, you're going to hear subs, you're going to hear oscillating guitars, and you're going to hear distortion on shit other than guitar," Scott recently told Noisey. "You ask me is stretch music jazz? I say yeah, fuck yeah it's jazz. But it's also indie rock. It's also hip-hop."
And he's absolutely right - from the first downbeat of "Sunrise in Beijing," we're invited into a new notion of the jazz language, one that Scott has been crafting and elasticizing for years. The aesthetic here has strong ties to the past, but to say it is rooted there is false. The roots grow in all directions, not just down to Louis Armstrong but out to Radiohead, and J Dilla, forward into a self-assured and expansive future.
Scott's voice isn't just relegated to the trumpet, either. Along with Dutch manufacturer Adams Instruments, he designed three new horns used exclusively on the album -the reverse flugelhorn, the siren, the sirenette- which expand his sonic palette even further than he's gone before. His playing is reminiscent of Terence Blanchard's cinematic scope and Nicholas Payton's confidence, but it's not just the brass that explores here, it's the entire band.
"These young guys and gals seem to be fearless. If you're not actually willing to put in the work to build something, then I don't have a place for you in this group," says Scott in the album's trailer (below). "This is about building something as a collective, and in order to that you have to be... willing to listen and not just waiting to speak."
You'd expect nothing less from a bandleader who's backed Thom Yorke, Prince, Mos Def/Yasiin Bey, McCoy Tyner and Solange Knowles, and the compositions exhibit that eclecticism. Songs like "Perspectives" and "Tantric" are begging for some Kendrick Lamar bars, while "The Last Chieftan" feels reminiscent of Brad Mehldau's recent bands or Chris Potter's Underground. And on "Twin," we hear Scott and himself weave a duet that truly feels fraternal, not unlike Bill Evans' classic Conversations With Myself. This all from the man who flipped "No Church In The Wild," and he continues to explore and expand the notion of what Jazz can be.
But why stop at a record? Stretch Music is also a revolutionary app that "allows musicians the ability to completely control their practicing, listening and learning experiences by customizing the player to fit their specific needs and goals," details Scott. One can "build the perfect environment to play over. The app has the ability to mute, solo, pan and fade any instrument chosen along with tempo control, looping and sheet music for each part."
For more on Scott, stretch music and his mission statement, I highly suggest you read this page of his website. Time will tell if the term sticks, but this is an artist firmly taking control of his sound, unlike the inconsistencies that relegated many "fusion" records to the dollar bin. With contemporaries like Kamasi Washington, Robert Glasper, Terrace Martin, Thundercat, Ambrose Akinmusire, Badbadnotgood and others in your headphones, you'll rethink your notion of how far "jazz" can really stretch.
Popular in the Community