I'm no stranger to black, but Christian Siriano's Fall 2011 collection proved that he clearly understands it way better than I, or most, could ever hope to. The most color in the room Thursday night wasn't on the runway, but was relegated to the front row, where fashion darling Alexa Chung sported a fox-printed jumpsuit with a wonderful pop of red heels, and Gabrielle Union wore a less wonderful teal-print dress. Mena Suvari was more on Siriano's wavelength, dressed in head-to-toe black, with platform heels that looked suspiciously like they came from Payless (we'll get to that later).
For a collection starved of color, the Project Runway victor's looks didn't suffer for it -- they gained strength from the dark. Black was literally all you could look at -- the models wore minimal makeup,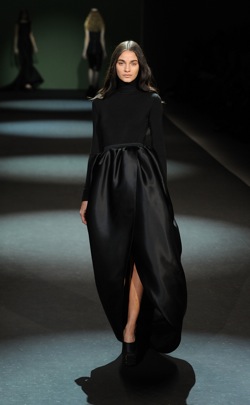 with hair left mostly unfussed: slightly crimped, frizzed out, and falling limply on their shoulders. How did this not get boring? Siriano diversified black in a couple ways -- meshing his knits, chiffons, silks, leathers, and cashmeres, and pairing them in such a way that made the color shine.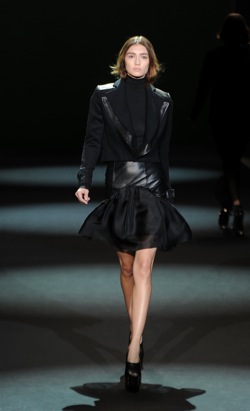 It wasn't an easy sell, though. When the show opened with a round of long chiffon skirts (see slideshow), I was skeptical. There's something about sheer black against the skin that is not right. But things improved from there, especially by the time the simple-yet-striking look to the right came along.
Siriano's use of scale was one of the more exciting elements, layering his fabrics in such a way that almost worked like a body-contorting illusion. Take the image to your left -- a short skirt that's longer than meets the eye. Flirty-yet-conservative skirt, where have you been all my life?
There were a few toss offs, some for lack of originality, others for, well, not being quite black enough. I could have skipped the token pink pastels Siriano threw in -- if you're going to go funereal, color just feels wrong.
Another misstep was the choice of heel. Siriano, who designs for Payless Shoes, used his chunky, Payless platforms all through the show. They were to blame for at least one major fall, a couple stumbles, and a handful of awkward walks. But hey, what are a few casualties next to a black knit turtleneck with a satin-faced organza tulip skirt? I'd be runway roadkill for that, too.
Check out some of the looks from Siriano's fall collection: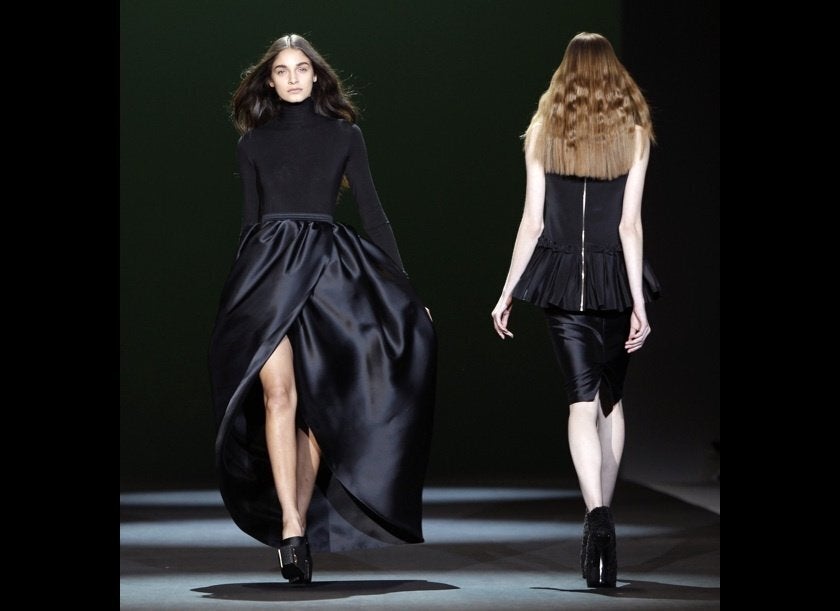 Christian Siriano