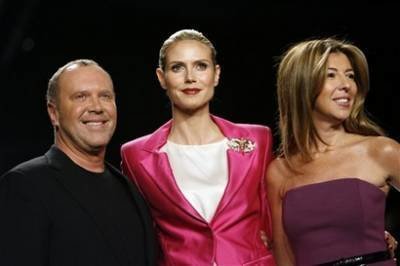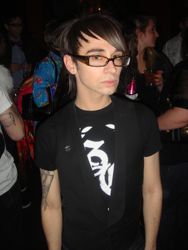 Photo by Christiana Molina
Christian Siriano is the future of fashion. There, we said it. Leave it to the 23-year-old designer to create his Fall '09 collection, inspired by a country he's never even visited. He reminds us what is the essential quality of successful fashion: imagination.
He presented at Mercedes-Benz Fashion Week Thursday night in one of the most cohesive collections we've seen all week, with sleek headscarves, fabrics in silk and organza, a palette of camel and turquoise, and metallic makeup, from lips to eyes. And with the world according to Christian, the biggest trend this fall will be bangs once again, but this time they'll be in 24-karat. While most fashion week accessories are left at the runway, we hope the jewelry bangs are one accessory we'll be able to purchase.
The audience, already at the edge of their seats drooling over each blouse, dress and coat to come out, burst into applause when it-girl of the moment Sessilee Lopez closed the show in a gilded gown and sky-high Pharaoh headpiece, dropping in like a golden goddess come down from the land of Siriano.
This is one designer, currently selling at boutiques like Intermix in New York and Bonnie & Clyde's in Chicago, who wants to be a household name. The most exciting part of the show was the debut of a new line of Christian Siriano bags and shoes he has designed for Payless Shoes. While the recent fusion lines have left us disappointed at best (thanks McQ for donating your table scraps to the Go line) we'll be holding our breath for this amazing collection, featuring turquoise soles, pyramid heels, and chain straps out in stores this fall. And if you're worried about the runway heel height, don't worry, the Payless models will definitely be a bit more street-friendly.
We caught up with Christian at his post-show reception held at the W New York, the Tuscany, where he hung with his celeb fans Tori Spelling, Aubrey O'Day, and his Project Runway pals Kevin Christiana and Jack Mackenroth. While he'll never admit it to your face, Christian is sporting some serious business acumen, showing that today's young designers need more than just talent and imagination to carve their own place. The young designer is pulling his way through the fashion recession with a little help from a whole lot of sponsors. Read on to find out all about Christian's desert influences, his fall must-haves, and how he's making it all work in this economy.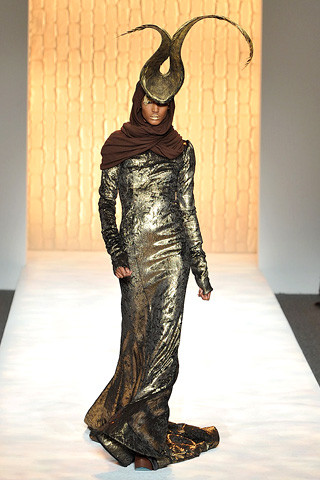 Huffington Post: So your collection this year was inspired by Egypt. How did that evolve into the final product of your show?
Christian Siriano: It wasn't Egypt literally. It was through inspirations of color, and these pyramid-shaped sleeves, and obviously with the styling, and the makeup, and the gold-fringed bangs. It was my fantasy of what I think Egypt and North African culture is like, because I've never been there. It's one place I've always wanted to go, so it's my fantasy.
HP: Is your collection ready to wear?
CS: Definitely. I think so many of the clothes in this collection were really wearable. I think we style them really cool, but all the coats are really wearable. I think that the pants and the separates are great. And underneath we had great simple blouses, shirt dresses. And I think if people are going to shop, they should buy something interesting right now. I don't think they're buying simple, expensive clothing. I don't think they're buying a $2,000 basic black dress. They're buying a $2,000 amazing black coat.
HP: If there is one piece from your collection that every woman should have, what piece is that?
CS: I have a really fabulous charmeuse blouse--great sleeves, really chic, and I think everybody should have one. And they retail for under $400. $325.
HP: Are we going to see your clothes across America, at a Macy's or a Bloomingdale's?
CS: Maybe, maybe this season. I actually chose not to really do department stores because they're a lot of work. They're a lot of work to sell to, but maybe this season.
HP: A lot of designers here are saying they cut back because of the recession; they didn't want to go all out this time around. Did you have to cut anything?
CS: No. Never. I mean I'm a new designer so I didn't really have anything to lose. I don't have a million employees to lay off, so it works.
HP: So what did you think of the designers who incorporated depression era themes in their collections this season?
CS: I didn't even see it. And I think it's kind of weird. I think it's important but I think clothes are clothes, and they shouldn't be taken that seriously.
HP: Is it tough to be a designer in the recession?
CS: Yes and no. I mean of course I think it is, and definitely stores are tough. But I think it's ok. I don't make my money based on just selling clothes. If that were the case I'd be struggling, I'd be over. But luckily there are other things that are involved in the industry now. You can't just be a great clothing designer; you have to be everything else.
HP: And what is everything else?
CS: Like designing shoes with Payless- that's a licensing thing. And when I promote the LG, and when I do things with Aveda and Victoria Secret, they all sponsor and they all help fund the business.
HP: Would you ever design for Target?
CS: Of course, yeah. I mean obviously Payless is very similar to that. I only do things that I need, and I needed shoes and I needed bags so they worked.
HP: Tell us about the Payless line- what can we expect?
CS: Well all the shoes on the runway were Payless.
HP: What's the price range on those?
CS: Those are going to be from $20 to $50. But all those shoes on the runway are obviously for the show. They'll be commercialized.
HP: How will they be commercialized? Because I saw a lot of height out there, a lot of platforms.
CS: Lots of black, lots of strappy, a variety.
HP: Did your choice to start designing for Payless have anything to do with trying to be more conscious about budget and price?
CS: It was an opportunity that came along and it came along at a perfect time.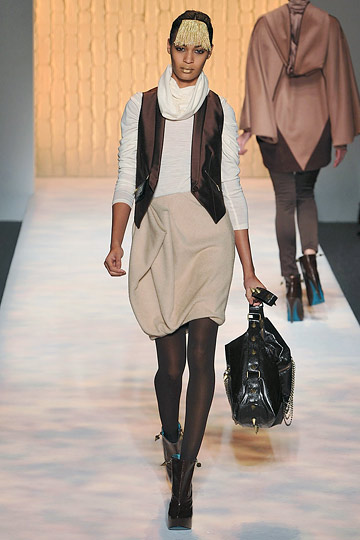 Popular in the Community