A Twitter hashtag about Christian women has revealed some ugly truths about misogyny in the church.
Christian author Sarah Bessey started the thread Tuesday night with the tag #ThingsOnlyChristianWomenHear to highlight issues surrounding male privilege in many Christian communities.
"It was just a conversation I was wanting to have with my followers about something I care about, but it resonated more widely than I expected," Bessey told The Huffington Post on Thursday.
The conversation, which she said she initiated "on a whim," quickly amassed hundreds of tweets from women sharing some of the dehumanizing things they've heard from others in their Christian communities.
"This hashtag is pulling back the curtain on the everyday lived experiences of women within the Church," Bessey wrote in a Facebook post Wednesday morning.
Bessey acknowledged she couldn't vouch that every single tweet reflected things the women have actually heard, verbatim. But she noted, "For my own contributions: each statement was said to me, about me, in front of me."
As several of the users noted, misogyny is by no means a Christian problem nor a religious one, alone. And the thread didn't delve extensively into issues of race, class, sexual orientation or other important factors that create imbalances both within Christian communities and in society at large.
"I love the Church but I also know that we can't fix what we refuse to acknowledge," Bessey told HuffPost. I think hashtags like this are bringing light to some dark corners that we'd rather not see sometimes and I think there is an invitation from God in that ― an invitation to open up the windows and bring this to the light."
Many of the tweets brought to light issues surrounding love, sex and marriage:
Several tweets referred to "The Billy Graham Rule," which was recently in the news after a 2002 interview with Vice President Mike Pence resurfaced. Pence reportedly told The Hill that "he never eats alone with a woman other than his wife and that he won't attend events featuring alcohol without her by his side."
Many women also expressed frustration with the double standard they feel they face when it comes to school, work and leadership:
A number of men also chimed in to offer their support:
Women who speak up on social media about controversial topics often face backlash, and the #ThingsOnlyChristianWomenHear thread was no exception. Several trolls claimed the women were being bad Christians by supposedly stoking anti-church sentiment. Others mocked the women for being religious at all.
One user's criticism of the thread prompted responses from several of the women:
Bessey said she hoped the thread would help other women know they aren't alone in their experiences. "Right away, through something that seems small like a hashtag conversation on Twitter, we all felt less alone, less isolated," she said. "There is something so healing about 'you, too? me, too!'"
This article has been updated to include additional comment from Sarah Bessey.
Related
Before You Go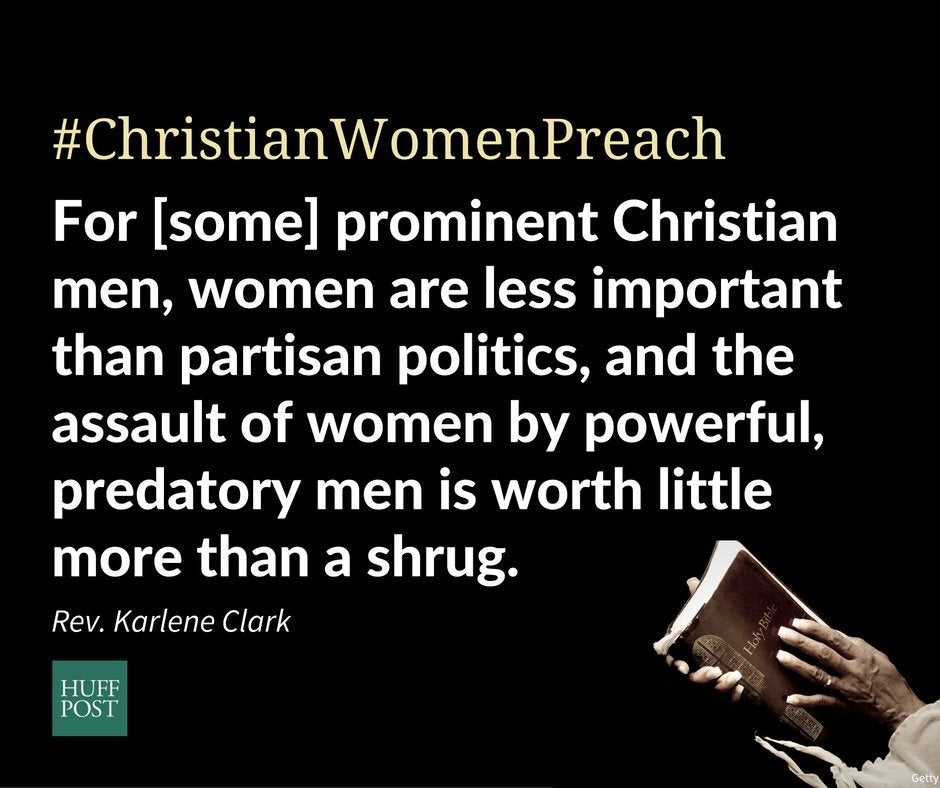 Christian Women Preach
Popular in the Community