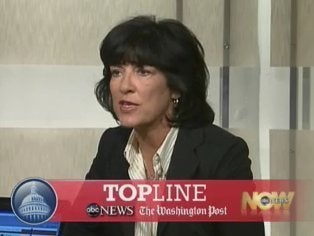 Christiane Amanpour has announced who her first two guests will be when she takes over ABC's"This Week" on Sunday: Speaker of The House Nancy Pelosi and Secretary of Defense Robert Gates.
Amanpour made the announcement Thurdsay on ABC's "Top Line" webcast. During her interview with hosts Rick Klein and Jon Karl, Amanpour also discussed what she wants to bring to the Sunday show. She has spent most of her journalistic career covering foreign stories, but she said that the current situation in America was "a massive story" that she was excited to explore.
TVNewser reported that Amanpour, who lives in New York, has been in Washington, where "This Week" is based, since Monday to prepare.
Amanpour went on to say that, while she would keep the show "competitive" in its coverage of the political horse-race, she also wanted to inject a broader policy focus into the mix:
"I am fascinated by the policy, by the principles of the US government, by the way the government works. Can it actually meet the needs of the people? I'm always fascinated by 'what does this mean for the people?' I've been searching that out in my travels abroad and I want to search it out here."
Asked whether there will be any changes to the roundtable, Amanpour said that panelists who viewers "know and love" will still be there. However, she said that "we eventually want to start adding and increasing the different voices and different perspectives."
WATCH
:
See Amanpour's ad for "This Week" from June:
Popular in the Community