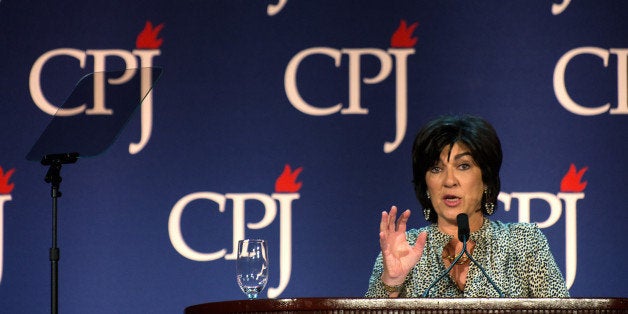 NEW YORK –- For decades, the Committee to Protect Journalists has defended press freedom when authoritarian governments cracked down on speech or when militias, gangs and terrorist groups tried to silence reporters.
Those long-running threats haven't gone away. But speakers stressed during the committee's International Press Freedom Awards dinner Tuesday night that new technology and tactics, as utilized by extremist groups like the Islamic State, have heightened fears for journalists' ability to cover the world.
Alberto Ibargüen, president of the Knight Foundation, said, "There is a new war on journalists." These days, he said, terrorists "will kill a journalist not to stop the story, but to create one."
Ibargüen's remarks echoed a recent article by The Atlantic's Jeffrey Goldberg, who wrote how Islamic extremists once courted reporters to get their message out, but now can spread propaganda online and through social media. The Islamic State, also known as ISIS, has beheaded journalists and aid workers in gruesome videos published online.
But it was Syria, the most dangerous country for reporters these days, that came up in several speeches. Since civil war broke out there in 2011, Ibargüen said, 73 journalists have been killed and 90 abducted.
Diane and John Foley, the parents of journalist James Foley, who was beheaded by Islamic State militants, received a standing ovation from the crowd. "We've come to realize how vital the free press is in protecting its own," said Diane Foley, who urged the assembled media community to advocate for "any captured journalist wherever they may be."
Christiane Amanpour, CNN's chief international correspondent and host for Tuesday's dinner, spoke of how Foley lost his life because he was there bearing witness to the violence in Syria and how it "wasn't just another story" and "wasn't just another war."
Because "elected officials failed to act" in response to the Syrian conflict, she said, "the most unspeakably brutal, atrocious group that we've seen in decades" was able to rise.
"We thought al Qaeda was bad," she continued. "ISIS is the depth of depravity, and our journalists have paid with their lives."
In addition to heralding brave journalists around the world, the Committee to Protect Journalists dinner was also a fundraiser for the group. It pulled in over $2.7 million from the banquet and through a new initiatives fund announced Tuesday night.
Univision and Fusion anchor Jorge Ramos, who received the Burton Benjamin Memorial Award to close the evening, spoke passionately about the need for journalists to take strong stands when holding those in power accountable.
"I think the best journalism happens when we purposely stop pretending that we are neutral and recognize that we have a moral obligation to tell truth to power," Ramos said.
He stressed that journalists always need to get the facts right, but emphasized that they must also side against oppression.

"In front of terror, in front of genocide, in front of dictators, in front of politicians abusing their power," Ramos said, "we can't be neutral."
REAL LIFE. REAL NEWS. REAL VOICES.
Help us tell more of the stories that matter from voices that too often remain unheard.