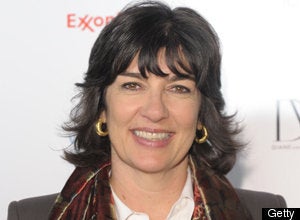 Christiane Amanpour has been named the anchor of ABC's Sunday morning public affairs program, "This Week."
"I am delighted to announce that Christiane Amanpour will join ABC News as the new anchor of 'This Week,'" ABC News president David Westin said in an e-mail to staff. "A highly respected journalist recognized around the world for her reporting, she brings to her new position a wealth of experience and knowledge, as well as a deep commitment to bringing news of the world to the American people. She will also appear on all other ABC News programs and platforms to provide international analysis of the important issues of the day. And, she will be anchoring primetime documentaries on international subjects."
"I'm thrilled to be joining the incredible team at ABC News," Amanpour said. "Being asked to anchor 'This Week' and the superb tradition started by David Brinkley, is a tremendous and rare honor and I look forward to discussing the great domestic and international issues of the day. I leave CNN with the utmost respect, love and admiration for the company and everyone who works here. This has been my family and shared endeavor for the past 27 years and I am forever grateful and proud of all that we have accomplished."
CNN Worldwide President Jim Walton e-mailed staffers this afternoon with the following message:
Over the years, Christiane and I have talked about her professional goals and personal interests, and more recently about the excitement of a new opportunity at this point in her career. While I don't presume to speak for her, as her colleague and friend for more than 25 years I know that this decision has not been an easy one. Since 1990 when Christiane became a CNN international correspondent, she has covered the defining news events of our time. Her work burnished our news brand and gave it authority. In turn, the CNN imprimatur opened doors for her around the world and provided a global platform for the intelligent, courageous, principled reporting that is her signature. CNN and Christiane helped make each other great....

For her hard work these many years on behalf of CNN; for going where the story was, wherever in the world that might be; for her passion, character and generosity; and most of all, for her extraordinary journalism, Christiane has our gratitude, respect and sincere best wishes.
Amanpour will leave CNN in April and join ABC in August; Jake Tapper will host "This Week" in the interim.
In his e-mail to staff, Westin signaled that while Amanpour will take the show in a more international direction, she will continue the show's focus on domestic politics as well:
With Christiane we have the opportunity to provide our audiences with something different on Sunday mornings. We will continue to provide the best in interviews and analysis about domestic politics and policies. But now we will add to that an international perspective. All of us know how much the international and the domestic have come to affect one another - whether it's global conflict, terrorism, humanitarian crises, or the economy. And our international reporting has long been a hallmark of ABC News, part of the legacy Peter Jennings left for us. Christiane will bring the international and the domestic together, in the interviews she does and in the roundtable over which she presides. Our audience has come to us for years to see differing points of views expressed in intelligent and compelling ways; now the different points of view will be expanded beyond partisan politics alone.
Calling all HuffPost superfans!
Sign up for membership to become a founding member and help shape HuffPost's next chapter