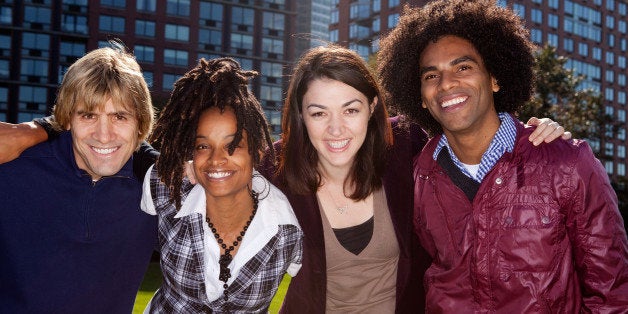 As the country continues to sort through the shooting of Michael Brown in Ferguson, Missouri, few are surprised that some of the most outspoken commentators are those from the faith community.
But what might be surprising is how people in the same religion can come to such startlingly different views on the same event. As those of us speaking and organizing the Christianity21 conference prepare for a national dialogue on the future of Christianity this January, sifting through the range of social and theological opinions offered on issues like immigration and racism is particularly important to us. It is in that spirit that I offer this overview of Christian response to Ferguson and a corresponding invitation to work together toward progress.
The Many Christian Voices Around Ferguson
Unsurprisingly, he suggests it has to do with race, and outlines four positions a person of faith could take:

1. We know that the shooting of Michael Brown was morally unjustified (i.e., killing).
2. We know that the shooting of Michael Brown was morally justified (i.e., self-defense).
3. We do not know whether the shooting of Michael Brown was morally justified or unjustified because we do not yet have enough clear and official information to form any settled conclusions with confidence.
4. Whether positions 1, 2 or 3 are the correct positions to take at this time, Christians should be concerned with the larger systemic pattern of injustice in America that occurs when a predominately white law enforcement interacts with African Americans in particular, as borne out by similar cases and by social science studies.
Justin goes on to say there are "African American brothers" who want to focus upon number four, while "many white evangelicals, on the other hand, want to focus upon number three" at least as they wait to see if number four is justified. (Ironically, Thabiti Anyabwile, who has drawn criticism for his crude remarks about the LGBTQ community, insists on the same blog that Christians not wait for the facts before they speak.)
Morgan Lee at Christianity Today offers additional insights into how black and white Christians think about race, suggesting -- among other observations -- that, "More evangelicals and Catholics have come to believe that one of the most effective ways to improve race relations is to stop talking about race."
Helpful Attitudes as We Think Through Ferguson and Other Heated Social Issues
It is unlikely that people of the Christian faith will come to common ground about the complex history and culture of racism in the U.S., or other important social issues, without more effort to gather and consider such issues together. That's why we welcome all to a gathering of many different Christian camps who hope to join together in the following acts:
1. Committing to Listen -- We'll be purposefully seeking to hear out a variety of different perspectives on race and other important cultural issues.
3. Committing to Participating in Even the Hard Conversations -- We'll be refusing to be among the Christians who, as Morgan Lee previously noted, purposefully avoid this subject. Along these same lines, former Christianity21 speaker Bruce Reyes-Chow has made these suggestions for discussing Ferguson with our children. We also encourage people of faith to share their experiences in local conversation or on their blogs, as former Christianity21 speaker Jamie Wright modeled in "A White Cop, Black Kid and Crime." And specifically, Christianity21 welcomes anyone interested to apply to lead a discussion group of diverse Christians around race relations or other important cultural issues at our national gathering.
4. Committing to Raising Your Political Voice -- We'll be encouraging people of faith to stay current on unfolding events in the media and to look for ways to call government officials toward fair practices. For example, in the case of Ferguson, previously mentioned Organizer Wes Lathrop suggested
ask the Attorney General Eric Holder to assign a special prosecutor that would conduct proceedings related to the death of Michael Brown AND to investigate mass ongoing civil rights violations by Ferguson Police and the St. Louis Country Police. People can reach the Department Comment Line at 202-353-1555.
Perhaps, some will also be able to use their position--regardless of field--to help observers reflect on the appropriate response in race-related conflict, as Presidential Chaplain and former Christianity21 speaker Josh Dubois did here.
REAL LIFE. REAL NEWS. REAL VOICES.
Help us tell more of the stories that matter from voices that too often remain unheard.