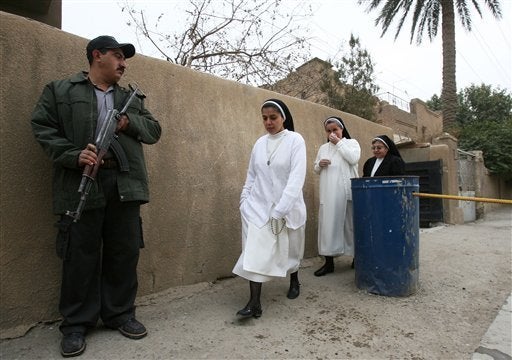 From the time of Jesus, there have been Christians in what is now Iraq. The Christian community took root there after the Apostle Thomas headed east.
But now, after nearly 2,000 years, Iraqi Christians are being hunted, murdered and forced to flee -- persecuted on a biblical scale in Iraq's religious civil war. You'd have to be mad to hold a Christian service in Iraq today, but if you must, then the vicar of Baghdad is your man. He's the Reverend Canon Andrew White, an Anglican chaplain who suffers from multiple sclerosis and from a fanatical determination to save the last Iraqi Christians from the purge.
White invited 60 Minutes cameras and correspondent Scott Pelley to an underground Baghdad church service for what's left of his congregation. White's parishioners are risking their lives to celebrate their faith.
"The room is full of children, it's full of women, but I don't see the men. Where are they?" Pelley remarked.
"They are mainly killed. Some are kidnapped. Some are killed. In the last six months things have got particularly bad for the Christians. Here in this church, all of my leadership were originally taken and killed," White explained. "All dead. But we never got their bodies back. This is one of the problems. I regularly do funerals here but it's not easy to get the bodies."
Many Iraqi Christians' churches are destroyed or abandoned. The congregation is smuggled in and out of this secret sanctuary. Even letting 60 Minutes come to the service was a terrible risk. White is among the last Christian ministers here, a savior with crosses to bear. Larger than life, stricken with MS, and by his own reckoning, driven a little bit mad.
Popular in the Community