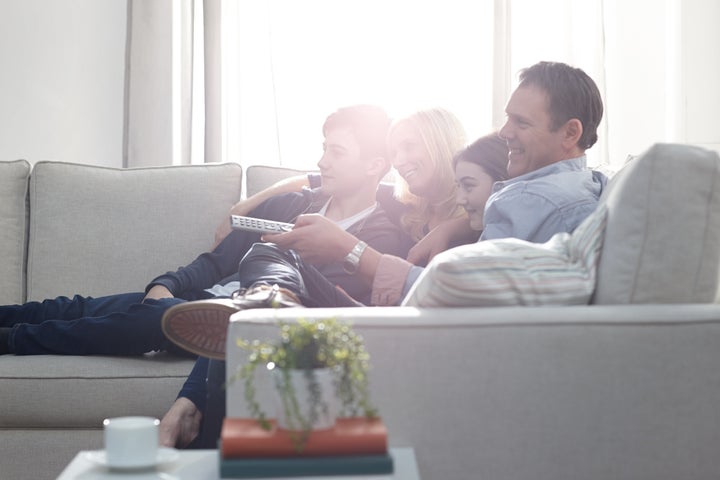 Journalists possess the tool of retraction in their efforts to get it right, a tool not afforded to those who've no intention of getting it right in the first place.
One of the more intriguing stories in a summer of intrigue regarding the presidency of Donald Trump is the revelation that the White House may have been involved in a bogus Fox News story earlier this year about the murder of Democratic National Committee (DNC) staffer Seth Rich. We need to think carefully about this, because this particular intrigue originated with a false narrative passed off as "news" by an organization that is political more than factual ― namely Fox News.
As a business, it's hard to blame Fox News for doing what they do, which is to function as a mouthpiece for conservative political principles. There's money in it, and a large audience for it. Why? Because conservative politics tickle the ears of those who want to better themselves in life instead of allowing their resources to be taken from them in the care of the poor and the afflicted. I know, because this was the path we followed in creating this propaganda-as-news genre in the early '80s at The 700 Club.
Fox later retracted the story that suggested Mr. Rich was murdered because he was the guy who leaked emails damaging to the campaign of Hillary Clinton to Wikileaks, thereby taking heat off the working theory that Russian hackers did the deed at the behest of the Putin government in order to help put Donald Trump into office. The Fox story "source" was the same man who is now suing everybody involved for destroying his career claiming the quotes attributed to him in the piece were fabricated. But this plaintiff, Rod Wheeler, went further by including a text message from wealthy businessman and Trump ally, Ed Butowsky, to Wheeler indicating the president's involvement in the bogus story.
Not to add any more pressure, but the president just read the article. He wants the article out immediately. It's now all up to you. But don't feel the pressure.
So the intrigue is this: Did the president of the United States pressure Fox News to run what was known to be a false story in order to manipulate the public into a second theory of the crime of messing with the 2016 presidential election? It is, by a mile, the most serious accusation facing the Trump White House so far, because it completely corrupts the role of Fox News as the righteous mouthpiece certain Christians use to spread their faith in the GOP as God's party. 
Did the [Trump] pressure Fox News to run what was known to be a false story in order to manipulate the public?
Fox News and CBN News are two peas in the same propaganda pod, presenting political spin as news in the name of political balance. This was achieved by tagging anybody else as the "liberal media," which is a false narrative assigned to the Fourth Estate for political convenience. Only in so doing can these political operatives tap the minds of unsuspecting believers, who need to believe that God is moving against "the forces of darkness" in our world today.
The Seth Rich murder story fits perfectly here, because Christians, after all, love a good conspiracy theory. The devil is a liar and the father of all lies, according to scripture, and they're always on the lookout for his deception. Of course, they never consider that perhaps THEY are the target of this deception. It's always others, especially those in "the world" who are the enemies of God. Why would the devil care about that over tripping up the saints? He wouldn't, and that's the difficult truth. In this sense, Christians ― good people or otherwise ― are highly susceptible to deceit from those who don't have their best interests at heart.
Here's a part of a blog post last week by Mario Murillo, a well-known West Coast evangelist with a big international following. He's also a strong Christian supporter of President Trump and advocates on behalf of the president in his work. Murillo calls the following "facing facts:"
We know that Obama and Hillary loyalists — deeply embedded in Washington — are working feverishly to destroy president Trump. They are using their dark arts, not just on him, but on you.
We know that a soulless media has discarded all pretense of objectivity. They are minions of a mindless coup. They are no longer capable of even thinking a decent thought toward Trump.
We know that Trump is struggling to drain the swamp because some Republican Congressmen have stuck a hose back in it, recycling the swamp water.
We know that Trump make-believers who once supported him abandoned ship at the first sign of trouble.
We know that the forces behind Mueller and Comey will witch hunt Trump for concocted crimes and refuse to try Hillary for actual crimes.
We also know that during this overthrow of freedom much of the Church naps under the influence of melatonin ministers.
Mario Murillo is a bright man, and yet he speaks of Harry Potteresque "dark arts" being used against the president ("and you.")  He references "Obama and Hillary." The media is "soulless" and "minions of a mindless coup." He refers to certain republicans as "Trump make-believers" and mentions "the forces behind" Mueller and Comey. He also slings mud at any other Christian who might disagree with him and his Christian partners. This is textbook false teaching, most of which comes from the public voices of the extreme right, Fox News, Breitbart, and other propagandists. That's right. This is propaganda and certainly not "news" by anybody's definition.
So intent is President Trump on controlling the message (that he's a great president) that he's actually started his own version of "the news" as part of his campaign for re-election in 2020.
Conservative television commentator Kayleigh McEnany, who was named Monday as spokeswoman for the Republican National Committee, served as anchor of the Trump campaign's "News of the Week" video for the first time last weekend. After summing up positive economic news and Mr. Trump's support for stricter legal immigration limits, Ms. McEnany signed off her first report from Trump Tower by telling viewers on Facebook and Twitter, "Thank you for joining us, everybody. I'm Kayleigh McEnany, and that is the real news."
Once again, this is not news; it's propaganda ― spin, slant, bias, misleading, and representing a political point-of-view. There's nothing wrong with spin or slant, of course, unless it's disguised as something else. Edward Bernays wrote the book on propaganda, which gave the word its pejorative edge, for it always has as its core the intent to fool the receiver of the message. In the case of so-called "right wing news," it also comes with the outrageous claims that the mainstream press ― the Fourth Estate, whose role in culture is to keep a skeptical eye on those in power ― is "fake" news. It's a textbook logical fallacy of accusing opponents of doing what they are accusing Mr. Trump of doing. It releases the administration of any accountability or responsibility when arguing substantive matters, because their arguments are "correcting" false information. This absurdity is entirely lost on a great many Christian pastors and believers who don't realize they're being used entirely for political gain.
All people -- and especially Christians -- need to feel a duty to challenge themselves and their tribes about what is true and what is not true.
In summary, all people here ― and especially Christians ― need to feel a duty to challenge themselves and their tribes about what is true and what is not true in the flow of information we call "news" these days. The bogus Seth Rich story from Fox News, one in which the President of the United States may have approved ahead-of-time, is a chilling example of political propaganda as news and for which Fox's apology is unacceptable. Journalists possess the tool of retraction in their efforts to get it right, a tool not afforded to those who've no intention of getting it right in the first place.
Christians, if you believe so strongly that God wants you to prosper and that if you're not, you're either doing something wrong or "the world" is taking what's yours from you, you are easy prey for those who would feed those beliefs back to you in the name of political gain.
Isn't it high time we started calling a wolf, a wolf?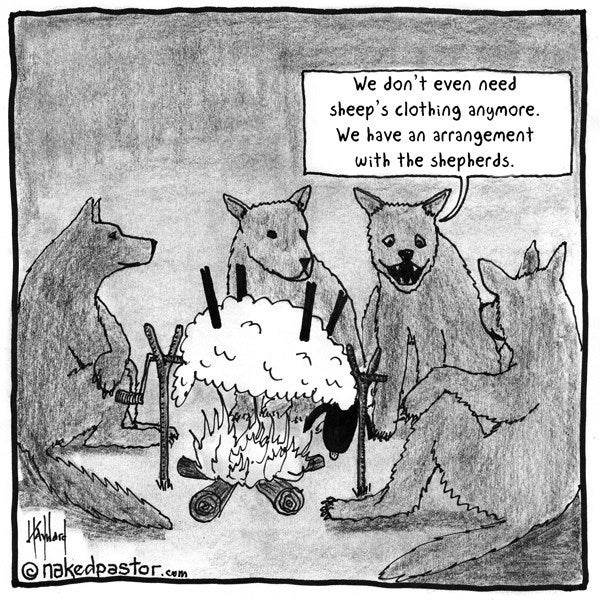 REAL LIFE. REAL NEWS. REAL VOICES.
Help us tell more of the stories that matter from voices that too often remain unheard.
BEFORE YOU GO