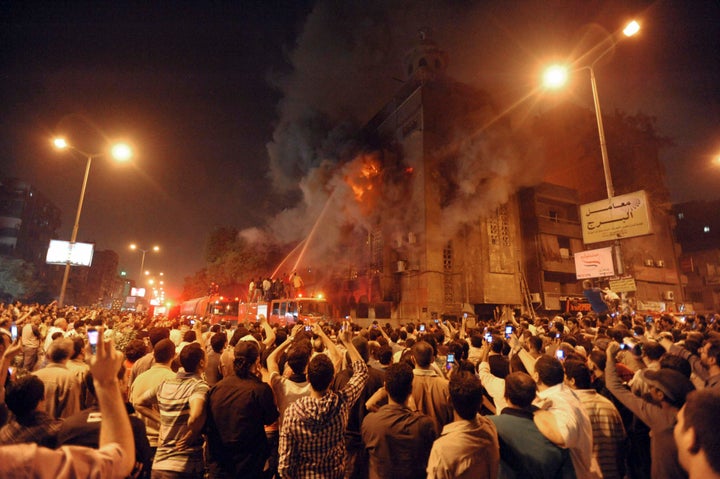 I hadn't checked the news nor Facebook and Twitter all day Saturday. When I finally did, I found disturbing messages by my friends on Facebook. "Did something happen in Egypt?" I quickly asked my husband.
Something had happened. Something horrible had happened. Clashes between Christians and Muslims in the Cairo district of Imbaba left 12 dead: 6 Muslims, 4 Christians and 2 who are still being identified. Two churches were set on fire and almost 200 people were injured.
The news broke my heart. I became more conscious of the "solidarity bracelet" over my wrist, a present I had gotten only a day before. A bracelet with a cross and a crescent as a symbol of unity between Egypt's Christians and Muslims.
The Imbaba clashes were not the first incident and unfortunately I expect they won't be the last. Intolerance has risen to the surface in recent months. The so-called Salafists with their radical interpretations and often narrow-mindedness found new opportunities to speak up in the post-Mubarak Egypt. They exemplify the abuse of freedom of speech. We've been hearing a lot of hate speech.
Ironically the clashes started only hours after a Christian woman called Camilia had appeared on television refuting claims that she was forced by the church to return to Christianity after converting to Islam. Camilia's story had overtaken Egypt in the past two weeks. The Imbaba clashes were also ignited by an almost identical rumor about a woman named Abeer. In March, another church was set on fire after rumors of a relationship between a Muslim and a Christian. The army has since rebuilt the church, but has yet to put those responsible for the attack on trial.
I can only imagine how Egyptian Christians feel right now. It is outrageous that they would feel threatened in their own country.
Muslim, Christian, One Hand
Christians protested in front of the state television building following the Imbaba attack and called on the army to protect them. Some Muslims joined in and started chanting: Muslim, Christian, One Hand.
Two groups have already announced they were forming committees to protect Egypt's churches. There was a march from Imbaba today where people chanted for unity and against sectarian violence.
A solidarity protest is also planned on Friday in Tahrir Square, which was witness to the unity of Muslims and Christians protesting alongside each other in face of the corrupt regime during the 18-day uprising.
I grew up in Cairo, where I had, and still have, close Christian friends. I share their animal-products free food during their Coptic fast and they often outnumber my Muslim friends at my annual gathering to break the fast during the Muslim holy month of Ramadan. We grew up hand in hand, sharing our commonalities and little aware of our differences.
When the January 25 revolution started, I found it hard to watch from so far away. Every day on my way to work I would call my school friend, an Egyptian Christian who now lives in the U.S. We would share our concerns, our joys and discuss the developments. We marveled at how Christians protected Muslims while they prayed in the square. I sent her a video of the mass held by Christians in Tahrir Square one Sunday. Our daily calls made the experience of watching our revolution from afar a little more meaningful for both of us.
In the weeks after Mubarak stepped down she started sharing her fears of the Islamists and concerns about the safety of her family. We discussed the incidents of sectarian clashes, including the recent one. Our calls are often filled with enthusiastic "exactly" and "I agree." I share a lot more with her than with many Muslims.
Counterrevolution or Salafists?
Many are pointing the fingers to members of the former regime as the culprits behind the recent attack. It is plausible. Last week, former interior minister Habib El Adly got a 12-year-sentence and a $4 million fine. The trials of other former officials are underway. Chaos is undoubtedly in the interest of many. This is referred to as "the counterrevolution." Some have even pointed the fingers at foreign Arab countries which would benefit from seeing Egypt's revolution fail.
Then there are the Salafists, whose radicalism and growing appearance is worrying Christians and Muslims alike. They are now under heavy attack for their role in igniting the violence.
But to simply blame the Salafists or the counterrevolution would be underestimating the problem. We can't ignore that the environment, especially in a place like Imbaba, was welcoming to such extremism. We can't turn a blind eye anymore.
The security vacuum is not helping. The government and the army have been criticized for lax security and not being tough enough on radical Islamists. Maybe if those behind the first church torching were brought to justice, others would think twice before carrying out similar attacks.
Too many lives have been lost already. I hope the army has learned the lesson. Everybody is watching its response this time. Fixing the churches won't be enough anymore.
REAL LIFE. REAL NEWS. REAL VOICES.
Help us tell more of the stories that matter from voices that too often remain unheard.