Gebran Kally, a fellow volunteer is stressed but he wants us to have a coffee before the next meeting with the refugees. Before that though, he has an urgent errand to do for his wife. She wants him to buy groceries in the event of a crisis. He isn't used to shopping for groceries, I can tell. He can't find the items she has listed in the shop, and generally feels perplexed. I ask "Zozo" (it says so on his name tag) how one can work one's way around the vast store. He shows us an orientation map. We go there.
Gebran's wife seems to be one of the few who have thought about stocking up on food. The girl at the checkout says that they haven't noticed anything unusual, and that the normal number of customers are buying the normal amount of food on a Friday afternoon in Beirut. But she tells us that her mother has told her that they should at least get some extra cans and dry goods, such as spaghetti.
I talk to ministers, their advisors and other dignitaries in Lebanon. I want to understand if there is a real reason for concern.
The Saudis state it is a "declaration of war", and have answered by urging Saudi citizens to leave Lebanon.
Gebran's wife had heard on the news, on one of the many Arabian TV channels she constantly switches between, that Saudi Arabia and its allies, might decide to impose sanctions on Lebanon, instead of declaring war.
He was smoking a cigar which constantly went out. Lighting it again with a new match on the side of the box, he said with a smile: "The President doesn't accept the Prime minister's resignation, not until he meets him in person, and receives it formally."
Everyone I talked to in Lebanon, taxi drivers, the woman at the hotel desk, the waitress, everybody claims to know why Hariri is under house arrest in Saudi Arabia. They think that the Saudi crown prince is trying to create conflict between the different religious, ethnic and political groups in Lebanon, in order to weaken the country. They also think there is a secret alliance between Israel and Saudi Arabia, an alliance created to debilitate Hezbollah in Lebanon, and in the long run, Iran. The Shiite axis.
During a book signing, I ran into a professor of political science. I convinced him to take a break from his busy schedule, or rather, his Twitter account and his mail box, and instead talk to me. Media is constantly approaching him for comments. But he isn't ready to give any. He prefers caution, in the light of the murder of Saad Hariri's father Rafic in 2005. "Even if we know, or think we know something, we must now be very careful in commenting, and instead wait and see how it develops," he said.
Directly after my meeting with the professor, the priest Hikar takes me to my hotel. He confuses me even more, saying that he doesn't think that Syria was behind the murder of Rafic Hariri, which the UN claimed after an investigation. He thinks it might have been Saudi Arabia.
A few hours later, Gebran and I drive through the Shiite parts of Lebanon. It's a divided country, mainly among Armenians, Maronites, other Christians, Druze, Sunnis and Shias. In the past, one could hardly ever see a picture of a Sunni leader in the Shiite areas. There would always be pictures of Hezbollah leader Naserallah or the prophet Ali. Now Hariri's picture is displayed on nearly every lamp post. Naserallah wants to show support to the Prime minister, as well as show that Lebanon stands united, and that foreign attempts to divide will not succeed. The very same Hezbollah, that has been the greatest support of the Syrian regime, in the war in Syria. A war that has mainly been fought against Sunni rebels and terrorists, backed by Saudi Arabia.
"Now, more than ever, President Michel Aoun has shown that Lebanon is united, and he has reconciled all political parties and different groups. He has firmly declared a united Lebanon that will not accept its Prime minister's resignation", says Habib Afram to me, at dinner on Wednesday night, only a few hours after his most recent meeting with the President.
The very same night I meet some Syrian refugees, Sunnites, who sell paper tissues and water on the streets of Beirut. They are very reluctant to talk about politics. When I get some coffee and biscuits, and sit down and share it with them, this breaks the ice. "Hezbollah and Bashar are also terrorists, nobody cares about the average person, all they want are power and money," one of them says and sheds some tears.
Saudi Arabia has been turbulent for weeks. The crown prince has had eleven other princes and 200 Saudis arrested, in an attempt to fight corruption and modernize his country, or so he claims. But most Arabic commentators agree on it being a diversion, and that the crown prince wants to consolidate his own power, by eliminating competitors and threats. Hariri is said to be one of these.
But let's go back in time, to when Saddam's regime in Iraq fell, and until the present day. Saddam was a Sunnite, and during his reign the Sunnites were in power. Today the power lies with the Shiites. Saudi Arabia supports Sunni terrorists, such as the ISIS. Many of the Iraqi leaders in ISIS were officers in Saddam's army. By joining the terrorists, they wanted to ensure that the power went back to the Sunnites. That failed, as did all other Sunni rebellions in the past.
Saudi Arabia is also trying to crush the Syrian regime, and replace it with a Sunnite one. The Syrian President is an Alawite, a third Muslim sect, a minority closer to the Shiites than the Sunnites. In the war on ISIS, and other terrorist organizations such as Al-Nusra and The Free Syrian Army, Bashar has been backed by the Shiite Hezbollah of Lebanon. Bashar also has the support of Iran and Russia. Saudi Arabia lost yet another attempt to gain control over a neighbouring country.
The Saudis and their allies also lost in Yemen and in Libya. This makes the US and Israel nervous, because it empowers Iran. The Iran that President Trump refers to as a "terrorist nest".
In Lebanon everyone agrees on that Saudi Arabia now wants to gain power there. The Saudis regarded Hariri as their man in Lebanon, but when he refused to destroy his country and wage war on Hezbollah and Iran, they apprehended him. This is the story that most Lebanese agree on.
The Christians in the Middle East are very worried about the development in Lebanon. They don't want to see a repetition of the Genocides in Iraq and Syria, which led to mass emigration. One country after another has been emptied of Christians, something that has been an ongoing process for over a hundred years. This must not happen in Lebanon. Not yet. The President is a Christian, as is the Foreign secretary, the Minister of Finance and many other ministers. Habib Afram stated that 15 out of 30 ministers always must be Christian, according to the constitution.
On Sunday night, Hariri was allowed to be interviewed by a Saudi TV-channel, and rejected all rumours of him being under house arrest, or being threatened by Hezbollah. He also stated that he would soon return to Lebanon. But directly after this Twitter explodes, and many are still convinced that Hariri is being held against his own will, even though some are beginning to falter in their conviction.
I call the Syriac Orthodox Archbishop George Saliba. He says that either way, these are dangerous times. He wants to see a stable Lebanon, not a divided one. He's also worried about Christian representation in the entire Middle East.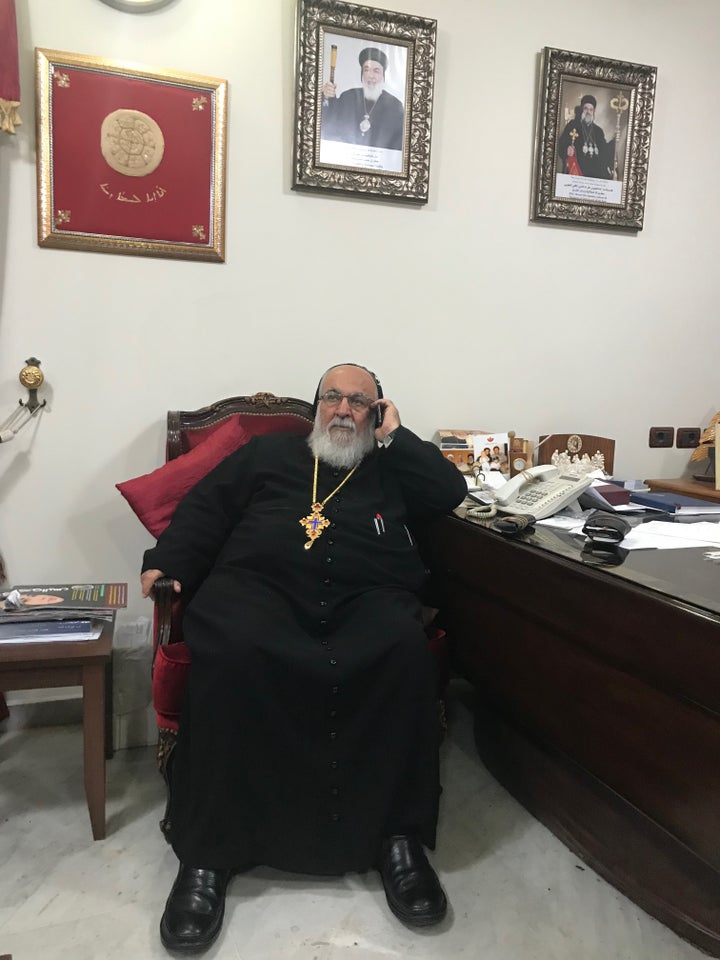 "Lebanon is the last Christian stronghold in the Middle East, and we will not allow that the members of our churches are forced to flee." He continues: "If something should happen, God forbid, we will not stay quiet and just watch. We will take action. We have thousands of Assyrian/Syriac/Chaldean/ and Armenian families who have fled Syria and Iraq here in Lebanon. How long must our peoples flee? It's enough. It has been enough already for a long time."
Three days after I talked to the Archbishop, Lebanon's most powerful Christian leader, the Maronite Patriarch Bechara Boutros Al-Rahi, left for Saudi Arabia. He was invited by the Royal Court. In many ways it was an historic visit, a Christian leader, invited to a country where churches aren't even allowed to exist. But then again, the Maronites are powerful in Lebanon.
In Riyadh, the brave Patriarch said that he will meet Hariri and the Saudi leaders, to better understand why the Lebanese Prime minister has resigned. "His resignation has shocked us Lebanese and created a deadlock," he said.
*Susan Korah from Canada and Ann Kristin Sandlund from Sweden contributed reporting