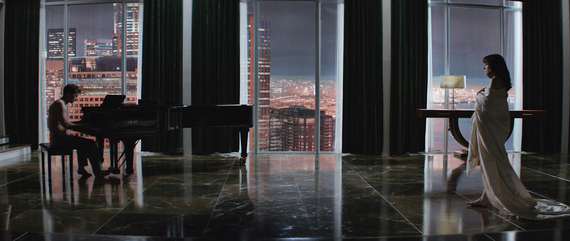 Erotica, control and curiosity are played out against the glamorous International Style backdrop of Christian Grey's bachelor pad in the E. L. James mega-trilogy turned blockbuster film Fifty Shades of Grey.
The starting point for the film's designs began when production designer David Wasco and director Sam Taylor-Johnson brought the same Helmut Newton photograph to a concept meeting and the tone was set. The edict was simple - create a sexy and sophisticated yet youthful lair for the cold and calculating "control freak" and choose pieces that are luxe, individual and state of the art in the process.
Working with wife and set decorator Sandy Wasco, the pair was aided by sketches of the penthouse by author James that include a wall of windows for a view of the skyline, and a dramatic staircase that leads to the highly anticipated Red Room (for those of you in the dark, think sex chamber). "E.L. James's intimate understanding of her characters and their voyage through the trilogy were invaluable," says Sandy. "Her descriptions of Ana's early naiveté and Christian's unease informed many choices of the colors and textures in their worlds."
Designed on a soundstage in Vancouver, the stunning penthouse digs were influenced by the bold colors, minimalism and unconventional style of Stanley Kubrick's films, Guy Bordain's photographs and the sixties Norman Jewison classic Thomas Crown Affair. Sandy also credits the work of architects Sir Norman Foster, Richard Meier and John Forster, detailing "Forster for his finishes, Meier for his mathematical precision and Pawson for his use of light and space."
Since Grey is a young modern day Master of the Universe, quality and high-end furnishings were a must. Many of the interiors featured custom furnishings, rich materials in the form of marble, metallics and hammered metal and a custom redwood console that pays homage to the film's setting in the Pacific Northwest. Interior design standouts include the bedroom's Askew bird and tree patterned wallpaper from DeGournay of England, Delightfull's sexy mid-century lighting, Milo Baughmann dining chairs and a Fazioli Grand Piano (price tag $269,000).
The film's title may tout grey but the color palette was decidedly neutral with pops of color such as the velvet green drapery and teal blue carpeting. And while viewers will also note the lack of decorative accessories in the two-story lair, his art collection is most impressive. "The quality of Christian's art collection was very important to Sam as it had to reflect his status, his connoisseurship and his youth," explains Sandy. "Early on, we were very lucky to have both John Baldessari and Edward Ruscha on board. We also had the invaluable collaboration of Sam's friends Gary Hume, Georgie Hopton, Rob Pruitt, Jake and Dino Chapman, Michael Joo, and Harland Miller."
As for the design of the Red Room, you will just have to see the film.
For a quick tour of the world of Christian Grey, click here.
PHOTO GALLERY
Christian Grey's Lair
REAL LIFE. REAL NEWS. REAL VOICES.
Help us tell more of the stories that matter from voices that too often remain unheard.