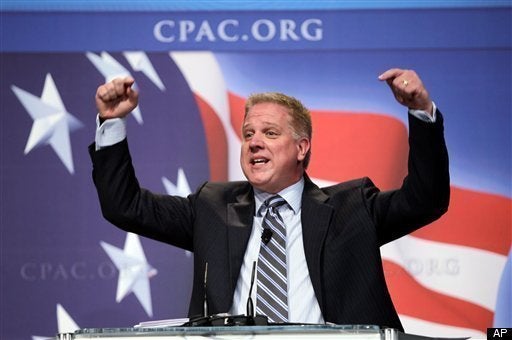 Glenn Beck's recent statement that people should "run as fast as you can" and leave any church that mentions "social or economic justice" is nothing short of a call for his listeners to disregard central tenets of their faith because they do not conform to Mr. Beck's political ideology. He is advocating that they abandon the full Gospel message in favor of a hollow idol, and he is doing so for worldly gain. His statements cannot be allowed to stand unchallenged.
Mr. Beck claims that messages of social and economic justice are Trojan horses being sneaked into our churches by people who are, according to him, either Nazis or communists, but definitely not people proclaiming an authentic Christian witness. Before he goes too much further down that rhetorical path, I would urge Mr. Beck to take some time reading his Bible.
Throughout those sacred pages, God's abundant and overarching concern for the poor, the marginalized, the weak, and the oppressed is apparent, as is God's call on the community to be responsible to those concerns. The prophet Jeremiah, speaking to the king of Israel, proclaimed God's desire this way: "[Did not your father the previous king] do justice and righteousness? Then it was well with him. He defended the cause of the poor and needy, and so all went well. 'Is that not what it means to know me?' declares the Lord." (Jer. 22:15-17) Isaiah begins his prophecy to the nation of Israel with this definition of right and wrong: "Cease to do evil, learn to do good; seek justice, rescue the oppressed, defend the orphan, plead for the widow." The word "justice" is everywhere in the Bible.
During this season of Lent, a time marked by fasting, we do well to remember God's words to the nation of Israel that appear later in Isaiah: "Is not this the fast that I choose; to loose the bonds of injustice, to undo the thongs of the yoke ... Is it not to share your bread with the hungry, and bring the homeless poor into your house?" (Isa. 58:6-7). And here is how Jesus himself described the nature of his ministry on Earth: "The Spirit of the Lord is upon me, because he has anointed me to bring good news to the poor. He has sent me to proclaim release to the captives and recovery of sight to the blind, to let the oppressed go free, to proclaim the year of the Lord's favor [also known as the year of Jubilee]" (Lk. 4:18-19). Jesus saw his ministry as a continuation and fulfillment of the call for justice and righteousness of the Hebrew prophets. One cannot know him without seeing that context around him.
The ideas of economic justice (see Jer. 5:28), rights of workers (see Isa. 58:3), and redistribution of wealth (see the year of Jubilee in Lev. 25:8) are in no way foreign to the biblical text. This is not to say that the Bible is perfectly aligned with political ideologies that prioritize those principles. Nor can we ignore that different Christian traditions emphasize some parts of Scripture more than others. But regardless of where one stands along the theological Christian spectrum, one cannot claim to be following the teachings of Scripture while also saying that Jesus and the prophets cared nothing for economic justice and that a discussion of such principles has no place in the Church.
If Mr. Beck's rants stemmed simply from an honest lack of familiarity with Scripture, that would be one thing. But what is perhaps most disturbing about Mr. Beck's recent statements is that he is urging his listeners to follow a piecemeal Gospel because it better fits his worldly political views. The Gospel of Jesus Christ is not ours to bend to our will, to pick and choose what we will accept and what we will disregard, especially when we do so for worldly gain. The Gospel message does not fit into any ideological box we would seek to put it in. It sustains and convicts, challenges and exhorts all who are bold enough to call themselves followers of Christ -- Democrats, Republicans, Independents, liberals, conservatives, and moderates alike.
As Christians seeking to live faithfully in the world, we must never find ourselves in a position where we are asking, "How can I make the Gospel fit my political view?" Rather, we must let ourselves be constantly challenged and formed, always seeking to align our view of the public good and our political stances with our understanding of the call of Christ. The prophet Isaiah actually provides a sure guide on that exact point that Mr. Beck (and any others in the public sphere) would benefit greatly from reading: "If you do away with the yoke of oppression, with the pointing finger and malicious talk, and if you spend yourselves in behalf of the hungry and satisfy the needs of the oppressed, then your light will rise in the darkness, and your night will become like the noonday. The Lord will guide you always." (Isa. 58:9-11). So if you hear a leader preaching a different message, then run as fast as you can, for his is no longer a church of Christ, but a house of sand built to idolize partisan politics.