Mainstream news media leaves the average Israeli with the impression that much of the world has hostile, hateful feelings towards the Jewish state or, at the very least, does not want to be friends. It gets a little lonely at times in the Middle East.
But there was love in the air of Jerusalem this past Thursday afternoon. Marching through the streets of Jerusalem, approximately 6,000 Christian friends of Israel made their way with flags and smiles, which they readily shared with Israeli bystanders -- from secular to ultra-orthodox Jews of all ages and backgrounds.
Israeli Tourism Minister Stas Misezhnikov welcomed the Christian visitors, who were led by Evangelical community leaders visiting from across the world to celebrate the Feast of Tabernacles, the Christian celebration of the seven-day Jewish holiday of Sukkot.
The throngs of visitors, who came from over 100 countries, sang Israel's national anthem, Hatikva, and wished "chag sameach" (Hebrew for happy holidays) to Israeli bystanders, who gathered to watch, smiling and waving back. Israeli children collected flags and souvenirs that the Christian participants brought with them from their home countries.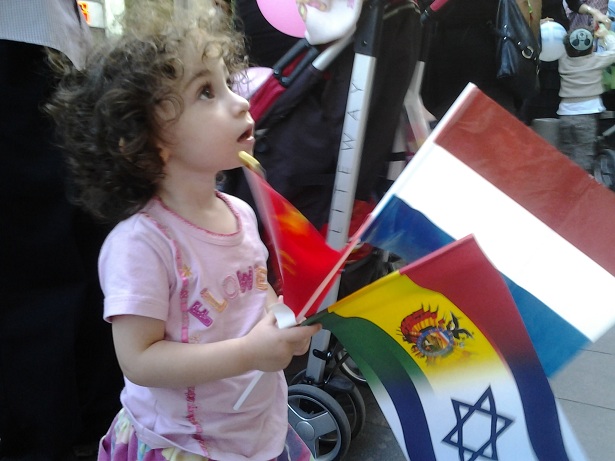 Photo: Anav Silverman, Tazpit News Agency / Description: Young Israeli girl collects flags from passing Christian marchers participating in the international Feast of Tabernacles march in Jerusalem.
Among the different delegations Brazil, Australia, New Zealand, Hungary, Czech Republic, Bolivia, Chile, India, Nigeria, Norway, Switzerland, Sweden, Denmark, United States, Canada, Great Britain, Korea, Japan, Taiwan, China, Malaysia, South Africa, Germany, France and Italy were of the many nations that attended.
The march is part of the many activities surrounding the Feast of Tabernacles, organized by the International Christian Embassy of Jerusalem (ICEJ), which works to express and strengthen Christian support for the State of Israel and the Jewish people.
The Feast of Tabernacles is perhaps the most well-known event of the ICEJ and has taken place every year since 1980, when the embassy was established in Jerusalem, drawing thousands of Christians from around the world. The Feast of Tabernacles and all the events surrounding the holiday, which includes visits to Christian holy sites in Israel, as well as lectures, workshops and musical worship in Jerusalem, is considered to be the largest single tourist event in Israel.
In 2011, more than 25 percent of all incoming tourists to Israel came for the purpose of this pilgrimage, and 42 percent of those visitors were Christians.
"We love you," said one Chinese participant to an Israeli woman watching the parade. It was an often repeated statement said in many different accents during the day, which Israelis generally do not get to hear. "This parade makes me so happy," said Rivka, a 25-year-old Israeli. "To see all this love pouring from thousands of people is so special. It's so nice to know that we have friends that truly support us and come to stand openly with our country."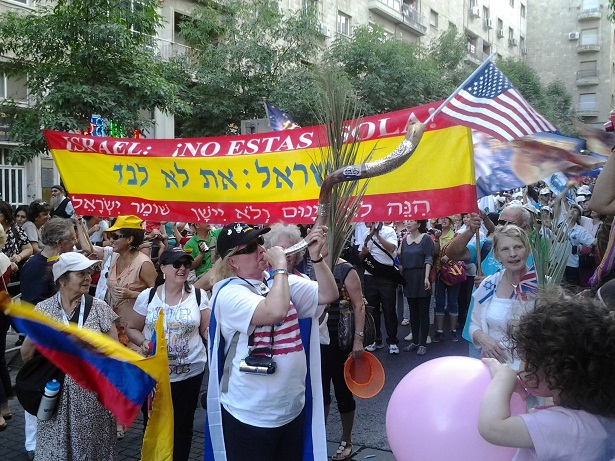 Photo: Anav Silveramn, Tazpit News Agency
REAL LIFE. REAL NEWS. REAL VOICES.
Help us tell more of the stories that matter from voices that too often remain unheard.