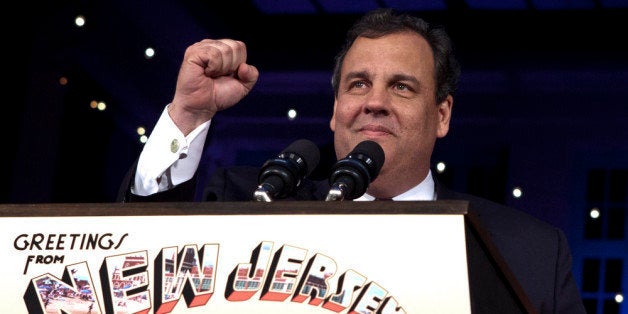 As NBC's Chuck Todd was reporting live from the Terry McAuliffe's post-election celebration Tuesday night, he shared a fairly provocative scoop with MSNBC host Lawrence O'Donnell concerning the night's big winner, New Jersey Gov. Chris Christie, and the night's big loser, Virginia gubernatorial hopeful Ken Cuccinelli:
TODD: I heard from one Republican source who said, "Where was Chris Christie?" In fact, saying that they made an effort -- apparently some senior conservative Republicans reached out to Christie and asked him to come down to Virginia and campaign for Cuccinelli and Christie said no. So, it's -- that's sort of the way you feel this is going to play out...it's a lot closer than Republicans thought. A lot of Cuccinelli supporters are a little bit bitter right now looking at the result, thinking, "What if?"
Wow. Well, if this is true, it's a real example of the kind of political smarts that Christie demonstrated on his way to winning reelection. Given Democrat Terry McAuliffe's narrow margin of victory in Virginia, and Cuccinelli's failure to establish himself as a viable candidate in the purpler Northern Virginia districts, one can easily argue that even a brief barnstorming run with Christie might have made enough of a difference for Cuccinelli to win. But there would have been absolutely no upside for Christie in the exchange.
Christie wanted as clear and as resounding a win as could be mustered tonight -- so much so that he arranged for the New Jersey Senate special election to occur well ahead of time, so that there was no risk that Newark Mayor Cory Booker's popularity might draw him into a closer clinch with Barbara Buono. Christie needn't have feared that a trip to Virginia to help Cuccinelli manage his baggage would have cost him re-election, but it would have been no way to max out his margin of victory. And beyond that, Cuccinelli is way, way "off-brand" from Christie's perspective. Christie is very conservative, but he's striving to avoid being thought of as a "weird" conservative.
A Christie hop-on may have really helped Cuccinelli, but hey, them's the breaks.
Of course, this is all well and good when Christie's simply trying to lock up the New Jersey statehouse. This will get substantially more interesting if and when he transitions to a 2016 presidential campaign. When you are a presidential nominee and a party standardbearer with a strong brand, there's a greater obligation to help out downticket, and put in some face-time with your party's candidates who are in a position similar to where Cuccinelli found himself tonight -- in need of a little nudge to get over a gap in the polls.
Obviously, a presidential nominee Chris Christie wouldn't necessarily have to troop out in the service of a candidate who might taint Christie's chances with the association. Mitt Romney, after all, did not fly to the rescue of Rep. Todd Akin after the Missouri Senate candidate had his famous "legitimate rape" bonehead eruption. But Akin's problems did eventually become Romney's problems, and he was forced to meet the task of "distancing" himself from Akin head-on. So Christie's savvy decision to just remain aloof from Cuccinelli isn't necessarily a tactic he'll be able to employ at his discretion, should he become the GOP's 2016 nominee.
Okay, I suppose I meant to come off as trolling just a little bit.
Calling all HuffPost superfans!
Sign up for membership to become a founding member and help shape HuffPost's next chapter
BEFORE YOU GO
PHOTO GALLERY
2013 Election Night: Winners & Losers