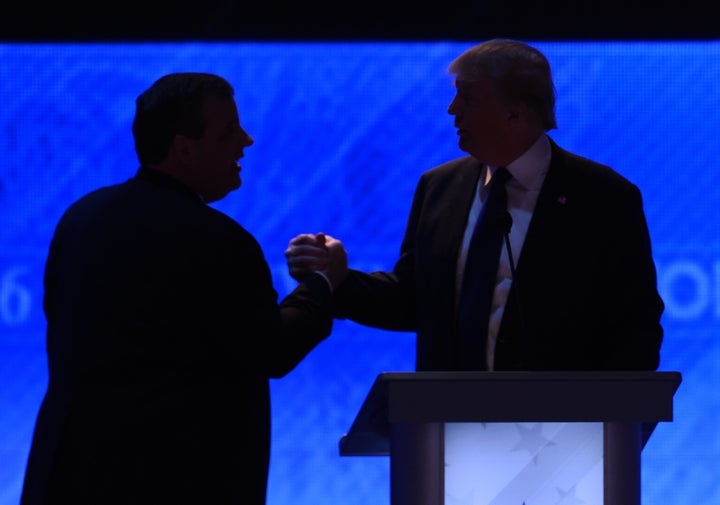 WASHINGTON -- New Jersey Gov. Chris Christie's endorsement of business magnate and established racist Donald Trump has infuriated his allies in the state's GOP, emboldened his opposition and sent the state's political class into a free-for-all.
Christie's enemies in the state told The Huffington Post they weren't surprised by the endorsement, because the Republican governor is prone to making decisions that don't benefit his constituents. Christie's allies within the higher ranks of the state Assembly and Senate said they understood why Christie would think endorsing Trump was a good idea, but they worry that Christie is already more interested in his next job than he is in governing the Garden State.
Trump and Christie have known each other for 14 years, brought together by Trump's older sister, a federal judge in Philadelphia. Christie met Trump in New York City at Trump Tower, where the business mogul ordered meals for the future governor. Trump sat front row in 2010 at Christie's inaugural Mass. Both men and their wives frequently had dinner together. Christie -- a political opportunist -- seemed to cling to his last friend in the race.
Christie defended his endorsement of Trump in a lengthy press conference in Trenton, New Jersey, last Thursday. He said Trump is the best person remaining to keep former Secretary of State Hillary Clinton from winning the White House and dispelled some of the frenzy surrounding his backing of the billionaire.
"This is part of the hysteria of the people who oppose my Trump endorsement. They want to read anything into it that can be negative," Christie told reporters.  
"So no, I wasn't being held hostage," he added. "No, I wasn't sitting up there thinking, 'Oh, my God, what have I done?'"
Yet, just weeks after backing Trump, Christie's endorsement appears to be hurting his already dismal popularity ratings. A new poll conducted by Fairleigh Dickinson University shows that only 27 percent of registered New Jersey voters approve of Christie's job performance -- a 6-point dip in approval from voters polled before the endorsement.
Krista Jenkins, a professor of political science and director of FDU's PublicMind, which conducted the poll, said that Christie's return to the state -- after being away for 72 percent of 2015 -- was an opportunity to re-establish goodwill with voters; the Trump endorsement immediately derailed that.
"Joining forces with Donald Trump was hardly a vehicle for getting voters to reconsider their sour mood toward the Governor," Jenkins said in a statement.
Prominent Republicans in the state have also denounced Christie, saying they'd rather vote for Clinton than vote for Christie's pick, Trump.
Recently, six newspapers in the state called on Christie to step down from the governorship, citing as reasons his arrogance, the time he's spent away from the state running for president and his support of Trump.
None of the New Jersey legislators who spoke to HuffPost supported Trump's outlandish, xenophobic rhetoric about getting Mexico to build a wall, or deporting nearly 11 million people, or banning Muslims from entering the United States. And many of them questioned how craven it seems that Christie would turn his back on so many of his prior beliefs.
"It's very difficult for me to believe that Christie believes in anything," state Senate Majority Leader Loretta Weinberg, a Democrat, told HuffPost. "When as U.S. attorney after 9/11, you visited mosques to make people feel comfortable, and now you join a campaign that says no Muslims should be allowed in our country?"
Jon Bramnick, the leader of the state's Republican Assembly and a potential 2017 gubernatorial candidate, also repudiated Trump's plan to deport undocumented immigrants.
"It's wrong. In my judgment, I wouldn't support that. I don't think Christie supports all of Donald Trump's policy," he said. "I don't know anyone in New Jersey who wants to throw 11 million people out of the country. In politics, man, you don't agree with your candidates on every issue. That's an issue he cannot do and will not do. You cannot get it done. It's impossible to do it."
Other members of the state legislature were shocked at Trump and Christie being linked together in the recent endorsement.
"For six months this country has been mired in evading a fantasy about a wall and a 5 million-person roundup," state Assembly Judiciary Chair John McKeon (D) told HuffPost."Gov. Christie is ... a smart man, he knows that can never happen. With someone [like Trump] whose primary tenet is those two issues, I'm astonished."
McKeon also doubts that members of the state GOP will follow their governor's lead. "I'll be flabbergasted if a good number of his colleagues on the legislature for the Republican side follow suit," he said. "I know a lot of them personally, a lot better than the governor and for a lot longer, and I know they can't be in sync with Donald Trump's ideology."
Some of Christie's colleagues believe that Trump's most openly racist proposals are just gimmicks designed to win over conservative Republican primary voters.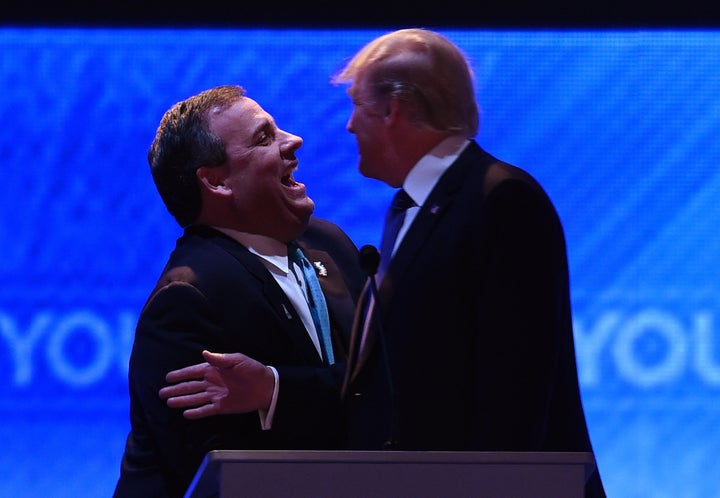 "If and when Trump wins the nomination, and I believe he will, he will become more moderate," said state Sen. Jeff Van Drew, who calls himself the most conservative Democrat in the caucus. Trump "essentially is a Northeasterner. He's a New Yorker. Policy-wise [Christie and Trump] will parallel a little bit more, and Trump will come to the middle."
Christie's supporters point to his decision to join the Trump train as evidence of Christie's ability to pick a winner. Christie "jumped on board ahead of time, that's his style," said Ed Kline, a former Republican state assemblyman and mayor, plus one of Christie's close friends. "In New Jersey, a lot of people will get behind our governor. Some won't. But, a lot will."
Legislators on both sides of the aisle pointed to the Trump endorsement as an example of Christie trying to place himself in the running for vice president or attorney general, should Trump win the White House. Some even said Christie could be taking advantage of the chaotic state of the Republican Party as it nears a possible brokered convention in July.
Whatever Christie's motives, the most consistent opinion among state politicians of both parties is that Christie needs to attend to the needs of the state more than he's doing right now. The individual legislative districts need their governor.
"It seems that the governor left New Jersey in his rearview mirror long ago," McKeon said. "Shortly after he was elected to his second term, and he's done nothing to change my perception of that. I hope he will."
In the southern part of New Jersey, on the shores of Atlantic City, one legislator thought the governor would be back on board with fixing the state's issues. However, with Christie back out on occasional weekend events with Trump, he said he was mistaken.
"We have so many problems in New Jersey that some of us were hoping the governor dropping out of the race [meant] that we'd get some serious conversations," said state Sen. Jim Whelan, a Democrat. "We need to have the governor on board to move those things forward, but we aren't going to have that."
Ultimately, New Jersey politicians are split on their presidential support, split on their views on the governor and undecided about what will amount from throwing support behind the GOP's crazy uncle-turned-existential threat. But what they know definitely is that whatever is up Christie's sleeve is -- purely -- about Christie.
"In today's diverse, complicated world, how can you get behind someone like this man for president of the United States?" Weinberg said. "Unless all you are thinking about is yourself."
Christina Wilkie contributed to reporting.
CORRECTION: A previous version of this story incorrectly stated the Republican convention is in April. It is in July.
REAL LIFE. REAL NEWS. REAL VOICES.
Help us tell more of the stories that matter from voices that too often remain unheard.
BEFORE YOU GO
PHOTO GALLERY
Celebrities Who Have Endorsed Trump