If Roy Lichtenstein's painting "Woman With Flowered Hat" is a bit out of your budget-- it sold for $56.12 million this May, we bear good news. The work below, "Pistol, from Banner, Multiples Calendar for 1969," is a screenprint from the same artist and the same year, and it is slated to sell for between $2000 and $3,000. It's not pocket change but it's sure no $56 million!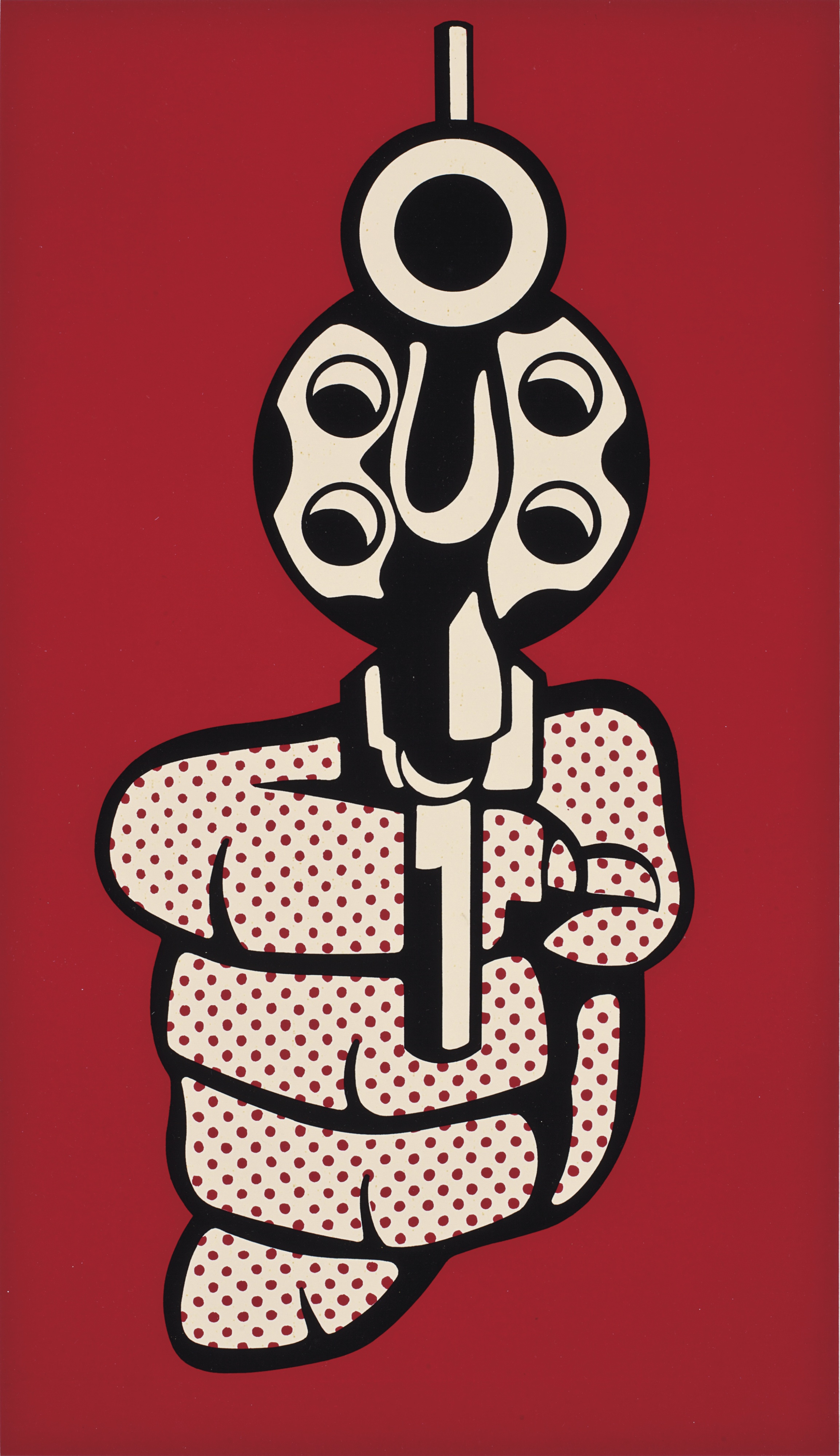 After Roy Lichtenstein (1923-1997) Pistol, from Banner, Multiples Calendar for 1969, screenprint in colors, 1968

Christie's upcoming print auction, entitled "First Impression Prints & Multiples," combines huge name artists like Rene Magritte, Ellsworth Kelly and Joan Miro with intriguing up-and-comers. Over 400 works from 100 artists will hit the auction block, some with starting estimates as low as $300. If you're trying to collect works from the greatest of modern artists without dropping seven digits, this looks like the place to be. We spoke to Richard Lloyd, Christie's International Department Head for Prints, about the upcoming sale.
Huffington Post: What separates this upcoming auction from previous years?

Richard Lloyd: We have Escher and Miro and Chagall, and we're mixing it with the more contemporary end of things. The thing that is really different this year is the catalogue. We normally organize it alphabetically but this year we are organizing it like a painting catalogue-- totally image led. We are trying to reach out to the people who aren't print collectors and don't totally understand what prints are about because they're so technical. The technical language is a barrier with prints, it's something that is not really a concern with painting.
We want people to look at these objects as works of art and not get too worked up over whether its a lithograph or a screen print. These things are fascinating, and you can get involved with the process, but that's not what its about from the get go. Putting similar aspects together allows conversations to emerge. Just look at them as images first.
HP: Do you think the fact that prints are more affordable than other art forms affect how they are valued as an art form?

RL: Prints can be more affordable but not always-- last year we sold a Picasso for $5 million. I think the real thing that undermines the value of prints though is that they are multiples. Even a terrible painting by a terrible artist, people think it's mine, it's the only one. I am hoping that the mindset is now beginning to change because a lot of contemporary artists create work in editions, no matter the medium. Gursky photos, for example, or all kinds of sculptures that you'll find in editions of three or five. Contemporary artists now feel more at home with not having just one of something, and that is helping out the world of prints. When people are more open minded you can get a Lichtenstein or Hockney image for a reasonable price.
HP: Do you have a favorite from the approaching sale?
RL: You know, you flip through and you find one and you think that's going to be my favorite and then you flip through a few more and you're like no that's it. The thing is with a print is, you can appreciate an image for its aesthetics but you can also appreciate a technique, something is unusual in its aspect. For example, Rauschenberg has these that just look like ripped up boxes, but they're actually carefully printed sculptures. It looks like a pile of junk though; I'm sure an art handler has just chucked them across the room at some point.
PHOTO GALLERY
Christie's Print Sale
REAL LIFE. REAL NEWS. REAL VOICES.
Help us tell more of the stories that matter from voices that too often remain unheard.