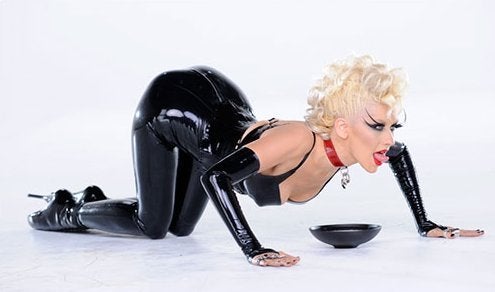 Christina Aguilera has canceled her 20-date summer tour, which was scheduled to begin in July.
Live Nation, the tour's promoter, released the following statement:
"Christina Aguilera's summer tour has been moved to 2011 due to prior commitments that the singer had made to her film, 'Burlesque,' and to the promotion of her new album, 'Bionic.' The singer felt she needed more time to rehearse the show and with less than a month between the album release and tour dates this wasn't possible."
Could poor ticket sales be the real reason?
"Not Myself Tonight," the first single off Christina's new album, charted at a disappointing 23. The video for the song (scroll down to watch) was widely panned and regarded as an oversexed Gaga ripoff.
Christina's new album will be released June 8 but has already been leaked in full. 'Bionic' is her first album since she took time off to have her son, and she has been working on it since 2008.
'Burlesque,' a musical costarring Cher, is due out in November. The singer recently posed nude for German GQ.
Just last week Christina told Popeater she planned to wow her fans on her upcoming tour.
"My plan, as I have done in the past, is not to disappoint and to put on a show that my fans will love," she said. "Fans will have to come see the show to find out what we have in store."
WATCH 'Not Myself Tonight' video:
@
Popular in the Community