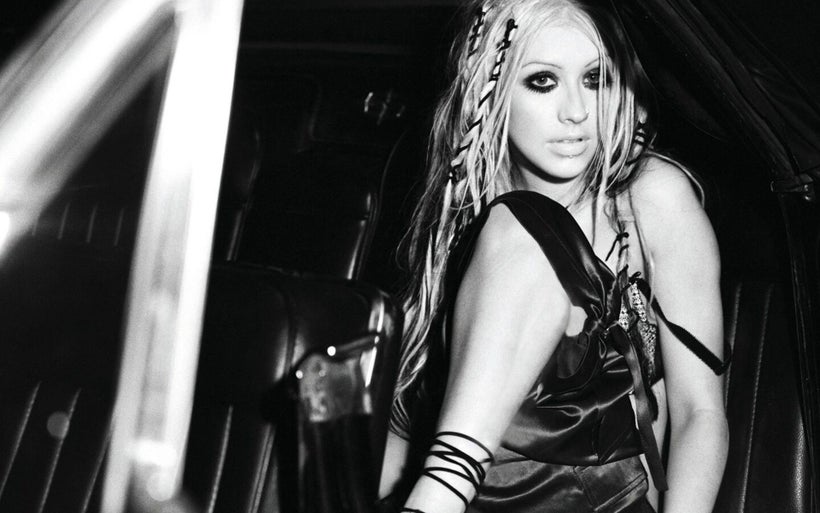 On October 29, 2002, Christina Aguilera released her sophomore album Stripped.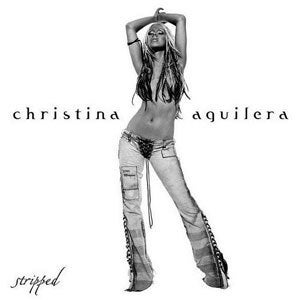 Though her self-titled debut album produced three number one hits and earned her a Grammy, Christina wanted to shed her pop star image and show the world who she really was. In other words, she was ready to get her grown woman on, take her clothes off, and speak her mind. But what could a barely legal, former Mouseketeer have to talk about?
Well, sexism, misogyny, homophobia, domestic violence and self-care for starters.
When Aguilera released the video for Stripped's first single "Dirrty," backlash ensued almost immediately. Music critics called it too racy, SNL and Family Guy lampooned it, and Thailand's government banned it for its sexual content (I guess a little muscle worshipping and mud wrestling was too much for folks). But if you had a problem with "Dirrty," then you were part of the problem, and that was exactly Christina's message: Women should be able to express, explore and own their sexuality without being criticized and labeled for it — a privilege only afforded to men.
While Christina isn't the first pop star to place feminist rhetoric into pop culture, she led the charge at the beginning of the 21st century of influencing the next generation of impressionable teens who were too young for Janet and Madonna's curriculum. Also at the beginning of the 21st century, the ability to share music and discuss its contents shifted with music sharing and social networking sites emerging. If your close friends couldn't relate to a new song or movie, you could find communities online to discuss the themes and find support.
One community that found support with Stripped was the LGBTQ community. After "Dirrty" rubbed most of the world the wrong way (see what I did there?), Christina's label was like, it's time to put on a coat, sit on a stool, and sing a ballad.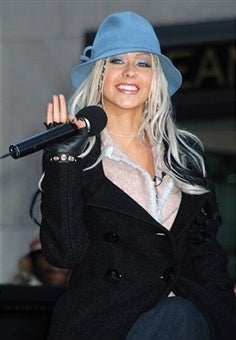 Enter "Beautiful," a Linda Perry penned ballad addressing inner beauty, self-esteem, and insecurity issues. The song received universal praise from critics, and skyrocketed up the charts around the world, but it was the video that solidified the track as an anthem for a generation. As the new century began and generations from yesteryear started retiring from public life, (i.e. racist and homophobic people started checking into the looney bin and dying) people who were the product of the '60s and '70s free love era started taking the helms. One marker of the changing tides, same-sex marriage slowly gained acceptance. In 2001, The Netherlands became the first country in the world to legalize same-gender loving unions.
So, Christina was right on time with "Beautiful."
I remember hearing "Beautiful" for the first time and connecting to the lyrics and then watching the video, seeing two men kissing and thinking to myself: I am not alone. I also remember finding an article online about how gay and trans kids at the The Harvey Milk School in NYC were listening to "Beautiful" on repeat. Before "It Gets Better" campaigns and programs, marginalized outcasts found a home in Christina's music and a Pride anthem was born.
The Jonas Åkerlund directed video earned Aguilera a GLAAD Media Award for its positive portrayal of gay and transgender people, and if you look even deeper, you'll see additional issues of representation covered including a young African-American woman burning magazine pages featuring only white women and a teen boy wrestling with body image issues.
Christina was really ahead of her time here.
Much of Stripped focused on loving and accepting yourself and putting a finger up to the haters and bullies.
I don't need nobody trying to make me over/I just want to live simple and free Xtina sings on "Make Over."
I woke up this morning with a smile on my face/and nobody's gonna bring me down today she states on "Keep On Singing My Song."
Don't be scared to fly alone/find a path that is your own/love will open every door/it's in your hands/the world is yours she belts on the gospel-tinged "Soar."
Hearing these lyrics as a gay teen, wrestling with demons and possibly depression, Christina's music helped me cope — and sharing this experience with other Xtina fans on the internet likely had an impact on all of our mental health if you believe in the healing power of music.
Beyond its lyrical content and life-saving powers, Stripped is just a dope AF album that still inspires pop artists today.
Where Stripped wins out to me is just how diverse Christina was in sound. The album manages to reach all over and do it well. If you take Stripped for another spin, it's amazing that each song is by the same artist. She enlists Dave Navarro to give you rock on "Fighter," she brings in Alicia Keys and Questlove to create R&B gems like "Impossible" and "Walk Away," and Glen Ballard (Michael Jackson, Alanis Morissette) brings out classic Aguilera on "The Voice Within." While on her first album Christina imitated her idols Mariah and Whitney, on Stripped she begins to find her voice — it's raspy, it's growly, it's vulnerable, it's smooth. Stripped showed the world what else she could do with those mutant lungs. And, once again, Grammy voters took note.
If you haven't listened to Stripped in a while and need some inspiration in the dark times we're currently in, I recommend you take it for ride. And next time someone disses Xtina, pull up this article and tell them to put some respect on her name.
Calling all HuffPost superfans!
Sign up for membership to become a founding member and help shape HuffPost's next chapter
This post was published on the now-closed HuffPost Contributor platform. Contributors control their own work and posted freely to our site. If you need to flag this entry as abusive,
send us an email
.