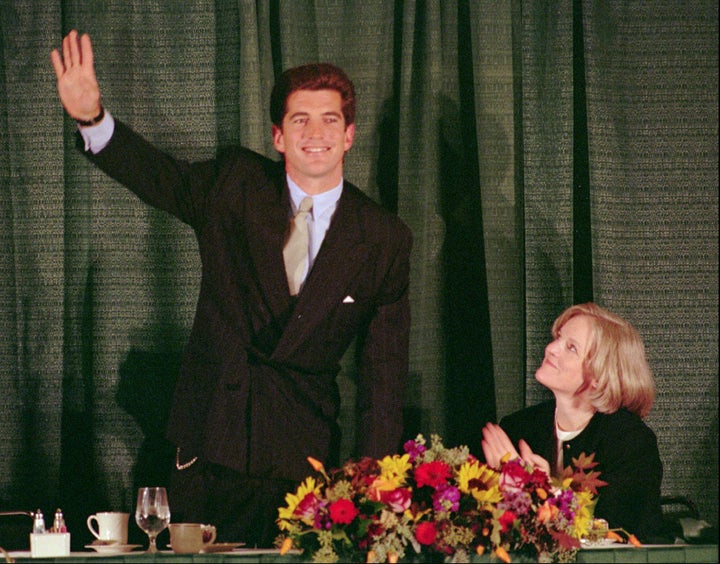 It's no secret that JFK Jr. had a penchant for danger, and a memoir by his former girlfriend Christina Haag brings new details to light.
In her book, Come To The Edge, to be released in May, Haag chronicles her relationship with the late Kennedy in the 1980s, beginning with their first kiss. Her story highlights his compulsion to live on the edge, including depictions of smoking marijuana on the beach, recommending tantric sex books, and a near-death kayaking experience.
According to ABC News, Kennedy and Haag first met while growing up in Manhattan and became close while attending Brown University together.
Vanity Fair's upcoming issue excerpts pieces from the book, including Haag's account of the kayaking debacle:
Kennedy devised a route that he believed would ensure a safe return, but he misjudged the current and the two were hit by a wave that plunged them underwater. Haag recalls her thoughts. "This is it. This is how it ends. We are going to die together. This is what it means to drown," she writes. "My lungs hurt, and as we crested a steep wave, I coughed, spat water, and clung to the edge of the boat with my head down. I waited, fully expecting to be flung backward out of the boat, but we made it over. I looked back at him, amazed, and saw that he had never stopped. He'd never given up, and he was beginning to shepherd us over the waves, not under them. He had turned us out to sea, just as he'd promised, and we were coursing past the break to safety."

This time there was a marked difference in Kennedy's reaction to being so close to death. "John seemed fine, oblivious.... He whistled," Haag writes, "although he did make me promise not to tell his mother." "But, John, we could have died," she said, still angry and frightened. "Yeah, Chief, but what a way to go," he replied, and went back to securing the boat for the night.
JFK Jr.'s tendency towards risk-taking eventually led to his death, when the plane he was flying in Martha's Vineyard crashed and killed him, his wife Carolyn, and her sister in 1999.
Read more from the Vanity Fair excerpts here.
Related
Popular in the Community