Christina Hartman was running in Pennsylvania's 10th Congressional District. Her decision to leave the race follows news that her rival Democrat George Scott planned to join a complaint questioning whether she received the required number of signatures under state law to appear on the ballot. The deadline for ballot challenges is Tuesday.
A separate forthcoming challenge was also going to call into question the ballot signatures, as well as the veracity of an affidavit saying Hartman lived in the district, according to a Pennsylvania Democrat familiar with the challenge.
"There appears to have been a larger and much more broad challenge coming from other candidates in the race that may have indicated the beginning of the end for Christina's campaign," the Democrat said.
Hartman's departure opens up the field in a newly competitive district that includes the Pennsylvania capital of Harrisburg.
Hartman had raised over $350,000 for a run in the neighboring 11th Congressional District, which includes Lancaster. But after Pennsylvania's Supreme Court ordered the redrawing of the state's congressional districts, the 11th district became much more Republican and the 10th became more favorable to Democrats.
Seeking to remain in a district where she would be competitive, Hartman announced in late February that she would be moving to the new 10th district and running there.
"When the new districts were announced, I had to make a quick and difficult decision to continue my campaign in a new district," Hartman said in a statement. "After further consideration, I've decided that this is not the right time for me, and I will support the Democratic nominee in November."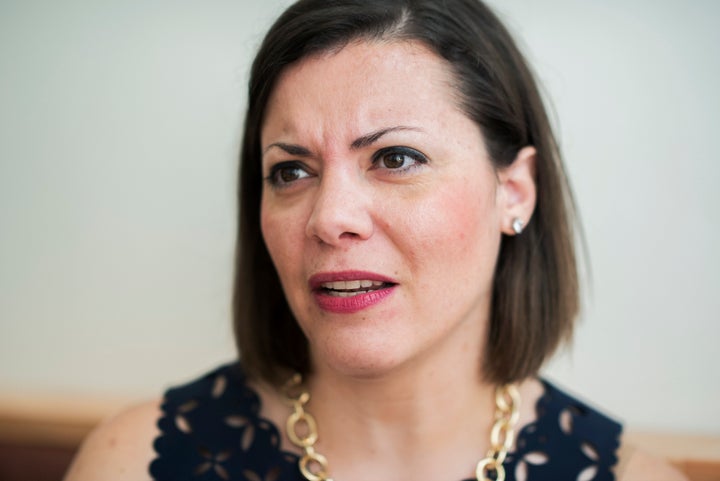 Four Democrats remain in the race for Pennsylvania's 10th: Scott, a former U.S. Army officer; Eric Ding, a public health scientist; Alan Howe, a retired career Air Force officer; and Shavonnia Corbin-Johnson, a former Obama administration official.
The winner of the May 15 primary will take on three-term incumbent Rep. Scott Perry (R).
The Pennsylvania Supreme Court's February decision to draw new congressional district boundaries, after concluding that the previous lines were unconstitutionally gerrymandered, has roiled the Keystone State's politics.
For the most part, the changes have benefited Democrats, making the party more competitive in several districts, including the 4th Congressional District, which was redrawn to become the current 10th district.
President Donald Trump won Rep. Perry's 4th district by 21 percentage points, but he would have won the new 10th district by just 9 points.
Pennsylvania's 11th Congressional District, by contrast, went from a district that Trump won by 7 percentage points to one where he would have won by 26 points.
Prior to moving to the new 10th district, Hartman's bid had already attracted national scrutiny as an example of what some activists considered questionable Democratic establishment intervention in primaries.
Despite underperforming Hillary Clinton's margin in the district in 2016, Hartman had lined up the support of national and state-level Democratic leaders, as well as fundraising powerhouses like EMILY's List and End Citizens United PAC. Some progressive activists lamented that the party was trying to stifle the bid of Jess King, a well-funded Lancaster-based nonprofit leader who was battling Hartman from the left.
But if Hartman came to the 10th district seeking greener pastures, she encountered stiff resistance from the get-go. Corbin-Johnson's campaign blasted Hartman in early March for a phone call in which Hartman allegedly offered Corbin-Johnson a job if she withdrew from the race. Although Hartman denied that characterization of the call, Corbin-Johnson's team maintained that the call was the "disrespectful" gesture of a well-heeled carpetbagger.
Corbin-Johnson's status as an African-American heightened the symbolism of the flap. Collective PAC, which backs black Democratic candidates, argued that the affair reflected the national party's unwillingness to empower black candidates like Corbin-Johnson.
Even before Hartman formally withdrew, EMILY's List told HuffPost Tuesday that it had re-opened its endorsement process in light of the new district boundaries. The pro-abortion rights group left open the possibility that it would endorse Corbin-Johnson.
"Given the change in Pennsylvania's district lines, we are taking a new look at every district with fresh eyes to determine our involvement," an EMILY's List spokesperson said.
For its part, the National Republican Congressional Committee, which helps elect Republicans to the House, hailed Hartman's departure as win for the GOP.
"Democrats' chances of picking up this seat just went from slim to none," said NRCC Spokesman Chris Martin.
REAL LIFE. REAL NEWS. REAL VOICES.
Help us tell more of the stories that matter from voices that too often remain unheard.
BEFORE YOU GO
PHOTO GALLERY
2017 Scenes From Congress & Capitol Hill