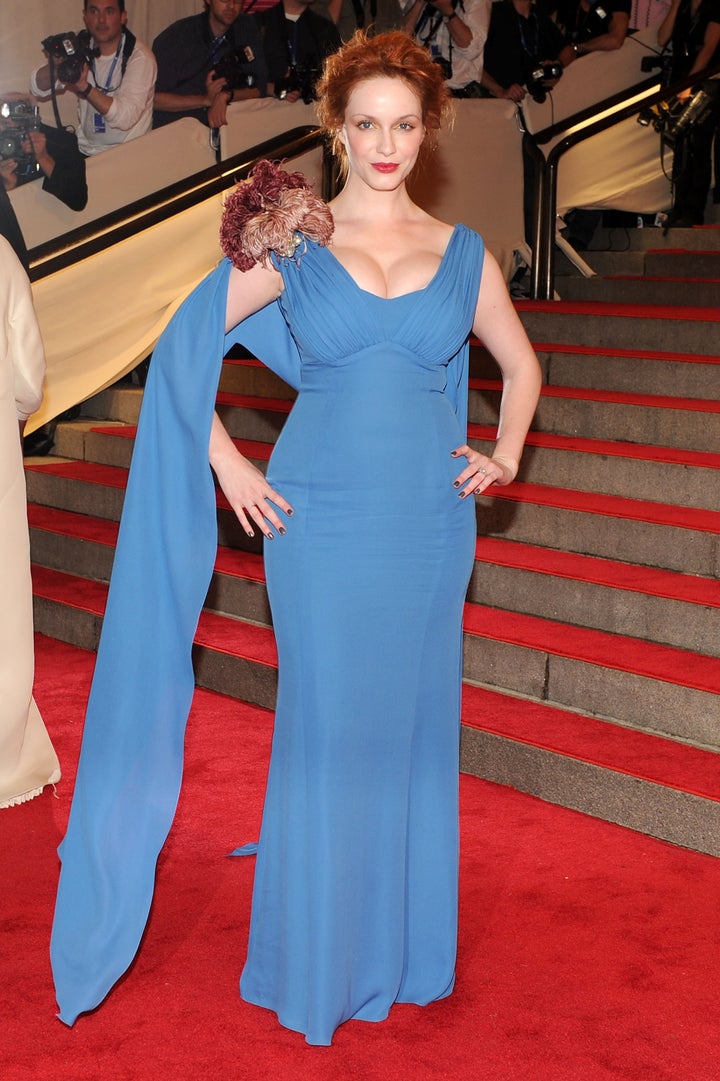 Christina Hendricks talks about her body again, how she stays fit and life as a newlywed in an interview in the July/August issue of Health magazine. Here are some excerpts:
On her body being women's most desired type:
"Really? They don't say Jessica Alba? 'Cause that's what I say! [Laughs.] It's such a compliment, because of all those times I had agents who were like, 'You have to lose some weight,' and all of a sudden, people are celebrating it. It's like: 'Oh, thank you! Thank you for letting me be me.'"
On body image:
"I guess my mom raised me right. She was very celebratory of her body. I never heard her once say, 'I feel fat.' Back when I was modeling, the first time I went to Italy I was having cappuccinos every day, and I gained 15 pounds. And I felt gorgeous! I would take my clothes off in front of the mirror and be like, Oh, I look like a woman. And I felt beautiful, and I never tried to lose it, 'cause I loved it."
On her gym routine:
"I get kind of bored on the treadmill, but I do it. And I do a little bit of weight training. I'm really into the BOSU ball. You have to balance on it, and I do weights and squats on it. I'm pretty good at it, I feel sort of like a Karate Kid."
On her 'vices':
"I like salty, creamy foods. I could sit down with a bag of chips and French onion dip and go to town! That would be on my last-supper list. But I discovered that dry French onion soup mix in nonfat yogurt tastes just as good. It really does!"
Calling all HuffPost superfans!
Sign up for membership to become a founding member and help shape HuffPost's next chapter