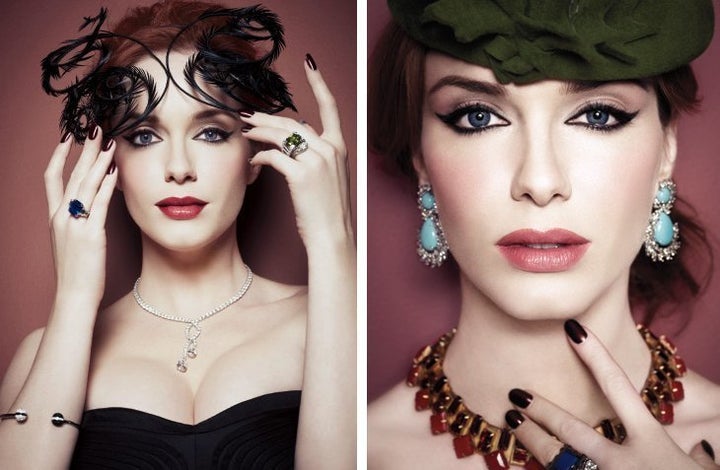 Christina Hendricks covers LA Times magazine and inside talks about being protective of Joan (her 'Mad Men' character), dying her hair red and, of course, her body.
See more photos and read the whole interview here.
On playing the accordian on 'Mad Men':
"They called me right before we came back for season three, when the writers were establishing storylines. They said, "One, do you speak French, and two, do you play the piano?" I said, "One, I'll learn, and two, not piano, but I do play a little accordion." They were like, "Accordion! Oh my God, sooooo much better." Besides, we'd established where Joan lived, and the apartment wasn't large enough for her to be playing a piano in there. Plus, kids in the '60s really did take accordion lessons. It's time appropriate, as well as visually interesting, to have that in Joan's apartment."
On dying her hair red, starting at age 10:
"I was obsessed with the Canadian novel Anne of Green Gables. I decided I was Anne of Green Gables. There was something that spoke to me about her, and I wanted to have her beautiful red hair. So my mother said, "Let's just go to the drugstore and get one of those cover-the-gray rinses!" My hair was very blond at the time, but it went carrot red. And I was over the moon. I went to school the next day and felt like myself. And then I went back [to that color] over and over again. What a cool mom, right?"
On the retro underwear in 'Mad Men':
"We're so used to it now, but those undergarments really aren't made for relaxing. If I get my entire costume on, and I have to wait a few hours for my next scene, I have to learn how to position myself, otherwise the boning presses into my guts! It can really hurt those internal organs! I have this little war wound--a blister from wearing a garter the other day for 17 hours."
WATCH Christina star in Broken Bells' 'The Ghost Inside' music video:
REAL LIFE. REAL NEWS. REAL VOICES.
Help us tell more of the stories that matter from voices that too often remain unheard.