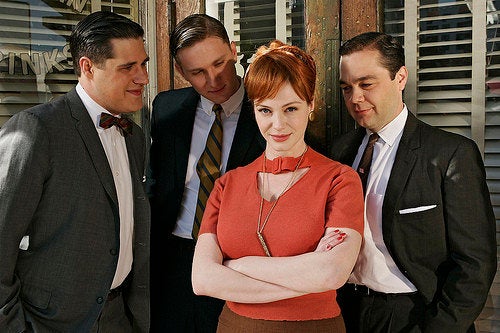 It is the pointed and tightly wound, can't-miss-a-word dialogue and slow-burning-til-massive-explosion story lines that set up "Mad Men" to be a perennial award winner, but it is without question that is its actors, with their nuanced performances and emotional journeys, that make the show such a hit.
While Jon Hamm's Don Draper is the undisputed lead, the troubled and mysterious ad man with a dark past and present day jawline that delivers as many messages as his mouth, the show relies almost as much on its female scene-stealer, Joan Holloway, played by the irreplaceable Christina Hendricks.
It's her early 60s charm -- she seems to bow down to the ludicrous male-female paradigm and inequitable power structure of the era, while actually turning it on its ear to run the office and sometimes, the personal lives of its inhabitants -- that make her performance so powerful, but there's no mistaking that her body, matching the curvy ideals of the times, stands out as its own sort of character.
Hendricks, a long-time working actress with roles in shows such as "Firefly" and "Kevin Hill," won the pre-written role based on her acting skills, but the sexy factor inherent in Holloway was something she brought to the character in large part on her own.
"When we did the pilot, that was not something that we discussed as a trait for Joan," she told Parade Magazine. "This is something that's developed as a combination of the costuming on the show, the hair and makeup, my portrayal of the role, and [showrunner] Matt's [Weiner] writing. It all kind of came together and that became much more of a focus later. It was just something the audience brought attention to."
""I play Sarah Jessica's best friend and partner in crime. We're sort of these harried, rushed business women and I'm there commiserating with her on the side," Hendricks said of the film. "We're trying to be perfect mothers and perfect business women and perfect wives. It is a dream to work with Sarah Jessica Parker. She's everything you want her to be: She's incredibly smart and talented and gracious and very giving as an actress. I just absolutely adore her."
Calling all HuffPost superfans!
Sign up for membership to become a founding member and help shape HuffPost's next chapter