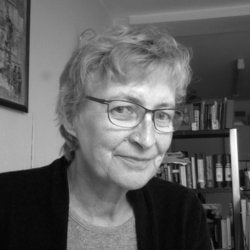 Christina MacSweeney's translations of Valeria Luiselli's Faces in the Crowd, Sidewalks and The Story of My Teeth have received critical acclaim and have been shortlisted for translation prizes. She has also published translations, articles and interviews on wide a variety of platforms, including Words without Borders, Music and Literature, and BOMB Magazine, plus in the anthologies México20 and Lunatics, Lovers & Poets: Twelve stories after Cervantes and Shakespeare. Her translations of Daniel Saldaña París's novel Among Strange Victims, and Eduardo Rabasa's A Zero Sum Game both appeared in 2016. She is currently working on texts by the Mexican authors Julián Herbert and Verónica Gerber Bibecci.
Loren Kleinman (LK): What made you want to translate Latin American fiction?
Christina MacSweeney (CM): I've always read a lot of international literature in translation, and I first got hooked on Latin American literature when I read a collection of short stories by Jorge Luis Borges that just changed my whole idea of what literature could be. When I went to live in Caracas, I was able to read more Latin American writers in the original Spanish and so broaden my understanding of the history of that diverse literature. Somehow moving from there to translating seemed a natural step. When I returned to UK, I did the Master's in Literary Translation at the University of East Anglia, and of course my focus has been on the countries whose literatures I know and love.
LK: What translations are you currently working on, and what have been some of the challenges you've faced during the translation process?
CM: I'm currently juggling a few of projects, all very interesting, very different. Two are by Mexican writers: Verónica Gerber's Empty Set (forthcoming from Coffee House Press in 2017) mixes visual imagery with beautifully direct prose whose precision takes you deep below the surface; Julián Herbert's The House of the Pain of Others is a chronicle of the massacre of a community of Chinese immigrants in Mexico in 1911, and as the author explores both the history of Chinese immigration to USA and Mexico, and the xenophobia immigrants often encountered, this seems a very pertinent story for the present climate of fear. That chronicle is to be published by Graywolf in 2018, along with a brilliant novel by the same author: Tomb Song, which I finished earlier this year.
In terms of challenges, Verónica's novel is a first person narrative that mostly avoids using the word "I", which created a level of difficulty over and above other stylistic elements. But finding creative ways to deal with the issue has been fun. In terms of The House of the Pain of Others, I think one of challenges there has been coming to a clear understanding of the different forces at play in the early years of the Mexican revolution, when the massacre took place, and of which it was a sort of by-product. I don't think you can translate convincingly without a good knowledge of the cultural, and in this case historical settings of the work.
LK: Why should readers pay attention to literary translation/translated literature?
CM: Good question. My own experience certainly has been that reading literature in translation has broadened my knowledge and understanding of world cultures, and given me access to other ways of thinking about what might constitute literature. Literature in English tends, I think, to be quite plot driven, whereas in Latin America the ideas contained in the text are often as if not more important than what happens. But since Chaucer or Shakespeare's days, English literature (plus the English language) has fed off a very wide variety influences: it seems a shame that the pre-eminence of English-language texts in the world market might actually stem the flow of that dialogue. So readers, authors, read as much translated literature as you can, enjoy the difference and help keep literature in English the vibrant thing it is at its best
LK: Talk about working with and translating Daniel Saldaña París.
CM: I started translating Daniel's novel as a personal project, before I even found an English-language publisher. We first met very briefly in New York, and I asked Daniel if he would like to read a sample chapter: he liked it, so I continued translating. I also sent him my first draft with queries he was very helpful in answering. But when we really got a chance to work together was during the OMI International Author/Translator residency at Ledig House in November 2015, where we went through the final proofs together and worked on a short story called "The Discovery of America". That was an amazing experience, and I feel that chance to hear Daniel's voice, understand his sense of humor fed into the translations in a very positive way.
LK: If you could go back in time, which author or translator would you want to have coffee with? How do you start the conversation?
CM: I think I'm going to have a kind of Mad Hatter's tea party. I would invite two of my favorite authors, Jorge Luis Borges and Jane Austen. I would start the conversation by introducing them, pour the tea, hand round the scones and cold meats, and listen to what they made of each other. And if they allow me to record the conversation, maybe I'll write it up one of these days.
Calling all HuffPost superfans!
Sign up for membership to become a founding member and help shape HuffPost's next chapter
This post was published on the now-closed HuffPost Contributor platform. Contributors control their own work and posted freely to our site. If you need to flag this entry as abusive,
send us an email
.