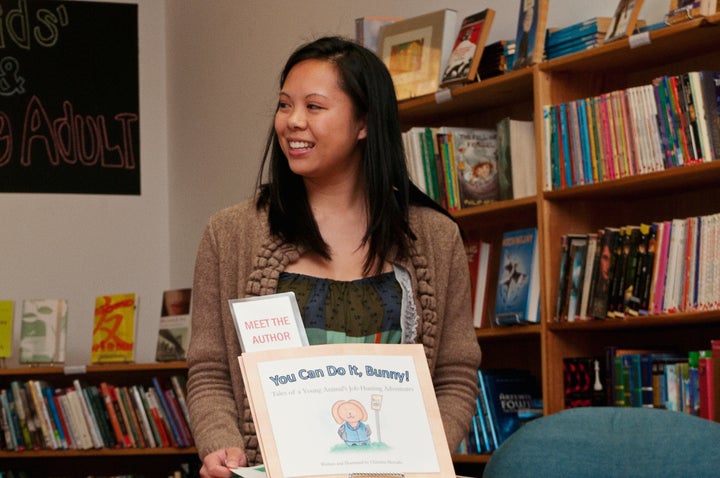 NEW YORK -- Christina Mercado didn't have any luck finding work after she graduated from Georgetown University with a master's in business administration in 2011, so she decided to write and illustrate a children's book.
Mercado wanted to use her degree to pivot from project management to social enterprise. She knew it'd be difficult, but things had been looking promising prior to graduation. Mercado landed what she said was her "dream internship," working at an environmental conservation nonprofit in Mexico.
However, once she graduated, she realized how few full-time jobs were available, and how much competition there was from other applicants.
"There were a number of times that I had come close to landing my dream job, only to get rejected after a number of grueling interview rounds," Mercado told The Huffington Post. "There were also a few times I applied for awesome jobs, only to have the company announce months later that the jobs were being pulled due to lack of funding."
Still unemployed, Mercado said she started painting as a way to relieve stress. In her paintings, she depicted herself in the character of "Bunny," who appeared in episodes related to her job search, and the paintings started to make sense to her as a children's book.
"There was a long-running personal joke between myself and my boyfriend, which I knew would translate well into a hilarious kids-type story," Mercado said. "I like to say that 'You Can Do It, Bunny!' falls somewhere in between the 'Berenstain Bears' -- life lessons books for kids -- and that funny kids-style book for grownups, [like] 'Go The F*** To Sleep.'"
Other job seekers who saw her manuscript and sketches really liked them. She had no experience in illustration, writing or publishing, but given her studies in marketing and her experience in project management, Mercado decided to try to raise the money online and self-publish.
Mercado said she took inspiration from other entrepreneurs who used their unemployment to turn an avocational project into an opportunity.
One person she made contact with was Dina Gachman, who writes about unemployment and the economic divide on her blog, Bureaucracy For Breakfast. Gachman is also the cocreator of a comic book for women, and has signed with a literary agent who wants to turn Bureaucracy For Breakfast into a book.
Another role model was Charles DeYoe, who created a video game called "Unemployment Quest" after spending a year looking for work after he graduated. In the game, you can tackle villains like "Uncertain Future" and "Doubts." Using Kickstarter, DeYoe got more than $10,000 pledged toward making real copies of his game.
Mercado said it was scary to expect to follow one career path, and then have to rethink everything, but she's happy with how things have turned out. The experience helped Mercado land her current job, where she is responsible for marketing and project management for a serial entrepreneur.
"You Can Do It, Bunny!" is now available at select bookstores in paperback, and she said a "light version" is available from the iTunes store. A limited number of paperbacks are also available on her website, and she's selling pre-orders of the hardcover version through Kickstarter.
"This experience also changed my idea of 'success,'" Mercado said. "Creating this book has been one of my proudest accomplishments. I really believe that if your basic needs are taken care of, there are other things to be proud of besides how much money you make."
Check out a preview of "You Can Do It, Bunny!"
PHOTO GALLERY
Preview Of 'You Can Do It, Bunny!' By Christina Mercado
REAL LIFE. REAL NEWS. REAL VOICES.
Help us tell more of the stories that matter from voices that too often remain unheard.