John Stamos is giving an inappropriately public apology on stage. The actor isn't apologizing for something he did, it's his character Jimmy Martino who is asking for forgiveness on the set of "Grandfathered."
In the new Fox comedy, Martino, a lifelong bachelor and restaurateur, learns he has a son, Gerald (Josh Peck, "Drake & Josh"), and a granddaughter named Edie. As Jimmy struggles to find his place in their lives, he'll not only encounter Gerald's mother, Sara Kinglsey (Paget Brewster, "Criminal Minds"), but also Edie's protective mother, Vanessa (Christina Milian).
The Huffington Post visited the set of the show in August while Stamos and company were filming the party scene for Edie's 2nd birthday, which takes place in Stamos' character's restaurant.
As Stamos finishes his awkward yet heartfelt speech on set, Milian, who is making a return to network television, spoke to The Huffington Post about making her own rules with this new role and how being a TV mother comes with its own set of struggles.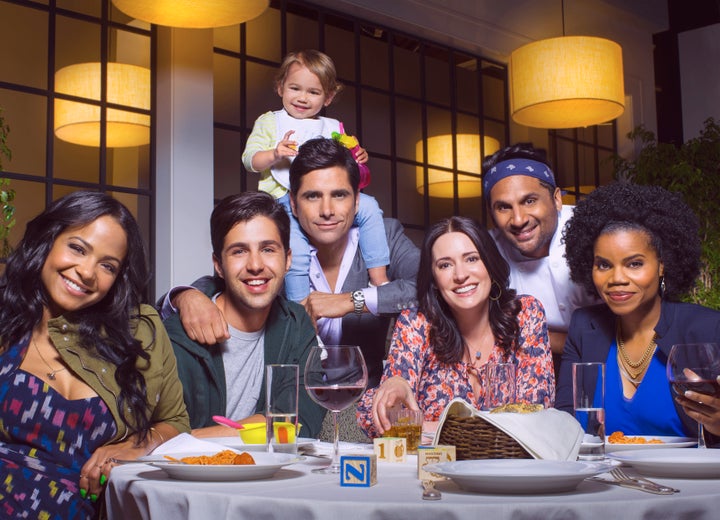 But first, Milian explained to HuffPost why the party decorations on the Los Angeles set seemed more appropriate for a celebrity gathering than a 2-year-old.
"Basically John's character is trying to make up for lost time," Milian said. "He doesn't necessarily know how to do it, much less know how to be a father yet. He's just learning the ins and outs -- and sometimes you gotta do things your way to be comfortable."
Those feelings are familiar to Milian. The 34-year-old star has spent more than two years mainly on the reality television circuit: briefly working as a social correspondent for "The Voice," participating on "Dancing With The Stars" and starring in her own E! reality series "Christina Milian Turned Up."
"Some people were worried about me doing reality type stuff because they were like 'then you can't come back over to the other side,'" Milian said. "And I'm like that's such traditional thinking."
"I don't want to become just a reality star and I always believe you can make your own rules," she added. "I'm sure there are other people who have done acting and reality at the same time. If they haven't, then I guess I would be the first. I would like to be able to prove that it can be done."
"I have a lot of things going on in my life too, I don't know if it's a hot mess but it's all very focused, I guess that's what happens when you hit your 30s.""
On screen, her character is a twenty-something mother who gets pregnant after a one-night stand with Gerald, someone she considers a good friend. But his unrequited love for Vanessa only complicates things further.
"There's all these fun elements of Gerald still liking me and wanting to be together with me and me being like 'oh gosh, I gotta a lot of stuff going on and I'm not really into you,'" Milian said.
When she first heard of the role she says the casting director described Vanessa as a "hot mess" trying to figure out her life after the birth of her daughter. But what the actress admires most about her character is how determined she is to follow her personal dreams despite her circumstances.
"I have a lot of things going on in my life, too. I don't know if it's a hot mess but it's all very focused, I guess that's what happens when you hit your 30s," Milian says with a laugh. "But I just read [the script] and I thought, 'I can relate to this character.'"
The actress says being a television mom comes with its own set of challenges, particularly since "Grandfathered" has two sets of 2-year-old twins portraying Edie, which means Milian is interacting with not one, but four, babies.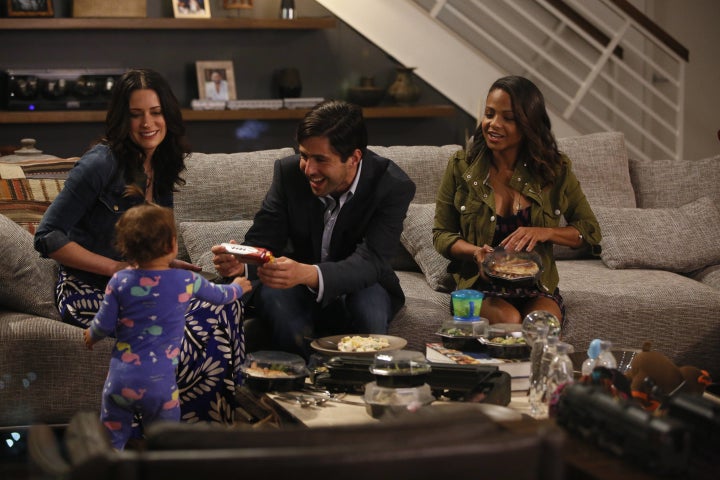 "It's been quite an experience because I've never been a mom on anything and working with kids is a whole new, not even pressure, it's just different," she said. "Your brain is going a mile a minute, other than your lines, you're memorizing where you're going to hit your mark and it's like 'OK, is the baby going to come to me?'"
"My first day I got a nice warm welcoming," she added. "My first scene, I had the most lines I've had in that episode and the babies were crying the whole time. We were on the beach [and] it was pretty funny, I was losing my lines. And the baby wasn't suppose to be crying in the scene."
The solution, Milian reveals, has been spending a lot of off-screen time with the babies who portray Edie. She also says she's tapped into her own maternal instincts to create a believable bond with them on screen.
"The way that I love my daughter, I'm kissing her and I'm hugging her and I'm very affectionate with her," Milian said of her 5-year-old daughter Violet. "I want to show that. I don't want it to feel cold. I want it to feel like it's my baby. As a mom, I know how you are when it's your child compared to maybe your friend's kids -- it's different."
As Vanessa, the actress says she's excited to not only portray someone who shares her Cuban roots but is also a lot more than meets the eye. Milian thinks her character is often misunderstood, particularly by Gerald's mother, as she tries to juggle motherhood and her dream of becoming a serious beauty blogger.
"Even though Vanessa is kind of everywhere she's very protective of her child, that's the one Latina and motherly thing that's just a given," Milian said. "She's smarter than what you would think at the beginning. But as you get to know her there's a lot of heart and there's a lot behind her, [so] you need to kind of peel back the layers."
"Grandfathered" premieres Tues., Sept. 29 at 8 p.m. EDT on Fox.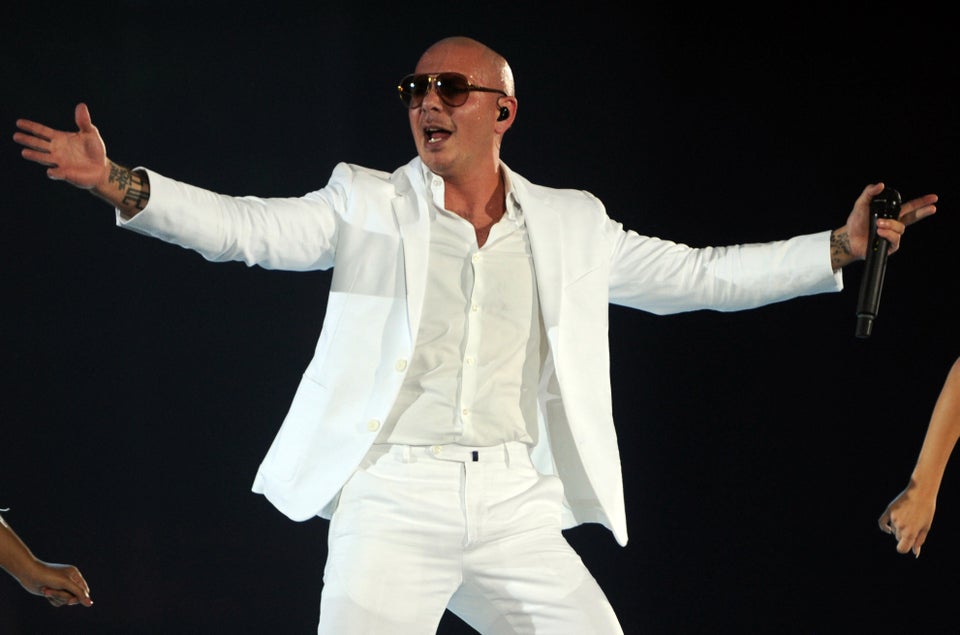 Hispanic Stars' Real Names