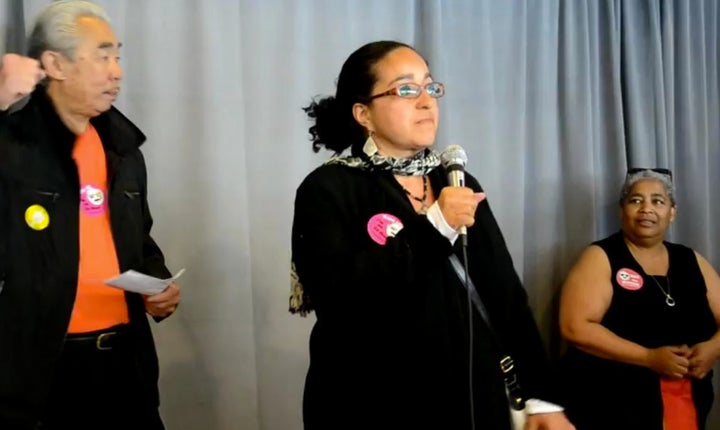 Ending months of speculation, San Francisco Mayor Ed Lee has selected Christina Olague to represent District Five on the Board of Supervisors.
"As a low-income tenant and immigration advocate, she shares my values in making government more fair and responsive for San Francisco residents," said Lee in a statement. "She has been a voice for our neighborhoods and has proven through her voting record on the Planning Commission that what San Francisco needs most right now is job creation and revitalizing our local economy."
Until her swearing in ceremony on Monday morning, Olague was the president of the city's Planning Commission and also served as an official at the Senior Action Network, a housing advocacy group for San Francisco's low-income senior citizens.
Encapsulating neighborhoods like the Lower Haight, Hayes Valley and the Western Addition, District Five is easily one of the most progressive in the city. Olague's appointment is seen as a move by the mayor to install one of his earliest supporters on the board, but also one who is far enough to the left to be a strong contender in the imminent election coming up in November.
Olague was one of the first local officials to throw her full weight behind the "Run Ed Run" campaign--a very public effort to convince the then interim mayor to run for a full term.
After Monday's swearing in ceremony, Board President David Chiu, who unsuccessfully ran for mayor against Lee, hinted to Bay City News that the appointment amounted to the repayment of a political favor. "She was obviously very active during the campaign...I don't think is a surprise."
Olague's record on the Planning Commission has been mixed, although generally leaning toward the progressive end of the spectrum. The San Francisco Chronicle reports:
In her recent tenure, she voted against three major projects backed by Lee that won Planning Commission approval: Development plans for Treasure Island, the Hunters Point Shipyard and Parkmerced. However, she backed the environmental report for the upcoming America's Cup races--one of the mayor's top priorities.
While Lee largely kept mum on the appointment prior to Monday's announcement, conventional wisdom over the past few weeks had narrowed down the list of possible candidate to Olague and London Breed, the director of the African American Art & Culture Complex in the Western Addition.
Olague's selection will likely satisfy many of the city's progressive politicos, who viewed Breed with suspicion due to her close relationship with former Mayor Willie Brown.
"I can't guarantee that all progressives will stand down if Olague gets the seat. The ego game is what it is," wrote SEIU Local 1021 Political Director Gabriel Haaland in a recent open letter to Lee published in the San Francisco Bay Guardian. "You have learned that from politics, I'm sure. But I think most progressive institutions and progressive activists will see her appointment as a victory and will support her candidacy for Supervisor next fall, as they should if she shows that her votes reflect the trends and values of District 5."
Olague is replacing outgoing Supervisor Ross Mirkarimi, who was sworn in as San Francisco's next Sheriff over the weekend. Mirkarimi's tenure running the city's prison system has begun under a cloud of domestic abuse allegations stemming from a New Year's Eve incident with his wife, former Venezula telenovela star Eliana Lopez.
Judge Katherine Feinstein, who was previously set to preside over the ceremony, refused to do so citing the scandal surrounding the new sheriff, who was previously instrumental in the founding of the California Green Party.
Check out this video of Olague speaking at a "Run Ed Run" event:
REAL LIFE. REAL NEWS. REAL VOICES.
Help us tell more of the stories that matter from voices that too often remain unheard.