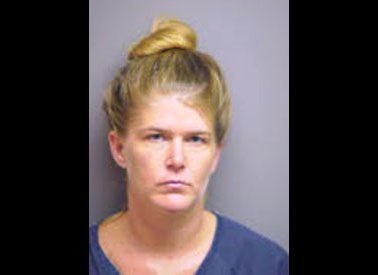 A police officer, a prostitute, an opossum and a "flaccid rubber replica of a penis" -- they're not the ingredients to a punch line, but rather the details from a Florida crime report.
On September 14, a Manatee County Sheriff's Office task force was patrolling the streets of Bradenton for suspected prostitutes. At about 10 p.m., an undercover detective with a backup team stationed nearby pulled up next to a white female in a green spaghetti-strap shirt.
"She got into the undercover vehicle and told me to head north," the undercover John, identified only as "Smith," wrote in the police report.
After stopping at an ATM, the alleged lady of the night, later identified as Christina Hope Vavra, got down to the business at hand, according to an unusually explicit police report.
"We then drove out of the parking lot, at which point she asked me to expose my penis," Smith wrote. "I asked her if I could put a condom on first. I then exposed a flaccid rubber replica of a penis and placed a condom on it. She immediately leaned over and put it into her mouth."
The rendezvous came to a sudden halt when a wildlife critter strolled into the road.
"I saw an opossum cross the road and slammed on the brakes, causing the female to slide out of her seat and mildly into the dashboard," the officer wrote.
Vavra, 31, was subsequently taken into custody by the monitoring team and booked on suspicion of engaging in prostitution. She was placed in the Manatee County Jail and held on $120 bond.
Manatee County Sheriff's Office spokesman Dave Bristow told The Huffington Post prosthetic penises are commonly used by law enforcement in hooker stings.
"The [arrest report] is probably a little too detailed, but, yeah, I think you will find that is probably the case at a lot of agencies," Bristow said.
The officer added: "It's certainly not something that we want to get out there -- it's not something you'll typically see written in arrest reports -- but this undercover guy did and now everybody's going to know."
The humor in the story may have been lost on Bristow, but it certainly did not go over the head of Seattle attorney and legal analyst Anne Bremner.
"[The arrest report] reads like a law school exam or maybe a training manual for undercover cops -- a worst-case scenario piece," Bremner told The Huffington Post. "An opossum? You can't make that stuff up! And they didn't!"
WATCH TODAY'S TOP STORIES FROM THE ASSOCIATED PRESS:
Related
Popular in the Community