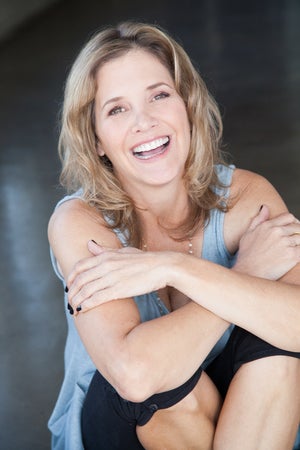 Christine Blackburn has been a TV commercial actress, a flight attendant, a Peace Corps volunteer, and a published author. She is also a cancer survivor. Despite her own story worthy life, she continues finding delight in the storied lives of others. As a producer, writer and skilled interviewer, Christine and her production company, Story Worthy Media, have produced over 450 episodes of her weekly storytelling show, Story Worthy. She is the author of the book "PIT to LAX: My Story Worthy Life" and she hosted Ready For The Weekend Movies on USA Network. She is a regular contributor to The Huffington Post and is a 3 time MOTH Story Slam winner. Christine performs storytelling all over Los Angeles and has appeared in over 100 commercials. She enjoys being a mom, playing tennis, guitar, and eating sushi.
Where did you grow up and how did you end up in Los Angeles?
I grew up in a small town north of Pittsburgh, Pennsylvania called Gibsonia. My mom still lives there and my brother and 3 sisters live in Pittsburgh as well. I have another sister who lives in Connecticut. I didn't come to LA until I was 31 years old, but as a flight attendant, I travelled here frequently and dated a guy here briefly. I ended up living in his neighborhood, Los Feliz. It was the only part of town I knew…plus it's close to Griffith Park and tennis courts!
What was your initial career goal(s)?
I wanted to be an actress. A sitcom actress. I still do, really!
You've been in over 100 commercials. What's the secret to succeeding in this highly competitive field?
Auditioning… lots of auditioning. Never turn down an audition, even though you may not feel you're right for it. Also, try to be yourself… they are generally not casting characters (commercially) they're casting real people, so you don't need to "act", you just need to know your lines and know them well. Make the job of the casting director easy… they want you to do well! Most importantly, don't take the rejection personally. It's hard to understand this, but it really has nothing to do with you. From the production standpoint, the commercial actor is the smallest cog in the wheel and even to book one job, is a bit of a miracle. (That's the real secret.)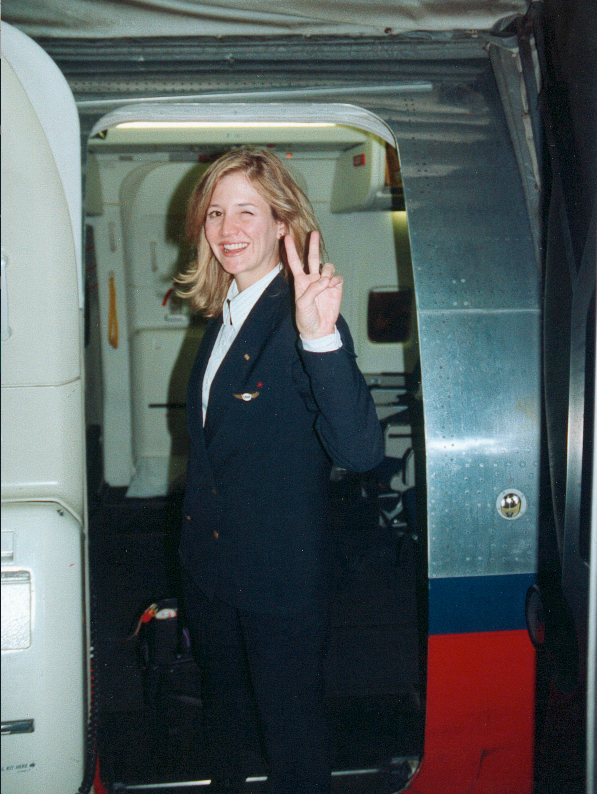 What was the impetus for your becoming a flight attendant?
I had graduated from college but was still waitressing at a local restaurant in Pittsburgh called Tequila Junction. I saw an ad in the Pittsburgh Post-Gazette for an open house for USAir flight attendants and I thought- If I can waitress on the ground, I can waitress in the air! With benefits! Being a flight attendant is simply a customer service job. It's the same as waitressing but you're in the air, dealing with airports, and out of town. A lot.
What's the most unusual experience you had as a flight attendant?
I was working first class when all of a sudden, a woman came up from coach, between the curtains, and whispered to me, "Excuse me, stewardess. I just wanted to inform you that Mr. Klein in 5C just passed away." "I'm sorry, what?" I said. And she replied, "I'm his nurse. He's dead." Then she returned to her seat beside the dead guy.
How did having had cancer change your lifestyle and your views about life?
You know, my lifestyle did not change much after having cancer… I have always exercised and eaten fairly well… but my views on life sure changed. My cancer happened to be a very rare type- an Adult Wilm's Tumor- and after surviving such a bizarre illness it occurred to me, I'm going to die. We all are… and you never know when! What am I waiting for? I want to be an entertainer!
Surviving cancer was definitely the impetus for me to move to Los Angeles. I don't know exactly why, but I was more afraid of coming to LA than I was to go to a 3rd world country with the Peace Corps! I just did not believe in myself. I did not have the confidence it takes to make it in show business. Now I do.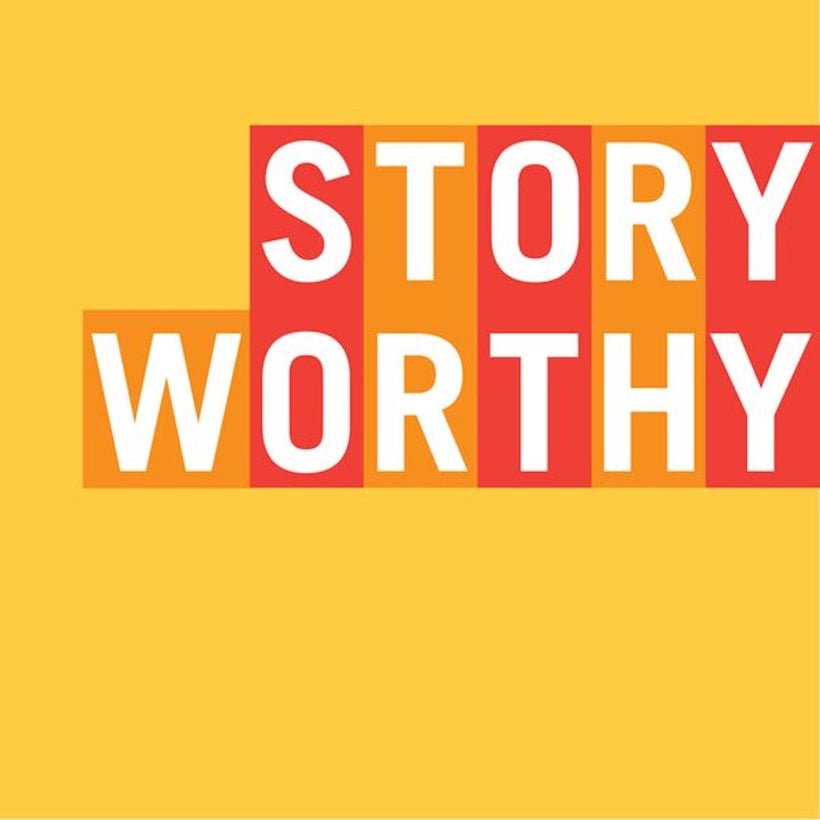 What was the origin of your show, Story Worthy?
Remember how I was telling you about how much I wanted to be an actress? Well, it turns out lots of people want to be actresses and many of them are extremely talented! I realized I really couldn't compete in that realm…I couldn't even get a theatrical agent. But what I had going for me was my life experiences, what people now call their "story." You can't take away someone's story. I started telling my stories at The MOTH, the popular storytelling show created by George Dawes Green, in New York. I loved it. Plus, I'm a naturally curious person and I was fascinated with other people's stories as well. I always had questions for the other storytellers when they finished their stories, but I couldn't ask then because they left the stage. Sometimes, I would track them down after the show to ask follow-up questions!
Around this time, Adam Carolla left terrestrial radio and started his own podcast, which I absolutely adored. Then Marc Maron created his show WTF, and it occurred to me- Wait a minute, I can start my own podcast! A storytelling podcast where I can ask the questions I never got answered from storytellers at the MOTH! No one can stop me! I can't get fired! I will create a podcast! So, I did.
What made you focus Story Worthy exclusively on Hollywood storytellers and stories?
Have you seen the talent in this town? There are so many amazing talents! But I think what you're asking is why do I have comedians and writers (primarily) on the show? Simply because they know how to be succinct and brief. They know how to get to the point. A friend of mine once said "If you're reading a book and it doesn't get good until 40 pages in… the author should have started the book on page 40." I respect the podcast listener's time, so for me, one of the most important aspects of a story is to get to the point. Comedians and writers do that.
With seven years of Story Worthy under your belt, any special future plans for it?
Story Worthy needs to be a television show. The format is already there and ready to go. People want to see their favorite talent as well as hear them.… It's a logical move for the show.
Most of the past seven years of Story Worthy has featured you co-hosting the podcast with Hannes Phinney. How did you two meet, and how is it that you're now hosting the podcast by yourself?
Hannes Phinney was the 2nd person I met in Los Angeles, can you believe that? I moved here 20 years ago in August of this year and I met Hannes standing in line at The Ice House comedy club, in Pasadena. We became great friends and still are. There are a few reasons I am hosting Story Worthy alone now. In the summer of 2016, we lost our network, Sideshow Network. In fact, they closed their doors altogether. I realize you do not need a network to have a podcast, but I take it seriously and I want to make money. I want the show to advance and go to the next level. I pitched it to Wondery Media and they agreed to take on Story Worthy with a shorter format. That left me as the single host. Hannes and I had a wonderful time bantering for years… we chatted 15 minutes before every guest! Now, I do a quick 5 minute intro and then it's right to the storyteller.
Story Worthy is now being produced through Wondery. What is Wondery and what is it doing for the show?
My company, Story Worthy Media, actually produces the show. Wondery is my network. They have about 35 shows on their roster now. I am a partner show and Wondery helps me find advertisers, book guests, and gives advice and helpful tips. Most importantly, they believe in me and what I'm doing. That's the key!
What is Shotgun Story Worthy and how did it originate?
Shotgun Story Worthy is my storytelling gameshow. Storytellers spin a huge wheel and tell a true story on whatever topic they land on. You can feel the pressure the person on stage is experiencing! It's intense and honest and hilarious! I've worked on this show for many years and it's finally polished. We are playing Shotgun to celebrate Story Worthy's 7th year anniversary on Saturday July 29th, 2017 at the Hollywood Improv. There are 5 storytellers, 3 rounds and 3 fantastic judges. I hope to make it a monthly LIVE show, a board game (with a kids version too!) and then on to primetime television!
Got a favorite storyteller's story that stands out?
A recent story told by comedian Randy Sklar stands out. Randy was planning an anniversary trip for his wife and many MANY things went wrong, including accidentally booking them at a Christian bed n' breakfast and an unfortunate hot air balloon accident. Outrageous! Another story I loved was on Story Worthy's 5th Anniversary show. Adam Carolla told a hilarious story about going to someone's home to build a closet… building the closet… and then finding out he was in the wrong house! It's a fantastic story told by a brilliant guy!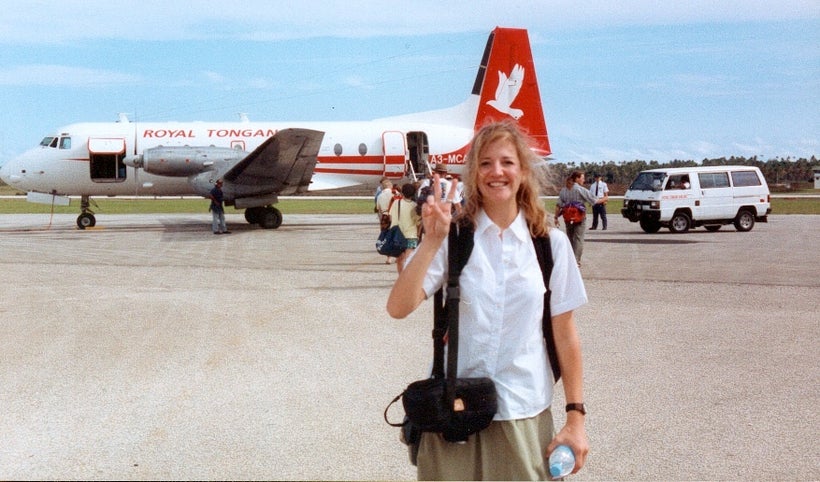 How did you end up in the Peace Corps and how did you find that experience?
That's a long story, but I'll shorten it for you. I had been thru a recent divorce and I was tired of being a flight attendant. Although the flying involves traveling and seeing new places, the job itself is not challenging. It's repetitive and since airlines are based on a seniority system, you could never get a raise or advancement. If another flight attendant is a day ahead of you in seniority, that's it -- they are more important to the company. Plus, I wanted to live overseas and I wanted to do something that mattered. After a lengthy interview process, I was accepted and sent to the Kingdom of Tonga in the South Pacific to teach English as a Second Language (ESL).
Unfortunately, my Peace Corps career was dramatically shortened by my diagnosis of cancer. It began with a backache and a fever. Without the proper medical facilities in Tonga, the Peace Corps medivacked me to Hawaii where they did CT scans on my abdomen, finding a tumor in my kidney. It was a shocking diagnosis to say the least, but ultimately, I think going to the Peace Corps saved my life.
How did your experience go as the date on "The Dating Game"?
It was an eye-opening experience for sure. I was SO green to Los Angeles and show business! But I was also very bold. I had only been out of chemotherapy a few months and appeared on the show practically bald. By the way, I won and am still very good friends with my date.
What's it like as a divorced mother of a young girl, being in the dating world in Los Angeles?
You know, it's complicated dating in middle age. There are always more than 2 people involved- there are ex's and kids. Since I co-parent my girl with her dad, I actually have three nights a week "off" so it is feasible to date, but I also have to prioritize my daughter. Obviously, she comes first.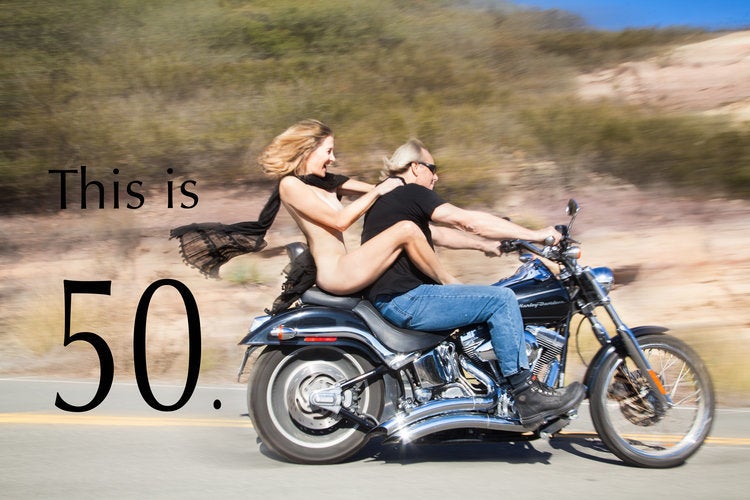 What remains on your bucket list?
To finish raising my intelligent little girl! Buying a home. Maybe two. I could see splitting my time between the city and Malibu. Plus, I want to return to Europe, go on safari in Africa, take a yacht around the South Pacific, ride a train thru the Canadian Rockies, and do more skiing in Colorado. But the caveat is, I want to be working at the same time. I admire what Chelsea Handler has been doing -- traveling the world meeting interesting people, and shooting her experiences. Not only would I like that, I'd be good at it!
Your desert island choices for:
Book: The Inner Game of Tennis by W. Timothy Gallwey. I carry a copy with me often. It's about much more than tennis. It's about competition, the psychology of the game, and how it translates to life.
Movie: Oh wow… I like so many! Can I take along the entire Woody Allen catalog?
TV show: Recently, I adored Big Little Lies on HBO…every actress is stellar! My daughter and I watch The Goldbergs, Modern Family, Speechless, The Simpsons, and The Brady Bunch.
Podcast: Story Worthy of course! Also, Sword and Scale, Locked Up Abroad, This American Life, Los Feliz The Podcast, Dumb People Town, WTF with Marc Maron, The Todd Glass Show, Finding Mastery with Michael Gervais, and Juicy Scoop with Heather McDonald. Can I just take Stitcher Radio?
Music: Neil Young, Paul McCartney, and all the chick singers from the Lilith Fair.
Food: Sushi and beer. Ok, some wine too.
Anyone in history for conversation: Larry King and Hillary Clinton. If you have any contacts, please share!
Anyone in history for romance: Dan Fogelberg. There. I said it.
Anything you'd do differently if you were to live your life again?
I'd come to Los Angeles a lot earlier, I'd trust my instincts, and I'd try to be a rock star.
REAL LIFE. REAL NEWS. REAL VOICES.
Help us tell more of the stories that matter from voices that too often remain unheard.
This post was published on the now-closed HuffPost Contributor platform. Contributors control their own work and posted freely to our site. If you need to flag this entry as abusive,
send us an email
.