While recounting her allegations against Supreme Court nominee Brett Kavanaugh in front of the Senate Judiciary Committee Thursday, Christine Blasey Ford said the judge had covered her mouth to prevent her from screaming during an assault while the two were teenagers in high school. In follow-up questions, Sen. Dianne Feinstein (D-Calif.) asked Blasey how she could be so sure that it was Kavanaugh who did it.
Blasey, who is a psychology professor at Palo Alto University, offered a lesson in neuroscience in reply.
"The same way that I'm sure that I'm talking to you right now, just basic memory functions," Blasey told Feinstein in response. "And also just the level of norepinephrine and epinephrine in the brain that sort of, as you know, encodes ― that neurotransmitter encodes memories into the hippocampus, and so the trauma-related experience then is kind of locked there whereas other details kind of drift."
Norepinephrine and epinephrine are two hormones released when the body experiences stress. When a person is experiencing a threat like a sexual assault, these stress neurotransmitters flood the brain and help encode details like the environment and the people who you're with on the hippocampus, which is a part of the brain that's responsible for creating and retrieving memories.
Later on in the hearing, she again referred to the hippocampus when responding to Sen. Patrick Leahy's (D-Vt.) question about her most vivid memory of the alleged assault, which Blasey said took place in the early 1980s.
"Indelible in the hippocampus is the laughter, the uproarious laughter between the two," she said, referring to Kavanaugh and Mark Judge, the other person Blasey alleges was in the room when the assault took place. "And their having fun at my expense."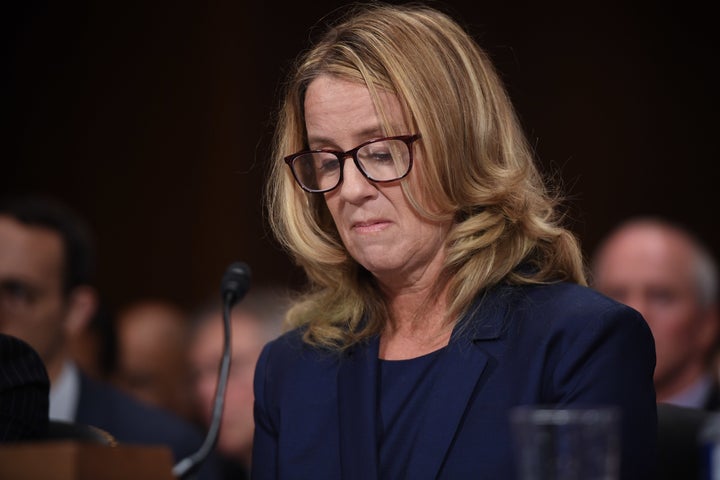 In pairing the retelling of her traumatic experience with explanations of the way assault affects the brain, Blasey is educating the public about how survivors process and store violent memories and can recall them years later.
Sabrina Segal, a psychology professor at Cal State University, Channel Islands, says that Blasey was making a distinction between everyday memories that the brain records during calm, relaxed moments and traumatic memories that the brain encodes during periods of high stress and fear for one's life.
"The hippocampus is a structure in the brain that we know basically converts short-term memory traces into long-term memory traces," Segal said, a term that psychologists use to describe the physical change that takes place in the brain when it stores a memory. "We know this because of studies where this part of the brain was removed, and it altered a person's ability to do that."
This bit of biology explains why Blasey would be certain of some details like Kavanaugh's face, or the environment of the room and less so of other details that occurred before the alleged assault, such as the owner of the home where the incident took place. In moments where she feared for her life and was in "fight or flight" mode, she would have details "seared" into her memory, Segal said.
The full mechanics of this response also involve the amygdala, an almond-shaped structure in the brain which perceives and responds to danger.
"What a lot of people don't know is that your body releases adrenaline, which is a stress hormone, and almost simultaneously your brain will release [norepinephrine] in the amygdala," Segal said. "It's a potency maker in terms of being able to strengthen the memory."
Research shows that it is common for survivors of sexual trauma to strongly remember the details of the event itself but not have many memories of other details around the event.
"When something is incredibly traumatic and emotional, that [norepinephrine] is going to make specific details etched in, and you will never forget them," Segal said. "The fact that she's had these memories for 20 years is not shocking to me in any way."
Negar Fani, an assistant professor at Emory University who specializes in the neurobiology of post-traumatic stress disorder, says that this traumatic memory-storing process has a strong evolutionary purpose.
"It's so that you can avoid things that could potentially harm you in the future," Fani said. "When you encounter and encode these contextual aspects of the memory, you'll avoid things that even remotely relate to that trauma memory."
Fani said this could explain why Blasey requested that Kavanaugh not be present in the room during her testimony.
"This person who assaulted her produces that same fight or flight reaction," Fani said. "Because he's a critical part of the threat context, it's going to arouse her fight or flight system, and its hard to think clearly when that fight or flight system is engaged."