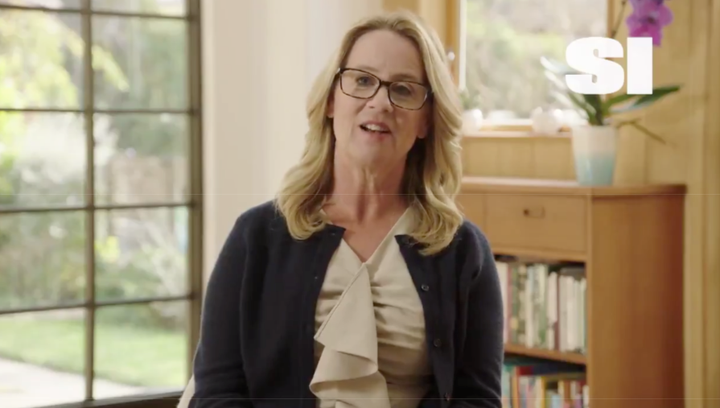 The Palo Alto University professor appeared in a video introducing lawyer and former gymnast Rachael Denhollander, who was sexually abused by former USA Gymnastics doctor Larry Nassar, at Sports Illustrated's Sportsperson of the Year Awards. Ford hadn't made a public appearance since she testified in September at the Senate Judiciary Committee's confirmation hearing for Kavanaugh. 
"I am honored to speak with you from afar about a woman I admire so much," Ford said in the video introducing Denhollander. 
"A woman who suffered abuse as a vulnerable teenage athlete, who found the courage to talk publicly to stop the abuse of others," Ford continued. "Her courage inspired other survivors to end their silence and we all know the results."
"Rachael Denhollander, I am in awe of you and I will always be inspired by you. In stepping forward you took a huge risk," Ford said. "And you galvanized future generations to come forward even when the odds are seemingly stacked against them." 
Denhollander thanked Ford in a tweet on Wednesday afternoon. 
"Thankful for the gracious words of Dr. Ford and what she has been willing to endure," Denhollander wrote. "Be willing to hear the truth and know what it looks like, even and especially in your own communities. That is when it matters the most."
In January, hundreds of survivors, including Denhollander, read powerful victim impact statements during Nassar's sentencing hearings. Nassar is serving concurrent sentences of 40 to 175 years, 40 to 125 years, and 60 years on charges involving child sexual abuse and child pornography. 
"If my alleged abuser was named Kavanaugh, not Nassar, what would you have said to me?" Denhollander tweeted.
"Conservatives, you want to be the party of family values? You want to be pro-woman and pro-child?" she added. "Then start by taking claims of sexual assault seriously instead of using poor logic, straw men and ad hominems to avoid the issue. Otherwise, you are part of the cultural problem."
Senate Republicans confirmed Kavanaugh to the high court despite Ford's testimony. 
Sports Illustrated's Sportsperson of the Year awards ceremony will be broadcast on NBCSN on Dec. 13 at 9 p.m. 
This article has been updated to include Denhollander's tweet thanking Ford. 
REAL LIFE. REAL NEWS. REAL VOICES.
Help us tell more of the stories that matter from voices that too often remain unheard.