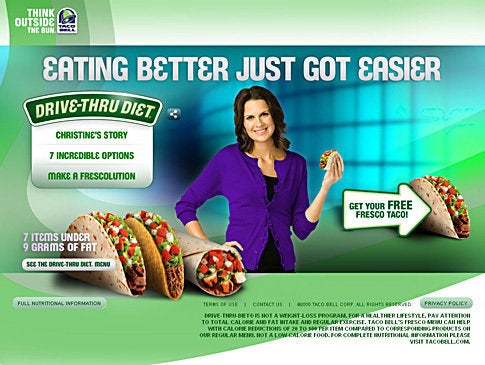 Has Taco Bell found their own Jared? Christine Dougherty, a new spokesperson for the company, says she lost 54 pounds in two years by eating "Fresco" menu items at Taco Bell instead of her normal fast food choices. Of course if you read the fine print in the commercial it also says Christine was limited to 1,250 calories a day, only 50 calories above what most doctors will tell you is the minimum amount a woman should eat daily.
Taco Bell shields itself repeatedly in their new ads and Website by saying "These results aren't typical," these are "not low calorie foods," and the "Drive-Thru Diet® menu is not a weight-loss program" but it is after all called the "Drive-Thru Diet" so the intent is clear: Taco Bell is trying to rebrand itself as a healthy alternative. Going back to the fine print we see that the Fresco Menu "can help with calorie reductions of 20 to 100 per item compared to corresponding products on our regular menu." 20 calories off a fast food meal doesn't seem like much help, but each menu item is below 350 calories--a far cry from their 1,000 calorie "Volcano Nachos."
Jared Fogle, the Subway weight-loss spokesman who helped make the company millions, was recently caught looking less than skinny. This both makes room for Christine and casts doubt on these types of diets.
Calling all HuffPost superfans!
Sign up for membership to become a founding member and help shape HuffPost's next chapter