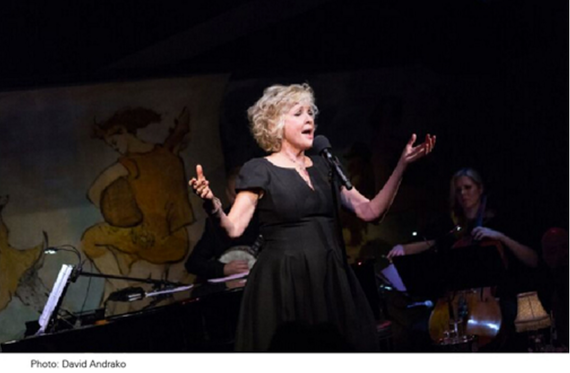 Broadway diva is one name for Christine Ebersole, and at her sublime performance in the intimacy of the Café Carlyle, call her "working mom." Her medley of "Inchworm," "Autumn Leaves," "(Have I Stayed) Too Long at the Fair" suggests a big-hearted view of love that could embrace children. She has three, adopted, and now finds herself an empty nester. Five years since her last run at the Carlyle, she's looking for renewal, including in the mirror in the mash up of "Look at that Face/ What Did You Do to Your Face" which adds extra meaning to the Dorothy Fields and Jerome Kern classic, "The Way You Look Tonight."
She looks just fine, by the way, backed up by Larry Saltzman on guitar, Mairi Dorman-Phaneuf on cello, with Lawrence Yurman on piano, the music director who worked with her on Grey Gardens in her Tony winning roles as both Edie Beales. Her renditions of "Toot Toot Tootsie Goodbye," "My Baby Just Cares for Me," and "'S Wonderful" lead the way to a new stage, "Ready to Begin Again," "I Do What I Can (With What I Got)," and "When I Grow Too Old to Dream."
This would be a great time to catch her in cabaret: Come spring Christine Ebersole will be back on Broadway in War Paint which she and Lawrence Yurman have been perfecting at the Goodman Theater in Chicago. She'll play Elizabeth Arden with Patti LuPone as Helena Rubinstein. Playing a cosmetic industry titan, she'll know for sure what to do with that face.
REAL LIFE. REAL NEWS. REAL VOICES.
Help us tell more of the stories that matter from voices that too often remain unheard.