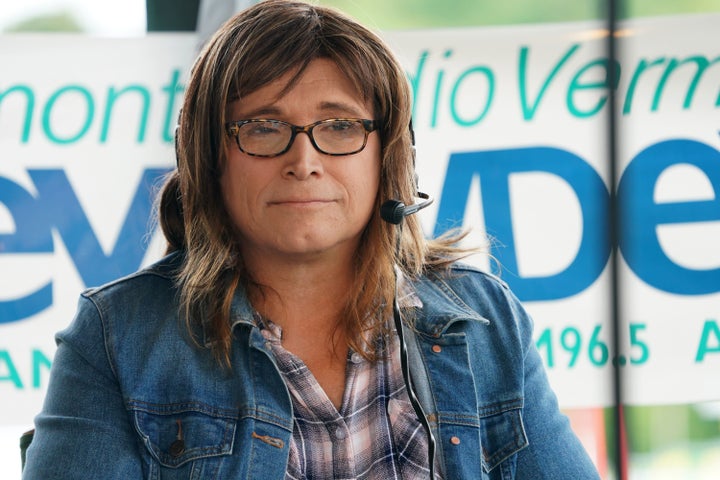 "But November 9, 2016, changed everything for me," she said. "Like everybody else, I went into a political depression. I did a lot of marching in 2017."
It wasn't until January of this year, when she saw a performance by four high school students who call themselves Muslim Girls Making Change, that Hallquist became motivated to run for office. 
"They were high school seniors and they were doing slam poetry on what life was like being Muslim in Vermont, my loving Vermont," Hallquist recalled in our interview, which aired on SiriusXM Progress last week. "They talked about the harassment they experienced every day in their schools."
Hallquist, who at the time was the CEO of Vermont's second-largest electric utility, said she cried. Then she made a decision to resign from her job and run for governor, taking on Republican incumbent Phil Scott. 
Political analysts have predicted an uphill battle against Scott, who was elected in 2016 to his first two-year term. In the most recent public poll, Hallquist was down by double digits. But 23 percent of voters remained undecided. 
I voted for Phill Scott. But, like a lot of people in Vermont, I'm highly dissatisfied.

Christine Hallquist
Rich Clark, a professor of political science at Castleton University, told the news site VTDigger that all is not lost yet. "If the undecideds all break for her and everything else holds steady, she's won the race," he said. 
Hallquist said she believes momentum is on her side. She pointed to a big drop in approval for Scott this year, and noted that the national Republican Governors Association is "pumping a lot of money" into his campaign. (The RGA has reportedly put over $1 million into PACs supporting Scott.)
"I voted for Phill Scott," she said. "But, like a lot of people in Vermont, I'm highly dissatisfied. He talked about affordability and taking care of the most vulnerable. But he vetoed a bill to raise the minimum wage. He vetoed a bill that would have given family leave. He vetoed a bill that would have protected our children from toxins in toys. And he vetoed a bill would have made polluters pay. So he's pretty much shown that he's following a national playbook of the GOP." 
Hallquist has been focusing on racial justice and discrimination. She recalled being "in denial" last year and believing that Vermont, a progressive bastion, would be "protected" from the ugly effects President Donald Trump's administration was having on U.S. culture.
"But in late 2017, we started to see white supremacist activity in Vermont," she said. "We hadn't seen that since the early '80s. We've got to address the issues of racism."
I have an obligation to people of color to make our state a more diverse state and a welcoming state.

Christine Hallquist
"I'm from the LGBT community," she added, referencing how Vermont has been a leader on LGBTQ rights and marriage equality. "I feel the LGBT community has been well-taken care of in Vermont. And I have an obligation to people of color to make our state a more diverse state and a welcoming state." 
She is also committed to taking on Trump, who has attacked the transgender community and pandered to evangelical Christians, most recently by suggesting the government could redefine gender and make "transgender" nonexistent in any federal policy.
"This is about radicalized Christians going after the rest of us," Hallquist said flatly. "I'm a Christian and have been a Christian all of my life. Only a radicalized Christian would attack a community and try to wipe them out of existence. And that's what our president is doing ― catering to evangelicals who call themselves Christians." 
"I've committed my life to solving climate change," she said. "Will do the same as governor. I've already started talking with a delegation from Canada, as well as the former governor of Colorado, who's got an accord of 19 states committed."
"When I left [my last job], we were 96 percent carbon-free and we were offering people incentives for moving away from fossil fuel for heating, cooling and transportation," she added. "And we did it without a rate increase for five years. We can solve climate change and it does not need to cost more money."
Hallquist said "it's not a big deal" to people in her home state that she is a transgender gubernatorial candidate, and pointed to Vermont's acceptance of LGBTQ people. But she is "hearing that I provide hope, and I'm proud to provide hope to people across the country."
"I'm proud to help America widen its moral compass," she said. 
REAL LIFE. REAL NEWS. REAL VOICES.
Help us tell more of the stories that matter from voices that too often remain unheard.
BEFORE YOU GO