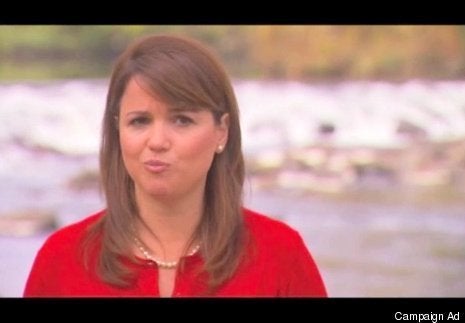 WASHINGTON -- Christine O'Donnell's Senate campaign made a last-minute attempt to get its message out by buying several 30-minute television ads airing Monday and Tuesday on Delaware 28's cable channel.
The ad features O'Donnell talking about her positions and interviews with Delaware residents, against a backdrop of soothing piano or electronic music -- the type that you might have heard in the Nature Company stores at the mall.
But there were a few hiccups in the airing of the ad. Viewers could see it at 10 a.m. on Delaware 28's website, although it looped for an hour, instead of just 30 minutes, and did not air on the actual television station. In fact, at a Tea Party Express rally on Sunday, O'Donnell said the first ad spot would be on that night.
"The campaign bought the time last week, but we seem to be getting the runaround when it comes to finding out why the program is not airing," O'Donnell spokesman Doug Sachtleben told The Huffington Post. "We've been told that there are format issues, though we reformatted the video last night."
"We are wondering if New Castle County has any influence over channel 28," he added, taking a shot at O'Donnell's Democratic opponent Chris Coons, who is New Castle county executive.
"This isn't our show either!" O'Donnell wrote on Twitter Monday morning shortly after 10:00 a.m. "We are told channel 28 'forgot' to air it...both times... even though we paid for the time slot last week." A source also told the Washington Post that the station "forgot to air it."
No new policy ground was broken in the ad, with O'Donnell largely reiterating her positions on issues like the estate tax, less federal and state control over education, the repeal of health care reform and criticism of the media's coverage of her campaign.
"It became about this massive government-takeover of the health care industry," she said of health care reform. "Health care belongs in the local community. Health care decisions, especially, should be between you and your doctor. The government and the bureaucrats have no business coming into the examination room, coming between you and your doctor."
Stylistically, there were a large number of shots of O'Donnell campaigning, talking to Delaware residents, picturesque scenery, occasionally slow-motion effects, and a cameo by Republican National Committee Chairman Michael Steele. O'Donnell also occasionally appeared on screen standing in front of a river or in a cozy house.
After 15 minutes, the special veered away from the soothing music and into campaign ads attacking Coons. Although it was promoted as a 30-minute special, it's actually only 24 minutes long.
The ad is also supposed to air at 3:00 p.m. on Monday and again on Tuesday at 11:00 a.m. and 3:00 p.m.
UPDATE, 3:44 p.m.: Tim Qualls, a producer with channel 28 who said he is a Republican and voted for O'Donnell in the primary, says that the O'Donnell campaign is actually at fault because it was late in getting him the video to air. He added that he has been receiving nasty phone calls and threats all day.
*************************
What's happening in your district? The Huffington Post wants to know about all the campaign ads, debates, town halls, mailings, shenanigans, and other interesting campaign news happening by you. E-mail us any tips, videos, audio files, and photos to election@huffingtonpost.com.

Popular in the Community