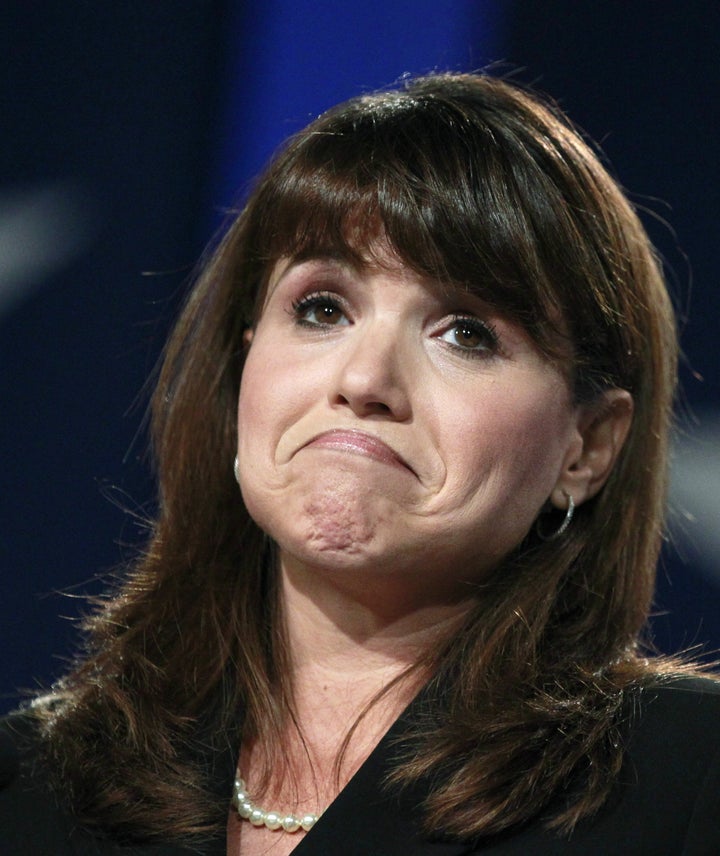 Another university is bringing Christine O'Donnell's self-professed education history into question Wednesday, as Claremont Graduate University, a school that the Delaware Senate candidate claims she attended, has told Talking Points Memo that they have no record of her being there.
"Claremont Graduate University has no student or education record for an individual named Christine O'Donnell," Rod Leveque, a spokesman for Claremont told TPM Tuesday, despite O'Donnell's inclusion of the school on her LinkedIn education history.
A similar response had been given earlier to blogger and radio producer Gary Scott, who thought to inquire based on the news that O'Donnell had not even officially received her undergraduate degree from Farleigh Dickinson University until earlier this month.
TPM did a little digging and found that her campaign site might give a more accurate depiction of her involvement with a conservative think tank called the Claremont Institute, which has no relationship to the Claremont Graduate University that she has filed under the education section of her LinkedIn profile.
A search of the website finds that O'Donnell did receive a Lincoln Fellowship from the Institute in 2002, though her inclusion of the word "graduate" seems to raise a few questions, as it goes unmentioned on the award's description.
On Tuesday, Greg Sargent of the Washington Post reported that O'Donnell had also filed "University of Oxford" on the education section of her LinkedIn profile, when the true nature of her tenure there appears to be as a student of a Phoenix Institute course that had simply rented out space at the school.
These two new discrepancies also come in the wake of an earlier controversy surrounding O'Donnell's relationship with a former employer, the Intercollegiate Studies Institute, and her taking of courses at Princeton University. O'Donnell ended up suing ISI for $150,000, claiming lost "earning power" due to the fact that they had not given her ample time to complete coursework at the university. At the time she had only audited one undergraduate class.
The O'Donnell campaign follows up with Sargent about the Oxford dispute, denying that the Senate candidate had anything to do with the information posted on the LinkedIn profile bearing her name. Here's how they responded:
"There have been reports that I have released false information on a LinkedIn profile under my name. This is categorically untrue. I never established a LinkedIn profile, or authorized anyone to do so on my behalf. I have always been clear about my educational background. I completed undergraduate work at Fairleigh Dickenson University. After my undergraduate work, I completed a summer program run by the Phoenix Institute, at the Institute's Oxford University location. The Institute runs programs around the world at various universities, and participants study issues of human dignity. I also completed a Lincoln Fellowship at the Claremont Institute in Claremont, CA. We would encourage LinkedIn to remove this profile."
Sargent expresses skepticism, saying that his prior reporting should have provided sufficient opportunity for the O'Donnell campaign to make this new claim before he published the original story:
As the person who first reported yesterday on the Oxford claim on O'Donnell's LinkedIn profile, let me be clear: I asked O'Donnell's spokesperson, Diane Banister, for comment on the profile's Oxford claim last Friday. Banister never once claimed the profile wasn't put up by O'Donnell. Indeed, in response to my inquiry, Banister justified the claim on the LinkedIn profile by pointing to O'Donnell's stint at Phoenix University.

Nor did O'Donnell's spox dispute that the LinkedIn profile was hers when I again emailed her on Monday to let her know I was close to publishing. And, needless to say, O'Donnell hadn't taken any steps before today to get the profile taken down, though it's possible she didn't know about it.
Popular in the Community