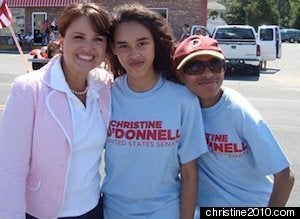 The results have not even been finalized in the quirky Alaska Republican Senate primary and already the political world is bracing itself for another instance in which an out-of-nowhere Tea Party candidate derails the highly-favored establishment contender.
On Monday, Democratic and Republican operatives alike expressed interest and consternation (respectively) over the possibility that Rep. Mike Castle (R-Del.) could be the next victim of the purity purge inside the GOP tent.
Christine O'Donnell has, by and large, campaigned outside the media and political spotlight so far this election. But on Monday her efforts to take out Castle in the mid-September primary got a major boost when the Tea Party Express, which spent roughly $600,000 on Alaska Republican Joe Miller's challenge to Sen. Lisa Murkowski, pledged to do the same on her behalf.
The announcement was just the latest in a wave of Tea party momentum to build around O'Donnell's candidacy. The right-wing blogosphere has, likewise, either trumpeted or expressed intrigue in her campaign, disturbed, primarily, by Castle's moderate voting record. O'Donnell herself has pushed the meme, going so far as to pursue the endorsement of Sen. Jim DeMint (R-S.C.) -- the Tea Party validator in the U.S. Senate -- and to include a picture of herself alongside the poster boy of Tea Party-ism: Florida Republican candidate Marco Rubio. This past weekend, in fact, O'Donnell shot footage at Glenn Beck's Lincoln Memorial rally for future use in her campaign ads.
Still, it remains a long shot effort but one that -- considering the current climate -- has Republicans spooked. While Castle leads Democratic nominee New Castle County Executive Chris Coons in the few public opinion polls out there; O'Donnell trails the Democratic nominee by ten percentage points.
"If I were in his shoes, I wouldn't debate her. She has no credibility." Delaware GOP party chair Tom Ross told Politico. "In the last quarter, she received a total of five donations from the state of Delaware, and she has a problem of the truth. The truth of the matter is she spends 90 percent of the time in Washington or elsewhere trying to raise money."
Perhaps the strongest indication that O'Donnell has people wary if not worried was an e-mail late on Monday sent by a Republican operative to the Huffington Post with a quizzical bit of background research on the Tea Party candidate. O'Donnell, it appears, has no discernible steady form of income.
On her website, she refers to herself as "a nationally recognized political commentator and marketing consultant" who has appeared on pretty much every cable news station out there. But financial disclosure filings show that she made just over $5,800 over the course of last year, the equivalent of roughly $15 per day.

Popular in the Community