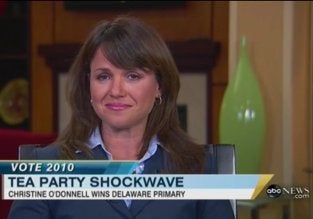 Fresh off her come-from-nowhere win in Delaware's Republican Senate primary, Tea Party-backed candidate Christine O'Donnell took aim at the GOP and top party strategist Karl Rove.
The newly-minted nominee fired the shots in discussing her victory over establishment pick U.S. Rep. Mike Castle in an interview with ABC's George Stephanopoulos on Wednesday morning.
"I was ahead in the general election according to Rasmussen, before this Republican cannibalism started," explained the Senate hopeful on "Good Morning America." "It's humiliating that the party gets behind this guy who they say is the only person who can win but doesn't stand for anything that the party stands for."
O'Donnell's candidacy has been endorsed by the likes of Sarah Palin and conservative South Carolina Sen. Jim DeMint; however, some fractions of the GOP have suggested they're less than pleased with the conservative contender's campaign.
Stephanopoulos asked O'Donnell about a scathing criticism made by Rove on Fox News the night of the primary. During the appearance he alleged, "There's just a lot of nutty things she's been saying that just simply don't add up."
O'Donnell adamantly dismissed the shot targeted at her credibility and concerning financial troubles from the past.
"Everything that he is saying is un-factual," said the GOP nominee, who will now face off against Democrat Chris Coons in a general election match-up. "And it's a shame because he is the same so-called political guru that predicted I wasn't going to win. And we won and we won big. So I think, again, he is eating some humble pie and he is just trying to restore his reputation."
During the appearance, O'Donnell credited Palin with her primary win and suggested she can win in November without the support of the Republican establishment, which doesn't seem likely to back her campaign.

WATCH:
REAL LIFE. REAL NEWS. REAL VOICES.
Help us tell more of the stories that matter from voices that too often remain unheard.