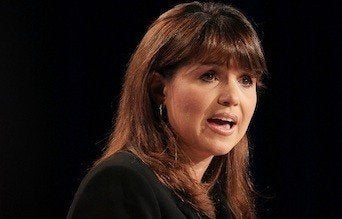 Christine O'Donnell's defeat in Delaware's election for U.S. Senate on Tuesday night didn't stop her from making the rounds on the morning talkshow circuit the following day to discuss her loss to Democrat Chris Coons.
During an appearance on CNN's "American Morning," O'Donnell described the outcome of the race as a "symptom of Republican cannibalism." The Tea Party darling then went on to point fingers at some of the biggest names in the Republican party for not standing behind her campaign after her shocking win in Delaware's GOP Senate primary.
"Sen. [John] Cornyn says there was nothing we can do, we didn't have enough money," said O'Donnell of the Texas Senator, who chairs the National Republican Senatorial Committee. She continued, "If he and Karl Rove had said, look, she is articulate on the issues as many people after watching our debates were able to say...there was verbal support they could have offered as pundits, so to speak, that they chose not to for whatever reason."
O'Donnell suggested that had the NRSC or Rove offered their support, she believe she "could have closed the gap," alluding to the double-digit lead that Coons held over her over the course of the general election season.
On the heels of O'Donnell's unlikely primary victory, Rove criticized the conservative favorite for saying "a lot of nutty things" that "simply don't add up." The defeated Senate contender fired back by accusing the top GOP strategist of "eating some humble pie."
Popular in the Community