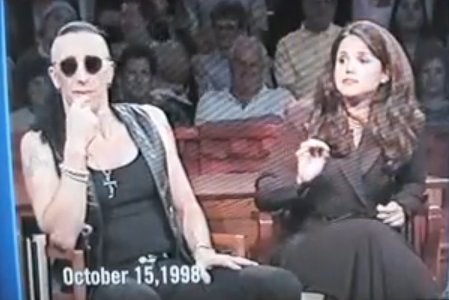 Bill Maher has so far kept his promise to air an embarrassing clip of Tea Party favorite and Delaware Republican Senate candidate Christine O'Donnell every week that she refuses to be a guest on his HBO show, "Real Time."
Last night Maher showed a video from an appearance she made in 1998 on his old program "Politically Incorrect" in which she calls evolution "a myth" and backs up her claim with the question: if evolution is real, "why aren't monkeys still evolving into humans?"
Since she was a guest on Maher's previous show 22 times, it's unlikely that the steady stream of past statements coming to light will stop any time soon.
O'DONNELL: You know what, evolution is a myth. And even Darwin himself -

MAHER: Evolution is a myth? Have you ever looked at a monkey?

O'DONNELL: Well then, why they -- why aren't monkeys still evolving into humans?
REAL LIFE. REAL NEWS. REAL VOICES.
Help us tell more of the stories that matter from voices that too often remain unheard.