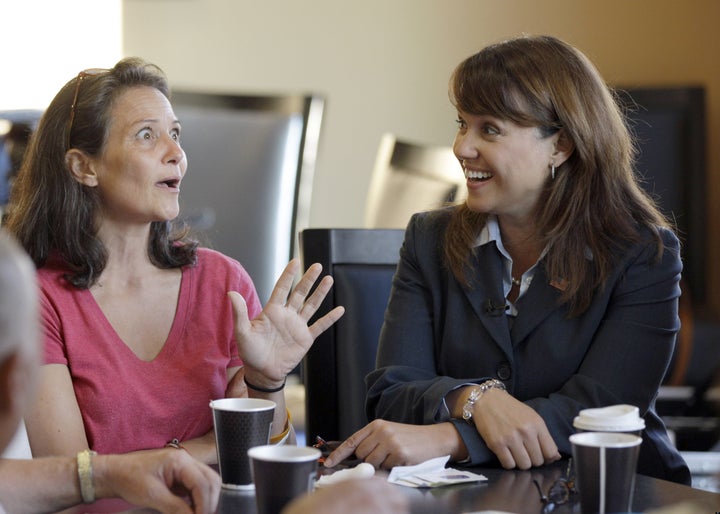 When former Alaska governor Sarah Palin speaks, it appears that Christine O'Donnell listens. Tonight, the Delaware GOP Senate candidate will be appearing on Sean Hannity's Fox News show, just days after Palin urged her to "speak through Fox News" in order to communicate with the American public.
"She's gonna have to learn very quickly to dismiss what some of her handlers want," said Palin, a Fox News contributor, last week in an interview with network host Bill O'Reilly. "Remember what happened to me in the VP. I used to have to sneak in my phone calls to you guys to say, 'Hey, I'm here.' She's gonna have to dismiss that, go with her gut, get out there, speak to the American people, speak through Fox News, and let the independents who are tuning into you, let them know what it is that she stands for, the principles behind her positions.
Palin has been acting as a sort of fairy godmother for O'Donnell, propelling her candidacy by endorsing her and recording radio spots and robocalls in the primary race against Rep. Mike Castle (R-Del.). Since the win, Palin has repeatedly gone to bat for O'Donnell and defended her against criticism from the media and even other Republicans.
This Hannity appearance also comes just two days after she unexpectedly backed out of CBS's "Face the Nation" and "Fox News Sunday" at the last minute. Her campaign said that she had a scheduling conflict with an event in Delaware, although "Fox News Sunday" host Chris Wallace noted that he had received conflicting reasons from the campaign.
O'Donnell seems to be following in the footsteps of other Senate candidates who are popular with the Tea Party movement, including Rand Paul in Kentucky and Sharron Angle in Nevada, who both prefer appearing on conservative networks and shows. In July, Angle told the Christian Broadcasting Network that she avoids other networks because they won't let her raise money on air. "Well, in that audience will they let me say I need $25 dollars from a million people go to Sharron Angle.com send money? Will they let me say that? Will I get a bump on my website, and you can watch whenever I go on to a show like that we get an immediate bump," she said of Fox News and other conservative outlets.
*************************
What's happening in your district? The Huffington Post wants to know about all the campaign ads, debates, town halls, mailings, shenanigans, and other interesting campaign news happening by you. E-mail us any tips, videos, audio files, and photos to election@huffingtonpost.com.
Popular in the Community