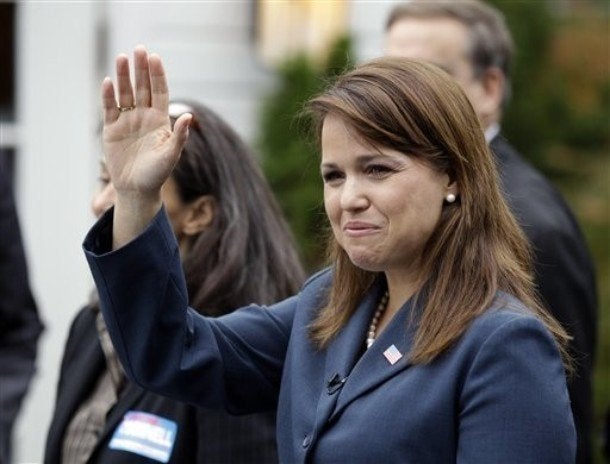 WASHINGTON -- Former Delaware senate candidate Christine O'Donnell abruptly ended two interviews on Wednesday when the questions she was being asked became tougher, marking a rocky day of promotion for her new book. Not only did O'Donnell walk out in the middle of an interview with CNN host Piers Morgan, she also hung up during an interview with a Salt Lake City radio station.
On Wednesday morning, O'Donnell appeared on the show Radio from Hell on X96. O'Donnell started out by reciting talking points from her book, until one of the hosts jumped in and said, "The voters of Delaware trusted their guts and thought that you were crazy."
Bill Allred, one of the show's hosts, then began questioning her about whether or not her Republican primary win was significant:
O'DONNELL: That's not quite true. We beat Mike Castle, the establishment Republican, in a historic primary, where we had 3 times the amount of turnout that they ever had.

Q: So there were Republicans eating their own --

O'DONNELL: Yeah, no. There were some really ground-breaking records that we accomplished, and I'm very proud of what we did in Delaware.

Q: How much did you beat Mike Castle by?

O'DONNELL: Gosh. I have the exact figure in the book --

Q: Was it a lot?

O'DONNELL: It was about 5 or 6 percent. It was a very, very respectable margin, especially when you consider how outspent we were.

Q: But you didn't trounce him. So you could just as easily say --

She's gone. Yeah, gone. She's gone! She didn't hang up. I bet her publicist hung up. Yeah.
O'Donnell beat then-Rep. Castle in the GOP senate primary by a margin of 6 percent, receiving 53 percent of the vote to his 47 percent.
Richie Steadman, the producer for Radio from Hell, told The Huffington Post that O'Donnell's publicist did call back after the hang-up.
"They called back and said, 'Oh, we're having some phone troubles, got to go.' And it was about that long," he explained. O'Donnell's representative did not reschedule the interview.
When asked whether he thought the hang-up may have been deliberate, Steadman replied, "Absolutely. I feel like it was, absolutely. I feel like...she could tell by the questioning that led up to that that we weren't huge Christine O'Donnell fans. And they went, 'Uh, this isn't going anywhere. Phone trouble!' and then hung up and got out of the interview."
O'Donnell's publicist did not return a request for comment.
In an interview with Fox5, based in Washington, D.C., O'Donnell claimed the real reason she ended the interview was because Morgan wouldn't stop asking her about "sex."
"Well first of all I want to set the record straight, it wasn't the question on gay marriage," she said. "He had a decidedly inappropriate line of questions leading up to that, that many people -- bloggers, are saying was just border-line creepy. I was not there to talk about sex -- and he would not stop trying to talk about sex."
O'Donnell describes her new book Troublemaker, which hit store shelves on Tuesday, as "a political memoir slash campaign diary slash position paper slash rallying cry, with an emphasis on the slash."
UPDATE: 2:10 p.m. -- O'Donnell publicist Joseph Rinaldi told The Huffington Post that the interview with Radio from Hell was part of a national radio satellite tour that took more than three hours.
"The connection was lost during the interview and the board operator called them back on another line to apologize, but by the time the satellite radio folks got through to apologize for whatever happened with the signal we had to move on to the next station," he said. "That is the nature of national radio satellites: sometimes a tech glitch happens and if that causes the lineup rotation to get backed up you move on to the next one."
Popular in the Community